News
Better Call Saul: Bob Odenkirk Wants a Happy Ending for Jimmy McGill
Bob Odenkirk teases an explosive final season of Better Call Saul and says he hopes Jimmy McGill ends up in a better place than Walter White.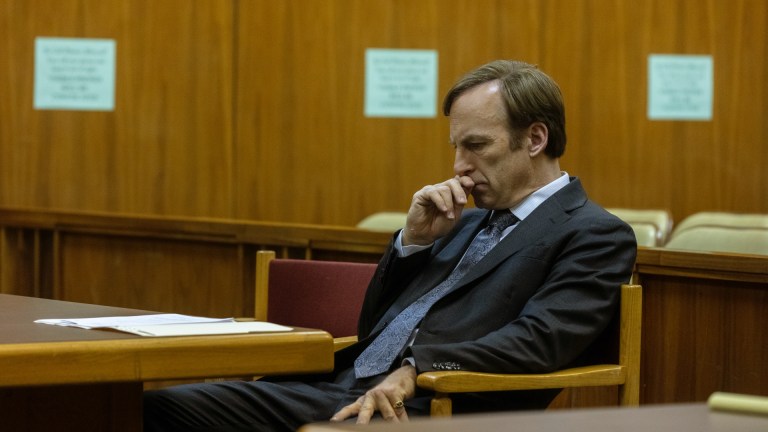 Vince Gilligan's Albuquerque in Better Call Saul and Breaking Bad is a dangerous place. High school chemistry teachers make meth. International drug lords run local chicken restaurants. And even the lawyers can't be trusted. The lawyers for goodness' sake!
One occupant of the Albuquerque-verse, however, is determined to end off better than he arrived. In a new interview with Collider, Better Call Saul star Bob Odenkirk teased a bit of the show's sixth and final season, and shared his hopes for the character he's played for nine seasons of television now. 
Of Jimmy McGill, Saul Goodman, Gene Takovic, or whatever you want to call him, Odenkirk said: "My point of view is that Walter White became an angry, broken version of himself. I wonder if it would be possible to give Jimmy McGill a better ending, a better place to end in than he started in. I don't know if they're going to do that though."
It's understandable that Odenkirk doesn't want Jimmy to suffer the same fate as Walter White, given that he's become quite attached to the remarkable character. At the same time, we can all probably aim higher for Jimmy McGill than merely not suffering a fatal gutshot from a self-made robotic machine gun.
A defining feature of Breaking Bad prequel Better Call Saul is that it's not actually a prequel in the strictest sense of the word. Yes, 99% of its runtime is spent in the past, detailing the events before Saul Goodman became Walter and Jesse's criminal-lawyer. But each season is accompanied by at least one flash-forward to the future in which Jimmy is living out his later years as Gene Takovic: mild-mannered Omaha, Nebraska Cinnabon franchisee.
This is a fairly bleak, black and white environment for the formerly flashy Goodman, but at least it's not as final as Walter White's fate. With one more season to go, there still remains a chance that Jimmy could end up in a better spot than how he arrived on the scene.
It is indeed a minute chance though, as Odenkirk goes on to reveal in that Collider interview that "the wheels come off" in the action-packed final season. Odenkirk previously told Deadline that the "slow burn" of Better Call Saul's pace will speed up in season 6 and the action will get "supremely intense."
Better Call Saul season 6 is set to begin filming in March of this year. The most likely release time frame for the final season is in early 2022.