Features
How Grogu Became The First Star Wars Character To Make The Macy's Thanksgiving Day Parade
Baby Yoda takes to the skies in Manhattan! We learned how the Funko POP!-inspired Grogu float made its way into the Macy's Thanksgiving Day Parade.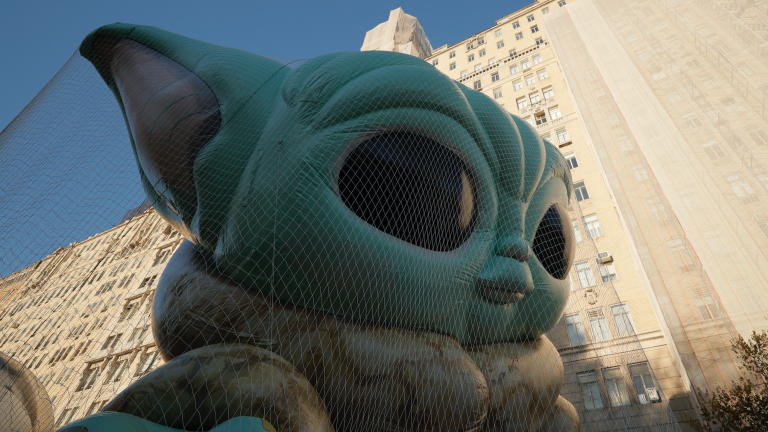 As impossible as it may seem, there has never been a Star Wars-themed balloon in the Macy's Thanksgiving Day Parade. No Darth Vader soaring above the midtown Manhattan streets, nary an R2-D2 spreading joy across the skyline, not even a giant floating Jar-Jar to rile the crowd of New Yorkers. It's unthinkable, right?
But then again, there's never been a character quite like Grogu before. Since making his debut in The Mandalorian, the mysterious green child (whose alleged love of chicken nuggets instantly became the stuff of Internet legend) has captured the imagination of fans across the globe.
As one can imagine, he's also become a merchandising bonanza. Enter Funko. The purveyor of POP!s teamed up with Lucasfilm for this year's Macy's Thanksgiving Day Parade — the event's 95th — to create a Grogu balloon that is styled like one of the company's trademark balloons. On November 13th I had the opportunity to watch Grogu take to the skies for the first time ever when Macy's unveiled their latest balloons (which also include a truly disquieting Ronald McDonald effort) at their Balloon Day event.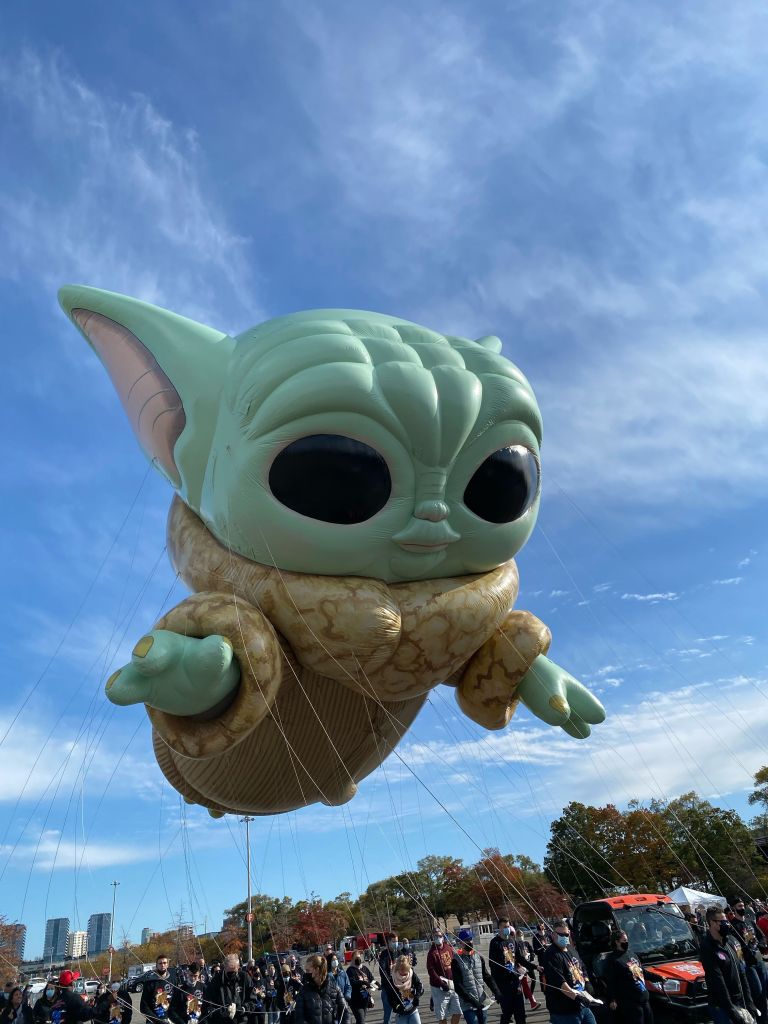 Grogu is just ENORMOUS, measuring 41-feet high, 29-feet long, and 37-feet wide. Reader, I did get a bit emotional being in his presence too because this character means so much to so many, and the thought of the balloon thrilling the crowds both in person and at home made me remember that, oh yeah, this time of year can be full of magic and wonder after all.
No seriously.
Plus, parade balloons are just really cool.
During our time at Balloon Fest we had the pleasure of speaking with Funko CEO Brian Mariotti and Vice President of Creative Ben Butcher to discuss how the Grogu balloon came to be. As one can imagine the helium filled cutie was a result of corporate serendipity between Funko, Lucasfilm and Macy's, and as such the debut of balloon is now the most eagerly anticipated in the parade.
"It's obviously such an adorable character and our partnership with Lucasfilm is incredible, and we love working with them so it just felt like a natural fit from the beginning," says Butcher on the collaboration. Grogu's ubiquity in pop culture also played a role. As Mariotti explains: "It saturated the entire population of Earth, everybody was doing Baby Yoda memes and everything else. It was a real no brainer."
When Grogu takes the skies he will also inspire more love for the character. Fortunately, new collectibles based on Grogu's parade debut are available to quench the seemingly insatiable thirst for all things based on the Child. After all, we are now living in a new Star Wars renaissance, and Grogu is a massive part of that. And that's something we can all be thankful for.