Features
Brooklyn Nine-Nine: Dean Winters is a True TV Vulture
In addition to playing The Vulture on Brooklyn Nine-Nine, Dean Winters is one of television's most recognizable and enduring character actors.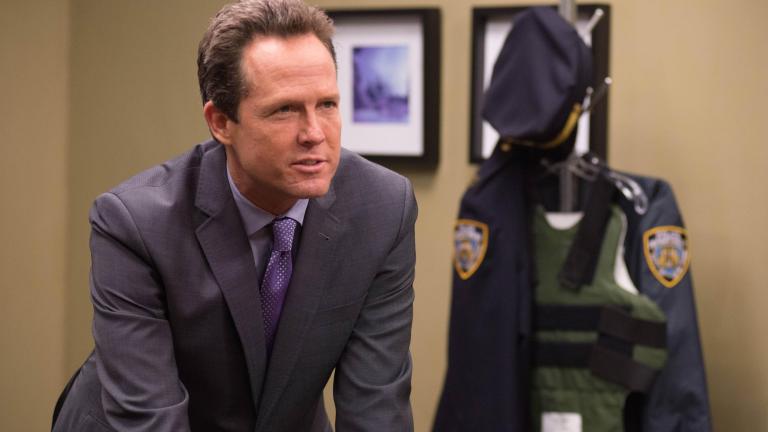 While Brooklyn Nine-Nine typically coasts on the charms of its ensemble cast and their silly and sweet camaraderie, the show arguably is at its best when the Nine-Nine has a common enemy to unite against. Between dim bulb Captain C.J. Stentley (Ken Marino), smug saboteur Commissioner John Kelly (Phil Reeves), and Holt's long-time rival Madeline Wuntch (Kyra Sedgwick), there hasn't been a shortage of antagonists during Brooklyn Nine-Nine's seven season run. However, there's one frequent persona non grata that seems to constantly get underneath the entire precinct's skin. His name? Keith Pembroke, but you may know him better as The Vulture.
Played by Dean Winters, The Vulture made his introduction way back in the series' fifth episode, aptly titled "The Vulture" and has appeared several times throughout the course of the show, even serving as the replacement captain of the Nine-Nine during Season 3. As a member of the NYPD's Major Crimes unit, The Vulture earned his nickname by arriving during the middle of big, nearly-solved investigations, then claiming the cases as his own and taking the credit.
If that wasn't bad enough, The Vulture is also a loathsome misogynist, close friends with Fyre Festival scammer Billy McFarland, and the lead singer of a repugnant hard rock band called Fantastic Jack and the Junkyard Rats. He's arrogant, convinced of his own intelligence despite any evidence of smarts, and a general ass that lists his favorite color as "Underboob." The Vulture is the type of enemy that Brooklyn Nine-Nine fans love to hate, and Dean Winters has made a career of portraying lovably loathsome scoundrels. Here are some other places you may have seen Winters' uniquely hateable visage.
Ryan O'Reily – Oz
HBO's groundbreaking, shocking, and controversial prison drama Oz featured a host of repugnant characters, but none as compelling as the Machiavellian inmate portrayed by Winters, Ryan O'Reily. A former Irish-American street gang leader, O'Reily finds himself in prison after going on a drunken rampage, following a fight that leaves his brother and right-hand man Cyril permanently brain damaged. While in "Emerald City," Ryan schemes and manipulates staff and inmates at Oz alike to stay out of trouble and able to protect his brother. Ruthless, two-faced, and capable of murder, O'Reily shouldn't be tolerable let alone likable, but somehow, he's one of Oz's most compelling characters. series creator Tom Fontana has compared the character to Iago, the villain of Shakespeare's Othello, another manipulative, oddly endearing sociopath.
Dennis Duffy – 30 Rock
The reigning Beeper King of New York, Dennis Duffy is somehow like a more immature version of The Vulture. The most prominent ex-boyfriend of 30 Rock protagonist Liz Lemon, Dennis routinely pops up throughout the series to either tempt Liz into backsliding or confirm that she's grown as a person. Dennis is obnoxious, constantly launching get rich quick schemes, and has been featured on an episode of To Catch a Predator (he contends that he knows the girl he was arranging to meet was at least 18 because "She said her last boyfriend was Asian, and that crap doesn't start 'till college"). Liz's soft spot for Dennis can only be explained by his penchant for giving her food and occasionally making her laugh. Each time Dennis appears on the show, he's accompanied by a wistful, Springsteen-esque score meant to highlight Dennis' blue collar, salt of the earth demeanor. Maybe it's the music, but we can't help but find Dennis just a smidge charming, even if he's mostly off-putting and incorrigible.
Mayhem – Allstate Commercials
Perhaps the role that Dean Winters is most recognized for is his portrayal of Mayhem in a series of long running Allstate Insurance commercials. Created by ad agency Leo Burnett Worldwide, the character was conceived as Mr. Mayhem and compared to Harvey Keitel's Mr. White from the 1992 film Reservoir Dogs, which explains his black suit, white dress shirt, and black necktie. Since 2010, the commercials have followed a similar formula: Mayhem identifies the risk he is portraying, gives context into the situation, why it is dangerous, and hints at an impending disaster that he will cause, then the "mayhem" takes place. He then delivers his tagline "be better protected from mayhem…like me." Typically, the damage that occurs to his clothing and injuries he sustains carry over from one commercial to the next. Mayhem seems to take a perverse pleasure in causing chaos, often smiling or laughing with delight as he wrecks a home or vehicle. Just like The Vulture, it seems like he's happiest when making others suffer.
When Brooklyn Nine-Nine returns for Season 8 in 2021, there will likely be a new antagonist to bond the precinct together, but odds are he won't be as despicable, gross, and weirdly compelling as The Vulture. We may hate the way he disrespects the women of the show, constantly tries to upset Jake and Amy, and annoyingly uses insults like "wieners," but it wouldn't be a complete season of the series without the recurring character that everyone loves to hate.