News
Link Tank: Webtoon Unscrolled Comic Boyfriends by Refrainbow Cover Revealed
Exclusive: Cover reveal of a new Webtoons comic and more in Link Tank!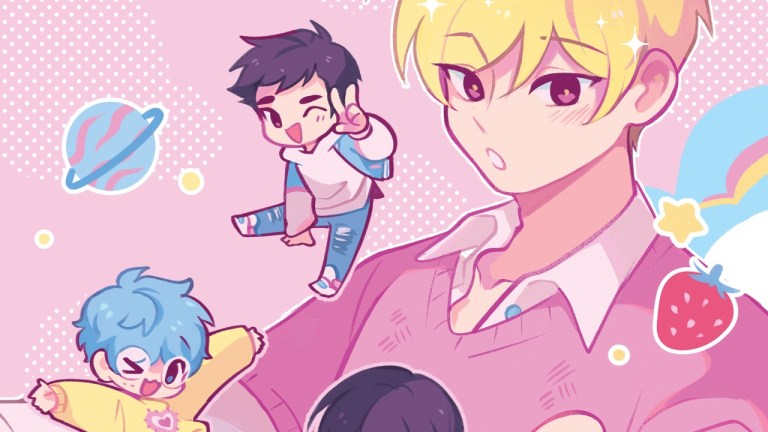 Check out our exclusive cover reveal for the Webtoon Unscrolled comic Boyfriends by Refrainbow!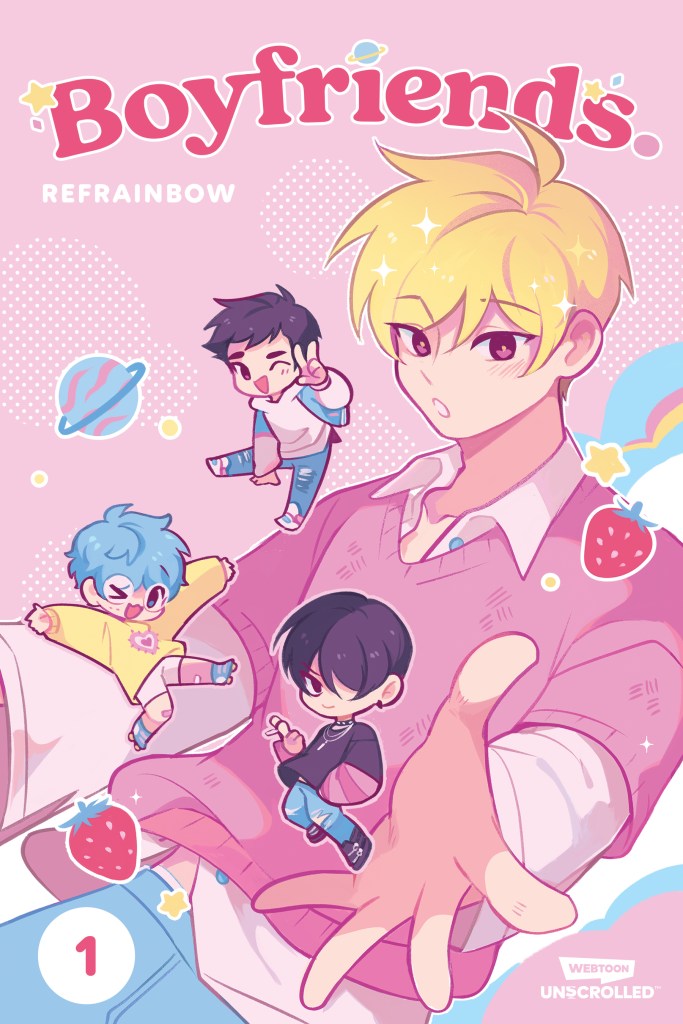 "I'm really excited for the print version of Boyfriends! I had a lot of fun working on the cover. I hope it conveys the fun and cheerful feeling that is the essence of the Boyfriends comics." – Refrainbow
Boy meets boy . . . meets boy . . . meets boy!
Jock, Goth, Nerd, and Prep are all juniors in college. But studying is the last thing on their minds as they are mainly interested in getting a boyfriend. Or multiple boyfriends.
The first two to couple up are Goth (cool and sexy) and Nerd (bubbly and flirty). As their budding relationship deepens, they can't deny their chemistry with Goth's other friends, Jock (sweet and easygoing) and Prep (sensitive and anxious). Nerd suggests they try something totally brand new to all of them: a polyamorous relationship. Everyone's game to try, because they all agree the only thing better than one cute boyfriend…is three cute boyfriends!
Collects episodes 1–55 of the delightful WEBTOON comic Boyfriends.
Boyfriends releases 11/21/23.
Deadpool 3 is coming out next year, and we already know that Hugh Jackman is set to return as Wolverine in the film, but additional actors from the X-Men universe are coming back as well.
"The Merc with the Mouth is BACK, BITCHES! Prepare thineselves for more over-the-top action, blood-soaked gore, and fourth-wall-breaking comedy than you can shake a stick at! But this time … things are gonna be even better …Ya know why? Well, I'll tell ya why."
Is it time to admit that Grogu has been completely wasted on this season of The Mandalorian?
"The Mandalorian used to be my comfort show. In our house, it was simply called 'The Baby Yoda Show' for most of its first season, and a good deal of the second. Ever since that little green guy popped up at the end of the series premiere—and kudos to the Lucasfilm team for somehow managing to keep him under wraps until then—we've been hooked on the adventures of Mando and his young charge."
The final trailer for The Legend of Zelda: Tears of the Kingdom just dropped, and it's absolutely magnificent.
"Today, The Legend of Zelda: Tears of the Kingdom got a delightful trailer that showed off even more of the expanded traversal challenges, wildly creative crafting system, and, yes, plenty of lore tidbits to keep us all frantically perusing Wiki pages until the game's launch on May 12. The environments look incredible, the combat thrilling, and the puzzles intriguing."
Dungeons and Dragons might be massive enough now to have spawned a modern blockbuster film, but back in the 1980s, it didn't fare quite so favorably.
"Over the past 50 years, Dungeons & Dragons has emerged from dimly-lit basements and entered the popular culture. The fantasy role-playing game is so mainstream that it's been adapted into a movie starring Chris Pine, which is set to hit theaters on March 31. With its reputation today, it's easy to forget how the game was initially received. The video below is a good reminder."
After rumors circling around the last couple weeks, Max confirmed a new Harry Potter reboot is coming to the streaming service.
"A Harry Potter series is officially set for HBO Max. The announcement was first teased earlier this month when Hypebeast reported that Warner Bros. Discovery was nearing a deal for the J.K. Rowling series. The announcement of the series was made during the press presentation that introduced Max to investors. According to Warner Bros. Discovery, each season of the series will be based on one of the books in the franchise."