Features
Barry Season 3 Just Had the Best Action Scene on TV This Year
Bill Hader is proving to be one hell of a director as evidenced by the dirtbike chase in Barry season 3 episode 6 "710N."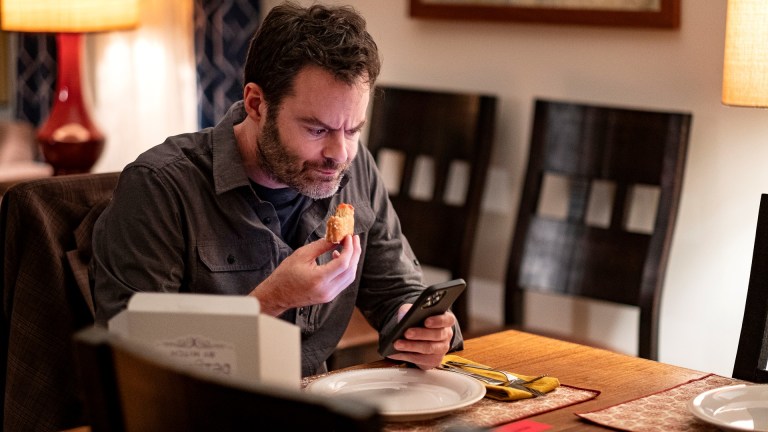 This article contains spoilers for Barry season 3 episode 6.
When HBO announced that its excellent dark comedy Barry was renewed for season 4, there was an interesting detail tucked into the press release. The show's creator, producer, and star Bill Hader is set to direct all eight episodes of the show's fourth season.
Truth be told, the arrival of Hader as the full-time Barry director has been a long time coming. After directing the first three episodes of the show's first season, Hader returned to direct two more in season 2, and a whopping five in the show's current third. The increased workload has paid dividends for both Hader and Barry, as the former SNL star has quietly turned into one of television's more creative visual minds.
For an example of this, look no further than the events of Barry's most recent episode, season 3 episode 6 "710N." While the whole half hour is another hilarious, exciting outing for one of TV's best shows, its final 10 minutes are absolutely revelatory. Like season 2 standout "ronny/lily" (tellingly also directed by Hader), "710N" features a breathtaking action sequence that deserves to be studied.
The seeds to the chase scene have been planted throughout the season. Hitman Barry Berkman's (Hader) former handler Monroe Fuches (Stephen Root) has been posing as private investigator Kenneth Goulet and meeting with the families of hits who Barry has killed. One of those families is that of former marine turned motocross rider Taylor who accompanied Barry on an assault on a Bolivian compound in season 1 only to be immediately struck down by gunfire.
Fuches' pitch to Taylor's sister and her motocross goons is simple and effective: without Barry Berkman, your brother would still be alive today. Fuches gets a bullet in his shoulder for his troubles and then Taylor and her gang set off to find this "Barry" and kill him. That moment begins around the 20:30 mark of "710N" and stretches on for six glorious minutes.
The dirt bike gang pulls up to Barry while he's at a red light on an LA surface street intersection. They make no attempt to hide their arrival, snapping photos of Barry and openly musing for him to hear whether he's the guy or not. It's a surreal, comedic calm before the storm that arrives immediately after. Barry guns it through the intersection, bullets raining down on him from multiple directions and before he knows it he's crashed into a dirt biker in front of him, with the man's body fully penetrating the windshield and resting crumpled next to him in the passenger seat.
All of this takes place from Barry's perspective inside the car and it is so beautifully sudden and disorienting. Upon first watch, one might even be aware how a human being ended up face first into the car. One moment Barry is getting ready to bring Mitch's beignets to a dinner party and the next minute someone is dead. The directing and editing in this scene alone is masterful and yet somehow only levels up in the next portion of the sequence.
Wordlessly and beignets still in hand, Barry abandons his car and hops on the dead man's dirt bike. We hear nothing other than Barry's slightly elevated breathing and the whirring whine of the bike as he continues on towards his destination. When the other dirt bikers catch up to him once again, Barry directs his new bike onto the crowded freeway (Interstate/State Route 710 on which Barry heads north, giving the episode its name) An overhead shot from behind the bike follows Barry as he casually maneuvers around cars. 
Again, it's the surreality of this scene that makes it so effective. There is nothing supernatural about it, like one would see in a physics-defying superhero setpiece, but there's something odd, unnerving, and blood pressure-elevating about seeing a hitman operating a dirtbike on a highway where dirtbikes aren't intended to be. Whatever technical strategy used to depict Bill Hader speeding down an actual Los Angeles highway is remarkable as well. Certainly some portions of the scene have to be greenscreened but it's never apparent exactly when.
More than anything, however, it's the sound design that really elevates things, with the attention to detail truly appreciated. As we take in this gorgeous overhead shot of a dirtbike heading off towards the evening mountains in the distance, the sounds just simply all make sense. We get a nice Doppler effect as Barry zooms between cars and the combination of wind passing and radios blaring create a pleasant drone. 
Like all great scenes on Barry, action or otherwise, this dirtbike chase all leads into one hell of a joke. Though Barry is a prolific and talented hitman, he doesn't intentionally kill any one of these bikers…and yet they're all violently dispatched anyway. The first aforementioned biker goes through Barry's windshield. A second is killed by a failed automatic rifle handoff at high speeds. And the final one meets their end in glorious fashion at Kleintop's Used Cars.
After Barry exits the highway, he shuffles off to the Kleintop parking lot (where one salesman is in the middle of confessing to an affair to some customers that just want to buy a car). One of his dirtbike pursuers drives onto the roof and Barry runs into the relative safety of the building. The camera chooses a spot in the parking lot and sticks to it as all the action happens downframe in the twilight of the setting sun. It all looks like a goofy painting as the biker shoots their gun into the car dealership and everyone scatters. The biker is not killed by Barry but rather the dealership owner who retrieves a shotgun and shoots the rooftop gunman twice. Barry walks away from the carnage with his beignet, still humming the song he was seven minutes ago as if none of this ever even happened.
There are no real lessons to be learned from this chase sequence. Barry is only curious about who might want him dead and annoyed that his dinner plans were delayed. No real character evolution will come from it. Barry will not change his behavior and the bikers will likely never be seen again. But the scene still has immense value to Barry and the TV landscape at large. And that value is that it's cool. With Hader fully entrenched as the full-time Barry director, something tells me we'll have many more cool moments to look forward to.
Barry season 3 airs Sundays at 10:00 p.m. ET on HBO.