Features
Barry Season 3: Anthony Carrigan on What Makes Hank so Lovable
HBO dark comedy Barry is back! And that means more adventures of the show's funniest (and most surprisingly affecting) character Noho Hank.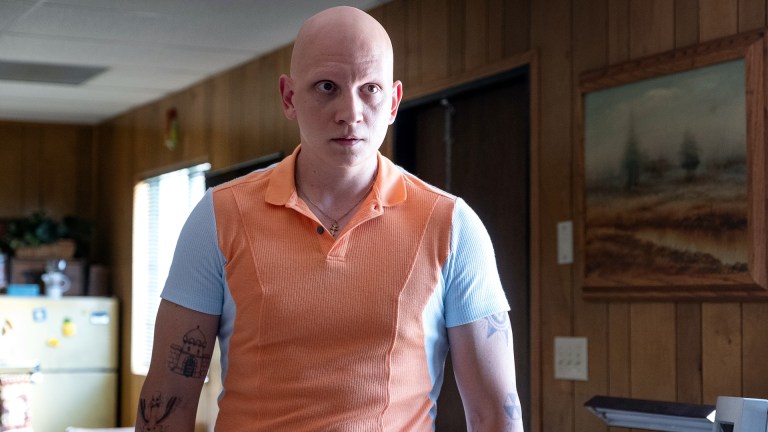 This article contains spoilers for Barry season 3 episode 1.
It's been a long time since TV fans got a dose of Barry. 
Like many other series, the excellent HBO dark comedy about a Midwestern hitman who moves to L.A. and catches the acting bug experienced delays due to the coronavirus pandemic. According to star D'Arcy Carden, the cast had scripts ready and was assembling to table-read mere weeks before the entertainment industry shut down in early 2020. 
With the extra time off, the shows' creators and producers Bill Hader (who also stars as the titular hitman) and Alec Berg fine tuned their scripts, dotting every "I", crossing every "T" and creating a more subtle, efficient, and streamlined season of television. So what does a fully optimized season of Barry look like? Based on the season 3 premiere, which just premiered April 24 on HBO: pretty gosh darn dark!
It's not that Barry Berkman a.k.a. Barry Block was ever a warm, cuddly dude. He's been in the business of killing since the series first began. But the season 3 version of Barry is less human than ever before. In fact, despite accessing some of his emotions through the art of stagecraft, Barry seems to be regressing. Utterly incapable of reacting to his live-in girlfriend Sally, Barry spends his days browsing Craigslist-esque hitman sites, killing people for paltry sums, and then being haunted by the specters of bullet-wounds in heads after.
By episode's end, Barry has enacted his most desperate scheme yet, kidnapping his beloved acting teacher Gene Cousineau (Henry Winkler) following the misguided directive that "forgiveness is earned." Things have gotten so dark for Barry, the character, that Barry, the show, runs the risk of neglecting the comedy portion of its dark comedy designation. Fortunately for the series (and the world at large), there is one character who will make sure that never happens.
One episode into season 3, Chechen mobster Noho Hank (Anthony Carrigan) is once again one the most delightful characters on television. Unfailingly cheerful and full of useless knowledge and malapropisms, Carrigan's Hank is always a welcome respite from the blood splattered on Barry's hands. In this episode alone, Hank expresses nervous excitement at his first big police interrogation opportunity, is revealed to be dating his former Bolivian mobster rival Cristobal (Michael Irby), and even delivers the thematic message to Barry about forgiveness.
For what was once a supporting character, Noho Hank has become a surprisingly big part of Barry's storytelling mission and its heart. According to the actor who plays him, however, balancing Hank's cartoonish qualities with the real person underneath is one of the series' biggest challenges.
"It's just about being mindful that this is a real person," Carrigan tells Den of Geek about his cheerful mobster. "There are some real characters out there in the world where you're like 'wait, where did that person come from?' The wonderful thing about Hank is that he's so dedicated and committed to the ridiculous schemes that he has. And the relationships that he wants to cultivate. That committed aspect is what makes him lovable. He's completely unaware."
Though extremely funny, Hank is indeed as real a person as any outsized fictional character can be. And while he may seem static at first, he's grown quite a bit throughout the series…in fact, one might argue that he's grown more than the title character himself. After first viewing Barry as a larger-than-life Jason Bourne or John Wick-esque figure, Hank has come to see the flaws in his former friend. Having someone frame you for the murder of all your men in a fiery monastery gun battle will do that.
"Anyone can relate to that – you get burned by someone or a friend goes too far," Carrigan says. "You show up to Lululemon wearing a Barbie doll wig and Hawaiian shirt just trying to make a connection and you get shot down. It doesn't feel great! Hank saying forgiveness has to be earned means Hank is growing beyond this person who is always trusting and accepting. He's requiring a little bit more." 
Still, even with all of his newfound enlightenment, there is still plenty of room for the goofy old Hank that audiences have come to know and love in season 3. A prime example comes early on when Hank is excited to be interrogated by police before quickly realizing he's completely out of his depth.
"One of my favorite things about that scene was how the power dynamic kind of shifts so quickly," Carrigan says. "Where Hank feels totally in control of the situation and then immediately does not feel in control at all and then flips back to feeling in control. It was such a cool, fun exercise as an actor. It's also hilarious to see Hank sweating bullets."
One aspect that blends Hank's cartoonish qualities with the real human being underneath is the burgeoning romantic relationship between him and former rival Cristobal. Of course, one mob overlord falling in love with another whose whole gang of "buddies" he just had eliminated is ridiculous on paper. But it's also kind of…sweet?
"Getting to finally look at this new aspect of Hank was really rewarding," Carrigan says. "There is this element of no longer seeing Hank in the realm of being at work – talking with all the mobsters, organizing hits and all this stuff. To play that different side of him is incredible as an actor. You're not always given that. Sometimes you're given this paint-by-numbers role and you just have to follow it. It never really changes. With this you can actually see the arc of the character and how Hank evolves."
New episodes of Barry premiere Sundays at 10 p.m. ET on HBO.