Reviews
Barry Season 3 Episode 4 Review: All the Sauces
Noho Hank's gang wants to try all the sauces as Barry operates at the absolute peak of its power.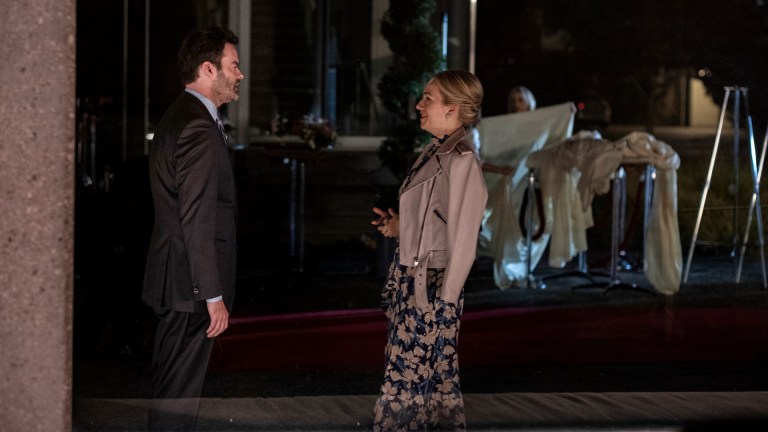 This Barry review contains spoilers.
Barry Season 3 Episode 4
After a mostly table-setting episode last week, Barry returns with "all the sauces," a propulsive, fiercely funny installment. Moreso than any episode this season, "all the sauces" brings the laughs, even dipping into some of the absurdity that flavored last season's "ronny/lily." That said, the emphasis on the comedy doesn't come at the expense of the plot; all of our main characters have their story moved forward, with many unexpected developments changing their trajectories. After this episode, it's hard to predict where the second half of the season will lead, but if the past is any indication, we're in very good hands.
After receiving a swift punch to the face last week and realizing that maybe reconciliation simply isn't possible with Gene, Barry is back taking orders from No-Ho Hank. Barry is tasked with placing a bomb under the Bolivian's Airbnb so that the Chechens can escape Fernando's wrath and so Hank and Cristobal can resume their fairytale romance. Bill Hader's handling of the bomb is some wonderful physical comedy in an episode that also features a great gag with Gene's luggage, showing that Hader and co. are using every comedic tool at their disposal.
Once the bomb is placed, Barry struggles with the detonator (provided by Hank with the password $uddenly$eymour). It's here that Barry calls a bomb detonator customer service number, in a simple, yet effective bit of surrealism that breaks with the show's typically grounded nature much in the same way that "ronny/lilly" did. I was wondering if that episode's success with fans and critics would allow for more flights of fancy, and it appears that it did. Anyway, after some fiddling, the bomb goes off right in the nick of time, as Fernando had discovered Cristobal's relationship with Hank and offered him a deadly ultimatum. Cristobal narrowly escapes the blast, but Barry gets paid anyway.
Barry accepts the money and immediately takes it to Cousineau, hoping that he'll give it to his financially strapped son. Gene had spent the episode single-mindedly trying to escape L.A. with his family, even though his "improvised" moment on the set of Laws of Humanity was a big hit with the show's producers, leading them to want to extend the part. Gene's agent cannot believe that the "industry-wide amnesia" they had been waiting for finally came. The episode's funniest bit is probably Gene's agent recounting all the horrible names Gene has been called due to his bad behavior ("Fuck-Fuck" is the one that gets Gene's attention). The pair also have a run-in with Joe Mantegna, who has an unexplained history with Gene, but relays the news that Variety ran a story about Gene and his work with Barry. In ironic fashion, Barry actually has turned Gene's career around, but Gene is simply unable to enjoy it. 
Meanwhile, Sally has her premiere for Joplin, and the bright lights and adoration are everything she expected they would be. During her speech before the episode's premiere, she can't even sell her emotional attachment to the material because she's so taken aback by the show's critical reception and the grandeur of the moment. Her wordless gasping on stage as she took in the moment was almost painfully too real. It's Sarah Goldberg's best work since last season's monologue in "the audition." It's worth seeing whether the manipulation of her true story, and the success it has seemingly brought her, will come back to impact Sally down the line.
After the premiere wraps, Katie finally breaks her silence to Sally and admonishes her for her "violent" boyfriend. Hearing it from Katie allows Sally to see how Barry's behavior in the premiere pushed her back into the headspace of a victim, and when Barry arrives late to congratulate Sally, she unceremoniously dumps him on the spot. There hasn't been a lot of time devoted to the pair's relationship, so it's hard to predict how the news will impact Barry, but since he's already going through a tumultuous time, it certainly can't help things. 
A breakup won't be the only difficult thing on Barry's plate, as Fuches is back in town stirring up more trouble. Working once again under the alias of Kenneth Goulet, Fuches meets with Ryan Madison's father and the widow (played by Annabeth Gish) of another man that Barry killed on the job, letting them know that Barry was responsible for the death of their loved ones. He even goes so far as to offer Barry's address. Luckily the breakup confirms that Sally will be out of the house, but the episode's stinger, with Gish's character and her son purchasing a gun, confirms that danger is coming to Barry's door.
Full of funny, specific pieces of humor (don't get me started on D'Arcy Carden's "thweetie" rant) and shake-ups to this season's status quo, "all the sauces" is another stellar episode of Barry. With excellent pacing and dynamic camera work as well, I'm hard pressed to find something negative to say about the show at this point. I do believe that the Barry and Sally relationship could have used more reinforcement to make this breakup plotline feel more significant, but I'm willing to see where things head before rushing to judgement. Barry had been excellent in the past, but it feels like it's operating at peak performance right now.