Features
Netflix Party, Rave and The Apps That Let You Watch Remotely With Friends
The Netflix Party Google Chrome extension is just one of many ways to still be social during this time of social distancing.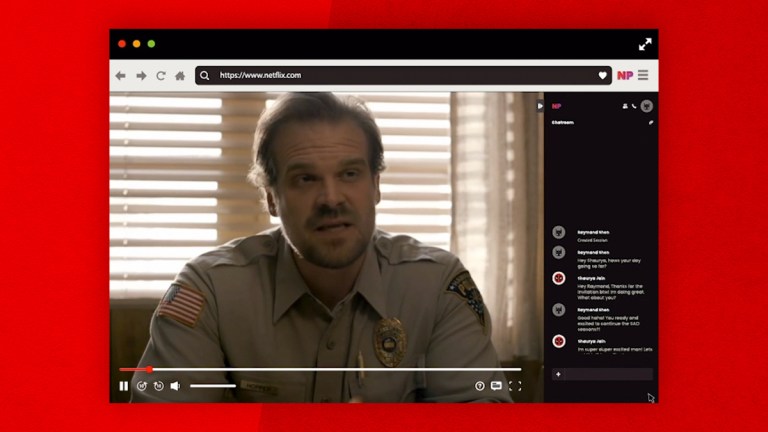 In what we hope is our temporary reality and not the new normal, streaming platforms have become a primary source of entertainment (if they weren't already) while we bunker down in an attempt to stomp out the coronavirus. With sporting events postponed or cancelled and movie theaters barricaded shut, audiences are looking for other ways to have communal experiences from the comfort of their homes. There are several platforms that essentially apply the Twitch model to streaming films, TV shows, or YouTube videos: Rave, &Chill, and ShareTube. The one gaining steam right now is  Netflix Party, a Chrome-only browser extension which we'll focus on here to show you how these platforms can satisfy your desire to interact with other human beings during this anxious and scary time. 
Where Can I Find Netflix Party?
Netflix Party is a Google Chrome browser extension, which means it only works if you're watching Netflix on Google Chrome. You can install the app through its website. Like all the best things on the internet, the app is free.
How Does Netflix Party Work?
Once installed, Netflix Party can synchronize video playback for whatever program you and your friends are watching. There's the option to have a chat room feature, so you can comment on The Irishman in real time like Martin Scorsese intended or crack jokes about how awful Mark Wahlberg's Spenser Confidential is.
Who's Coming To The Netflix Party?
Editors Chris Longo and Alec Bojalad decided to test out Netflix Party, having spent the last week cooped up indoors hundreds of miles apart. Chris is in New York, recovering from an ACL tear, drinking ungodly amounts of pre-workout drinks, and clawing at the walls. Alec is in Cleveland, barely noticing a difference in his sedentary lifestyle due to quarantine.
The pair tested out the Netflix Party extension on two series. First was the Cheers pilot episode because sometimes you just want to go where everyone knows your name. Next up was the first episode of Netflix's poll docuseries 100 Humans. The latter was particularly fascinating in light of current events where all of us surely feel like statisticians poring over the latest coronavirus news.
Ultimately, the Netflix Party Google Chrome extension is simple and easy to use. Once a a show or movie is playing simply click on the red "NP" logo to the right of the web address window and receive a shareable link to invite people to a Netflix Party. The chat feature is smooth and Chris and Alec even got little hamburger avatars. The ability to pause, play, and fastforward content through multiple devices is the real standout. But if not being able to do that isn't a dealbreaker, a similar effect to Netflix Party can be achieved by simply coordinating with a group of friends and staying in touch via any method of video or text chat.
The important thing to remember here is that Netflix Party and the apps like it are just some of many tools we have to stay connected with one another and our art through this trying time.