Features
American Born Chinese Reclaims the ABC Acronym
American Born Chinese is one of the first major pop culture works that allows a generation of American Asians to feel seen.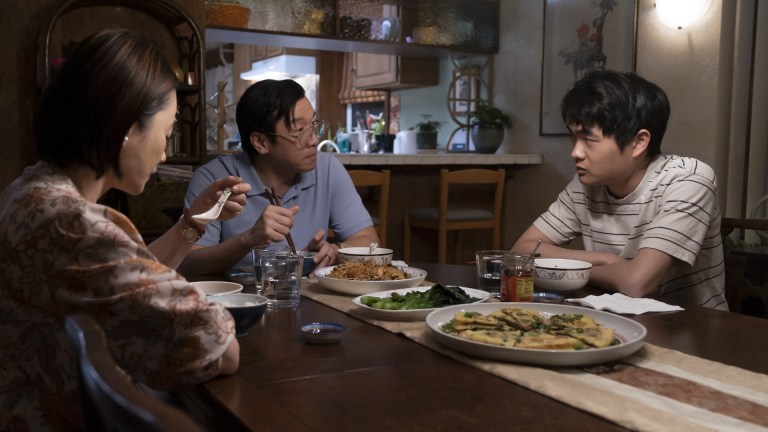 When Gene Luen Yang's graphic novel American Born Chinese came out in 2006, it was a gamechanger. Yang has built his career on Asian-inclusive comics and American Born Chinese has been his most influential to date. It earned several comic book awards when it came out, and is still taught in schools today, complete with a study guide in Gale's acclaimed Novels for Students series.
The slang "American born Chinese" is commonly reduced to the acronym "ABC" within Chinese communities. When used by certain Chinese, it can be slightly derogatory, implying that the ABC has lost the connection to Chinese culture. Yang's graphic novel grapples with Amerasian issues in a coming-of-age story that has now been adapted into an eight-episode series for Disney+. While there are distinct references to the Asian American experience, the story embraces outsider themes that anyone can relate to.
American Born Chinese has underlying autobiographical elements. The main character name, Jin Wang, echoes Yang's name (Mandarin speakers will often convert the name 'Gene' to 'Jin'). In the new series, Jin is played by Ben Wang. Ironically, Wang is not an ABC. He's a CBA – a Chinese-born American. Wang lived in Beijing until he was six and then moved to rural Minnesota where he was naturalized as an American citizen.
"I think it's really funny that when you Google 'American Born Chinese,' it's my face. But I am actually a Chinese-born American," Wang says.
Nevertheless, Wang can relate to his character's experience. When Wang was growing up in Minnesota, he thought he was the only Asian kid in a 45-mile radius. Even as a CBA, the book resonated with him.
"It was shocking how specifically relatable the character in in both the way it's written in the show and the way he is in the graphic novel is to my own personal experiences."
The original novel has three distinct storylines: Jin Wang, the Monkey King, and Chin-Kee. The Monkey King is Sun Wukong, a beloved figure from Chinese myth. A powerful magical being, Sun Wukong is the ultimate outsider. His mystical quest is told in one of the four great classics of Chinese literature, the 16th century novel Journey to the West by Wu Cheng'en. Daniel Wu plays Sun Wukong. He is of the generation that was affected by the original graphic novel when it first emerged.
"I probably didn't see it until like 2009 or 2010," remembers Wu. "I saw it on my nephew's desk and he was actually reading it for school."
Wu was struck that it was being taught in schools. What's more, he found the title intriguing. Being an ABC himself, he was all too familiar with the acronym being labeled as such by other Chinese.
"So I picked it up and just read through it really quickly. I was like, 'Whoa! This is like it's taking on some serious issues here but in a very cool graphic novel format.'"
Wu found it to be a refreshing and impressive work, but he also felt it was very complicated and abstract. When he was first approached to do the project, he had a lot of questions. The most delicate was Chin-Kee.
Chin-Kee is a caricature racist stereotype, a Chinaman who wears traditional clothing with buck teeth, a long-braided queue, and a horrid accent. Taken out of context, Chin-Kee is outright offensive. Wu wasn't sure how they could make all three storylines work, especially with the graphic novel's abstract ending.
"But you know, [showrunner] Kelvin Yu and Gene got together and did a really cool updated adaptation because I think when Gene wrote this, he was basing it off his experiences growing up from our generation, the '70s."
American Born Chinese is set in modern times and expanded to accommodate the eight episodes of the first season. "I thought it was a brilliant stroke of genius to be able to do that," Wu adds. "I mean, who knew that the Bob's Burgers guy could do that? [Yu is the Executive Producer of Bob's Burgers]"
In the series, Chin-Kee is transformed into Freddy Wong (Ke Huy Quan), a dated comic relief character in an old sitcom that plays in the background. It's derogatory, but not as offensive as the original Chin-Kee character (Chin-Kee is a play on "chinky"). Gene Luen Yang is quick to point out that many changes were made for the Disney+ adaptation.
"For a 200-page graphic novel, it has three storylines, but you could argue that it has one beginning, middle, and end for eight episodes. You need at least eight beginnings, middles, and ends, so you need to expand the world."
Wu can relate to the story as an Asian growing up in a suburb of the San Francisco Bay Area. Despite being a more integrated community than the rest of the country, Wu remembers dealing with similar issues like Jin Wang. As a young student, he was embarrassed to take out his lunch at school because "exotic" Chinese cuisine didn't fit in. As Wu was coming of age, it was hard for him to know how much of his culture he should show.
"You know, when I first started learning martial arts, I didn't tell anybody for a long time," Wu says. "Because I thought kids would be like 'Show me your Kung Fu' and we'd get into fights with people."
For about four years, Wu kept it secret. "And now it's this thing that is a badge of honor with me, where I'm doing it on screen, you know? So things have changed a lot."
All eight episodes of American Born Chinese are available to stream on Disney+ now.