Features
What's on TV tonight: Good Omens, Grace And Frankie, White House Farm
Neil Gaiman and Terry Pratchett's Good Omens comes to the BBC, and true crime White House Farm continues on TV tonight…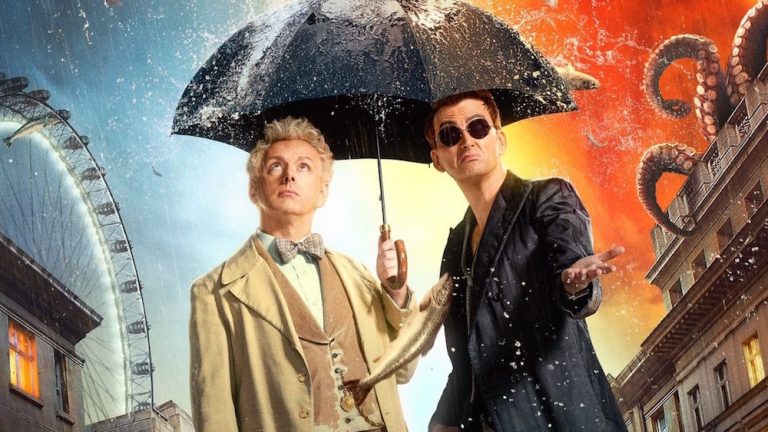 Behold Wednesday, the day of Woden the All-Father, when ancient Norse religion required sacrifices be made to the god Odin in the form of horses, dogs, hens, hawks and humans.
Maybe chuck him a few Opal Fruits to be on the safe side?
While you're doing that, here's a selection of recommendations for tonight's TV…
Good Omens 9pm, BBC Two
David Tennant and Michael Sheen are brilliant as demon and angel Crowley and Aziraphale in this six-part Neil Gaiman-written adaptation of the Gaiman-Pratchett apocalypse comedy novel, making its BBC debut.
Read our spoiler-filled episode reviews and more here.
Terry Pratchett: Back In Black 9.50pm, BBC Two
Another chance for Pratchett fans to see the 2017 docudrama about Pterry starring Paul Kaye as the man himself, revisiting his life and works, featuring contributions from Eric Idle, Neil Gaiman, Rhianna Pratchett and more.
Watch a teensy teaser for it here.
Grace And Frankie season 6 Netflix
Lily Tomlin and Jane Fonda return as the odd couple housemates for the final season of Netflix's terrifically warm, funny comedy-drama about two women whose husbands leave them for each other. Here's why it's one of our highly recommended Netflix series.
White House Farm 9pm, ITV1
ITV's true crime series about the infamous 1985 Essex murders continues, as complications arise in the investigation. Freddie Fox, Stephen Graham, Alexa Davies and Gemma Whelan star.  
Marvel's Runaways 9pm, Syfy
Hulu's comic book series about a group of teens who run away from and unite against their supervillain parents continues its third season over on Syfy. Den Of Geek US has a spoiler-free season review here.
The History Of Comedy 9pm, Sky Arts
TV and film nerds should catch season two of this documentary series tracing through the comedy annals. This first episode is about sex in comedy, from Mae West to American Pie.
Read about the new British comedy TV series on their way in 2020.
Also on
Silent Witness continues its 23rd series at 9pm on BBC One
Meat The Family asks people to eat their new pets at 9pm, C4
The Great Pottery Throw Down makes Keith cry at 9pm on More4