News
30 Rock Reunion Special Debuts First Trailer
The gang's all here in the first trailer for NBC's special "upfronts" episode of 30 Rock.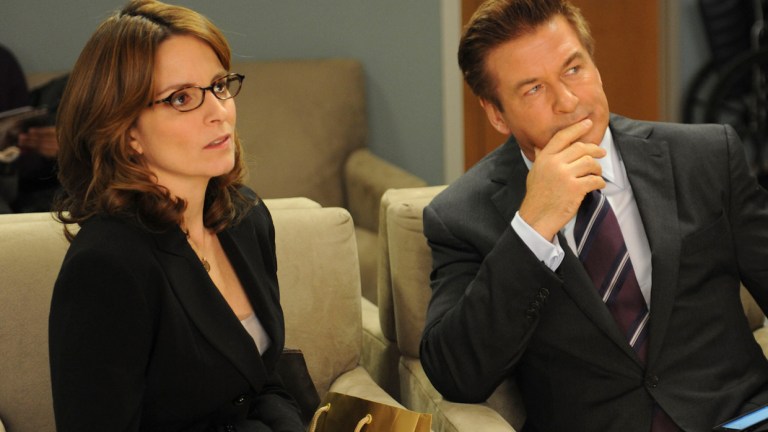 Duh-duh. Duh-duh-duh-duh-duh-duh. Duh-duh-duh-duh-duh-duh. Doo-doo-doo-doo-doo-doo-doo-doo. That elaborately recreated and stunningly accurate rendition of the 30 Rock theme song can only mean one thing: 30 Rock is almost back! 
Last month, NBC announced that it was bringing back its mid-2000s classic comedy 30 Rock for one more installment. And in true 30 Rock fashion, this would be something a little more meta than your usual reunion special. Since NBCUniversal is unable to hold in-person "upfronts" to promote their upcoming TV slate to advertisers, 30 Rock is going to do the task for them. 
30 Rock A One-Time Special will catch up with Liz Lemon (Tina Fey), Jack Donaghy (Alec Baldwin), Tracy Jordan (Tracy Morgan), Jenna Maroney (Jane Krakowski), Kenneth Parcell (Jack McBrayer), and more in their post-TGS lives. It will also stealthily introduce many of NBCUniversal's titles across NBC's channels and will feature special guest stars  to boost "the stories and talent featured in NBCUniversal's 2020-21 television season," according to NBC.
Now NBC has released the first teaser for 30 Rock A One-Time Special. It doesn't reveal the episode's upfront gimmick just yet but it does get us back in touch with some of our favorite 30 Rock characters.
"Boom! Another successful interaction with a man," Liz Lemon cries upon terrifying a passerby with her toothy face covering. Yes, it would appear this special very much takes place in our current COVID-19 era. One can only imagine that we'll discover the real origin of the novel coronavirus from one of Jack Donaghy's many disturbing asides.
In addition to Liz – Jack, Jenna, Tracy, and Kenneth all pop up in this brief teaser. Jack is able to slap Liz remotely via his iPhone 40, while Tracy and Jenna are experiencing some phone trauma as well. Most intriguing is Kenneth who appears to be experiencing some stress in his new tenure as NBC President. Cheer up, buddy: you greenlit This Is Us. Hopefully this one-off will further delve into the nature of Kenneth's immortality as well.
The hour-long 30 Rock A One-Time Special will premiere Thursday, July 16 on NBC at 8 p.m. It will be made available to stream on NBCUniversal's freshly launched streaming service Peacock on Friday, July 17. Peacock will launch on July 15 and will feature the entire original run of 30 Rock. Other new titles for the streaming service include Brave New World, Psych 2: Lassie Come Home, and The Capture.