Features
1971: The Year That Music Changed Everything's Sound Chief Talks Revolution
Iain Cooke talks about the choices made for Apple TV+'s immersive documentary 1971: The Year That Music Changed Everything.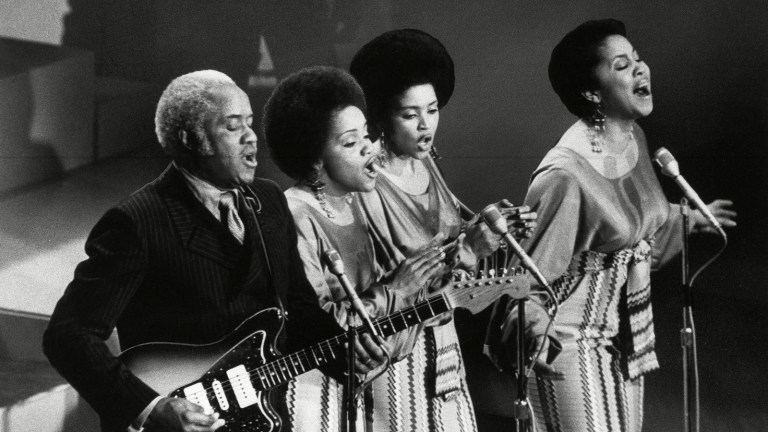 The revolution is being televised. Fifty years later. Apple TV+'s 1971: The Year That Music Changed Everything highlights how musicians were in touch with what was happening around them even as they were making things happen. Marvin Gaye lays down "What's Going On" in the first episode, and the remainder of the eight-part docuseries builds the basic tracks which became the soundtrack to a changing world.
Solo ex-Beatles took to the streets and concert halls while The Rolling Stones, as a group, went deep into exile. Aretha Franklin went to the courthouse to post bail for former University of California philosophy professor Angela Davis, charged with "aggravated kidnapping and first-degree murder in the death of Judge Harold Haley." Bill Withers quit his day job but held tight to his lunch box. David Bowie twisted a knife into the hippy movement, and Alice Cooper went to hell to celebrate.
The sonic examination was inspired by the book Never a Dull Moment: 1971 the Year That Rock Exploded by David Hepworth. The documentary includes clips and licks from the likes of Elton John, Graham Nash, Ike and Tina Turner and Bill Withers. Almost every genre of popular and underground music is included. We get reggae from Bob Marley, classic rock from The Who, acoustic strums from Joni Mitchell, street cred from Lou Reed, and a little "Evil" from Stevie Wonder. There are sections on David Bowie, Carole King, James Brown, and for some inexplicable reason, the Osmond Brothers, who say they always wanted to be Sly and the Family Stone. Some of the interviews are new, most of the footage is archival nuggets, and all of the music is authentic.
This was assured by Iain Cooke, the music supervisor who conducted the business of the accompaniment. Cooke previously worked with co-director Asif Kapadia on the Oscar and BAFTA winning Amy Winehouse feature documentary AMY, Oasis: Supersonic about the Gallagher brothers, and such TV series as The Fades, The Night Manager, and Gangs of London. Cooke spoke with Den of Geek about the mayhem and the music of half a century ago, and why we're still listening.
Den of Geek: I know the documentary was based on the book Never a Dull Moment, so were you given a list of artists to choose or did you suggest artists?
Iain Cooke: I was first made aware of the project six years ago when we were over in Cannes for the Amy premiere, with the same team, with James Gay-Rees and Asif. James told me about a manuscript that he was hoping to option called Never a Dull Moment. He shared it with me. I think it was literally in July of 2015, and I read this amazing story. And then as it developed, we had some broad conversations and then the edit team went into the edit for a good two years.
The book was a reference for us. We weren't trying to make the series of the book. A lot of the initial work, early on by the producers and the directors and the editors, was really to find what the story was. They toyed with different story strands or chronology. The 1971 Never a Dull Moment was almost a broad headline. It was up to the team to go in and find what the stories were and what the story arcs and story strands were.
What was your role in choosing the music?
A lot of it will be the performance and the story that it takes, the choice of song. The edit team as a whole deserves a huge amount of credit for the selections. A lot of my work was focused on the rights and negotiation and really trying to make sure that we were able to tell the story that we wanted to do, but also to secure the rights to some of these huge, huge catalogs.
You did a pretty deep dig into the music. I hadn't heard The Last Poets, so thanks for that. Did you make any personal song discoveries while doing the work?
That's a really good question. I think it's such a pivotal year. Obviously, we're knowing that the 50th anniversary of a lot of those albums when they were either recorded, or being released. I have to say that I was given a copy of There's a Riot Going On when I was about 16, 17, off an older friend who was very, very into music, and that's remained one of my favorite albums ever since. It's an absolute masterpiece. And in my personal record collection there's many, many of these albums, but I'm glad you picked up on The Last Poets. I think Gil Scott-Heron, and The Last Poets themselves, were possibly one of the real heroes of the piece. I think most people will know about Marvin Gaye and The Stones and those artists, but I really hope that a whole new audience will discover the Gil Scott-Heron music, that songs, like "No Knock," it's mind blowing when you hear some of those songs they wrote. Absolute protest music, and they sold, I believe they did sell like a million copies.
It got to a wide audience. And that I'm really glad that a lot of people got to hear that message at the time, because they were really, you know, that The Prisoner as well, the episode around the Attica prison riot is one of my favorites without a doubt. And I think to have that interwoven with Gil Scott-Heron's music is a real triumph. Yeah.
Were you surprised at what artists were getting away with that was available to the public, on records or right there on the radio?
Yeah. But then even within the series there is a bit about radio stations being under pressure not to play certain records and hold that back. I think there's also a lot of the musicians talking about hearing clicks on the phone and that paranoia about people listening in, the FBI. And that was later revealed that they did have an agenda against some of these protagonists and realized how much influence they have, how much people listen to what they have to say.
Do you think there were more connections between the social and the music in 1971 then today? When you factor in things like the K-pop stans and technology?
I think it was an incredibly political time without a doubt. You've got the backdrop of the Vietnam war and Nixon's economic policies and a real disenfranchised youth. I do feel that there was a particular moment in time around this time where people were prepared to be particularly political, like: Marvin Gaye releasing "What's Going On" as a protest to his brother being drafted to the Vietnam war, John Lennon singing "I Don't Wanna Be A Soldier, Mama, I Don't Want to Die," Bob Dylan writing a song about George Jackson, Neil Young writing a song about the Kent State massacre. I feel like rock stars really were influential, the most influential people of that era. And they were prepared to use their voice. I think someone says in the documentary that it's not the society that influences the music. It's the other way around. It's the music and the musicians that can influence society. I think that's true.
Were there any artists who you think were left out? You're a musician, do you think prog was skipped? Aqualung came out that year.
Yeah. I was going to say Jethro Tull is a notable exception. I think it's really, really hard. There are actually 150 songs across the series. There are 58 different artists. There are 108 different songwriters. And when you take into account that we include The Stones, John Lennon, Marvin Gaye, Sly and the Family Stone, and Aretha Franklin, Gil Scott-Heron, Curtis Mayfield, Bill Withers, The Stooges, I mean, Bob Dylan, George Harrison, the list goes on and on and on. Pink Floyd. It's insane. I guess there came a point where, really, the producers and the edit team wanted to spotlight and do a deep dive into some of the particular artists and their story rather than to perhaps dilate it and to try and encompass the whole story of 1971.
I mean, like you say that there's many, many different albums that there's still a story still to tell. Maybe there'll be a part two of the series.
1971: The Year Music Changed Everything is available to stream on Apple TV+ now. You can read our review here.