Reviews
1971: The Year That Music Changed Everything Review – The Revolution Is Hummable
Pristine footage and lesser-known stories highlight Apple TV+'s 1971: The Year That Music Changed Everything.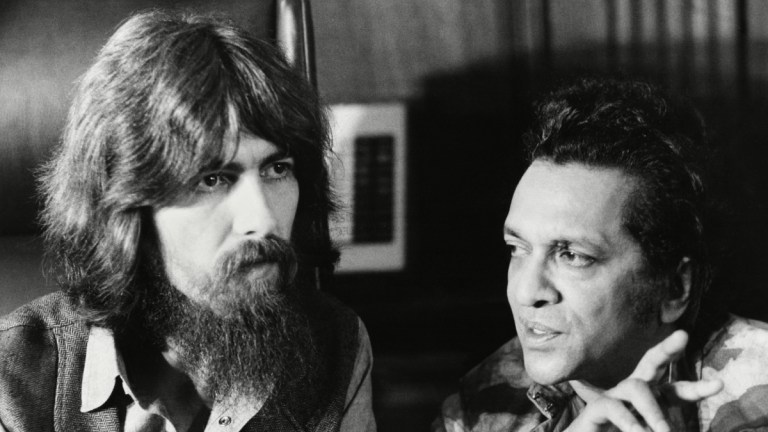 Apple TV+'s 1971: The Year That Music Changed Everything is immersive and fairly ambitious. The eight-part documentary series wants to run 33 revolutions per minute, and only comes up about a third short. It captures how musicians' fingers were on the pulse of the day's headlines and the laid the tracks for the nights' rhythms.
Artists sang the news, sometimes causing it, other times reacting. Rock and roll had grown up and rock musicians took on responsibilities. Rhythm and blues got loose and soul musicians took to the streets. A former University of California philosophy professor named Angela Davis was charged with aiding and abetting the murder of a judge and Aretha Franklin personally offered to post bail.
The documentary series points out how The Beatles took the lead on youth culture movement during the 1960s, and how the elder society tried to beat it down in the 1970s, only to have John Lennon read the news and write "Gimme Some Truth," before breakfast. Or to charge Oz Magazine, a British underground newspaper, with obscenity, and find Lennon outside the courtroom with a bullhorn in his hand and a single about it on a flipside. British television tried to celebrate the wake of the Beatles' breakup with regressive programming. American TV fought to stay as progressive as its radio stations.
The docu-series was inspired by the book Never a Dull Moment: 1971 the Year That Rock Exploded by David Hepworth, but leaves out all the more gossipy bits. We don't get cake from the Mick and Bianca Jagger wedding, but we get exiled with the Rolling Stones right on Main Street. Co-directed by Asif Kapadia (Senna, Amy, Diego Maradona), James Rogan and Danielle Peck, 1971: The Year That Music Changed Everything doesn't look away from rockstar excesses, but it also doesn't indulge them. We get the feeling albums by the Stones and Sly and the Family Stone may have achieved perfection through the sloppiest of accidents.
The artistic stories are a lot of fun to watch, though. Listening to Keith Richards talking about getting out of France minutes before both the mob and the cops were about to bang down the door is almost as much fun as sitting in the mid-section of the speedway concert at Altamont. Far enough away from the Hell's Angels pool cues, but close enough to feel the danger, and still at the right place for the sound mix.
The best part of 1971: The Year Music Changed Everything is the footage. We get a clip of George Harrison and Bob Dylan rehearsing a song they didn't do on stage at The Concert for Bangladesh. Home movies capture the Stones in Villa Nellecôte, scoring dope and nodding out during sessions for Exile on Main St. There is footage of James Brown performing in Paris which hasn't made its way to his fans here. Gritty black and white celluloid shows David Bowie awkwardly miming his way through his first visit to Warhol's Factory. Candid photos capture insanely intimate moments like a fan biting Marc Bolan's hair. It is fun to watch Dick Cavett try to crawl up his own ass while trying to interview James Baldwin and Sly Stone. One highlight is the Ike and Tina Turner Review, along with the Staple Singers and dozens of other Black musicians visiting Ghana for a concert.
It is exhilarating to hear Marvin Gaye explain, in his own words, why What's Going On was the record he was put on this earth to make. It is very cool hearing Lennon say how much it means to have revolutionary music coming from Gaye. There are no talking heads. Interviews, like those done with Elton John, are only heard through voice-overs. This adds to the intimacy of Chrissie Hynde of the Pretenders remembering how personally she took Crosby, Stills, Nash and Young's song "Ohio," after having been on the campus at Kent State during the shootings. It stands in stark contrast to President Richard Nixon declaring his love for "square music" while he gives an "off with their heads" glare at the most civil of disobedient young people.
The documentary mixes the musical stories with the period's news. Archival footage includes protests, police brutality, the My Lai massacre trials, Charles Manson, and Lance Loud, who taught American families to embrace differences on the proto-reality TV show An American Family. The documentary also shows Nixon launching the war on drugs as a military offensive. It takes on the Attica prison uprising, and the prison study at Stanford, which proved anyone can be a mindlessly cruel bastard if they have something to hide behind, like a badge and a baton. The documentary doesn't mention it, but the study seems even more accurate when considering the attempted damage done by anonymous Internet trollers. The documentary also offers a broad spectrum of retro-fashion tips.
The post-counterculture musicians didn't only face political pressure. The documentary also highlights how newer artists were challenging the established pecking order of rock. A slightly premature delving into Glam Rock rebels Bowie and T. Rex's Marc Bolan replaces any segments on heavy metal and hard rock. "We were creating the 21st century in 1971," Bowie says in the opening of every installment. We applaud as Kraftwerk fires their drummer for a drum machine.
Because the series focuses on the theme of interactive social change, it skips a lot of what was happening musically in 1971. Some of it is understandable, and some appears arbitrary. Not to let one bad apple spoil the whole bunch, but the series includes a segment on the Osmonds but doesn't mention The Jackson 5. While we get a broad overview of world music, we get precious little of the electricity of Latin percussion which propelled Santana and War.
The doc talks about the growing Jesus Saves movement which was sonically represented in Jesus Christ Superstar, but they don't even offer a sound clip of Jethro Tull's Aqualung, which proclaimed "man created god." I get it, a lot of the rock and roll press, and I'm looking at you Rolling Stone, has had a bug up their ass about prog music for years. The documentary relegates all of eight seconds to Yes, but only as an example of the snobbishness of dinosaur rock. But this is 1971, even T-Rex is new. The Flintstones hadn't been off TV for a decade.
"Rock stars, is there nothing they don't know?" Homer Simpson once asked, reverently. That kind of thinking began in 1971. Musicians were the most influential people on the planet. When Carole King told you to get up every morning with a smile on your face, you felt beautiful. If Gil Scott-Heron warned you about the cop's "No Knock" policy, you double locked your door. 1971: The Year Music Changed Everything is an excellent time capsule of music from a time which was a lot less innocent. How do we get that lack of innocence back?
1971: The Year Music Changed Everything begins streaming on Apple TV+ on May 21.