Features
Zack Snyder's Rebel Moon Is Not Just Another Star Wars
From the set of Rebel Moon, we get an up close look at Zack Snyder's biggest film yet: a space opera with lava guns, laser swords, and a lot of four-letter words.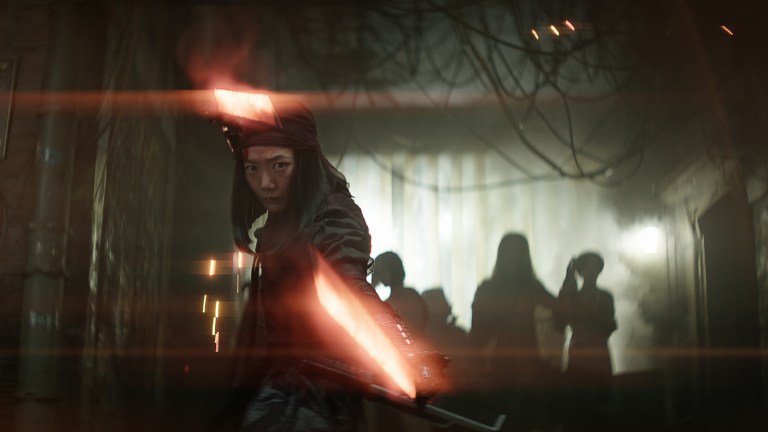 The germ of the idea for Zack Snyder's two-part sci-fi epic, Rebel Moon, came long before he was one of the most famous directors in Hollywood.
"In college, I had said something to my professor like…what about an ensemble movie like Seven Samurai in space?" Snyder told Den of Geek on the set of the Netflix production back in 2022. The 1954 Akira Kurosawa classic in question is about a small farming village that hires seven samurai to protect them from an army of 40 bandits; Rebel Moon's story thus likewise centers on the peaceful colony of Veldt and its hero Kora (Sofia Boutella of Kingsman and Star Trek Beyond), a young woman who is tasked with seeking out warriors from other planets to help protect the village from the unstoppable armies of the tyrannical Regent Belisarius (Fra Fee).
In other words, Rebel Moon is essentially what Snyder envisioned decades ago in college: Seven Samurai in space!
"I think it's a pretty straightforward, good versus evil, few against many, concept," Snyder explains. "It's a huge underdog movie. The villagers… they don't have a chance, really." While Rebel Moon is a traditional David and Goliath yarn in terms of its structure, Kora isn't your archetypal hero. She's a good person and a fearless fighter, but she's also endured a dark past as a former member of the Imperium. She did some seriously bad things prior to becoming Veldt's protector.
"What I like about her is that she's made choices and without blaming it on other people," Boutella says, taking a break in between takes to talk to the press. "There are some downfalls to her and some bad choices that she's made… but that's what makes her human."
Snyder wanted Boutella from the beginning of the casting process, so much in fact that despite the physicality of the role, he admits he would have hired her, "even if she was the most uncoordinated person in the world."
Back on set, Boutella is filming an intense sword fight with Ed Skrein (Deadpool, Game of Thrones), who plays the sadistic, cerebral Admiral Atticus Noble, Balisarius' right-hand man. As the actors clash and tumble down an enormous, elevated platform tilted at an unnervingly steep angle, it's clear from the seething expressions on their faces that the characters are embroiled in a bitter blood feud. Kora is the most wanted insurgent in the galaxy, and Noble will stop at nothing to bring her to justice, however malevolent his definition of the word.
"She's not a respected adversary [to Noble] in the slightest," Skrein says with a chilling calm in his voice. "She begins as a prize bounty to him. As it becomes more complicated to bring that bounty in, it becomes very personal. She will be his ticket to becoming a savior of his people, almost a religious figure."
Despite the physicality of the scene, Skrein actually characterizes Noble as more of a talker than a fighter. "He chooses to use his tongue as his weapon," the English actor explains. "He gives people enough rope to let them hang themselves. Sometimes, there's a sharp burst of violence. But most of the time, it's a performative, eloquent, almost thespian, intellectual violence."
Noble and the rest of the villains in the films are evil all the way. Snyder wanted to make the story a purely good and evil affair.
"It's very much clear as far as the morality of who's good and who's bad," says the director. "We don't do a lot of 'Oh, the Imperium, they're just misunderstood, and as far as they're concerned, they're the good guys.' It's not really like that."
That's not to say the characters are one-dimensional, though. They have backgrounds and complexities that are often inspired by real-world issues and experiences. Boutella, who was born in Algeria, channeled her experience growing up in a country torn by civil war to inform her performance as Kora. General Titus (Djimon Hounsou, Gladiator), comes from a colonized planet stripped of its native culture—Snyder and Hounsou used Nigerian culture and history to inform Titus' backstory.
The rest of Kora's band of rebels includes brother-sister insurgents Darrian and Devra Bloodaxe (Ray Fisher and Cleopatra Coleman), the animal-whispering Tarek (Staz Nair), literal spider-woman Harmada (Jena Malone), and gun-slinger Kai (Charlie Hunnam). But the most intriguing hero of them all is Jimmy, a soul-searching combat robot played by Sir Anthony Hopkins. "Yeah, he's the most human character, I think," Snyder says, fully aware of the irony of the statement. Pulling out his phone, he shows us an image of Jimmy donning a helmet he's fashioned from the skull of a dead deer, indicating a transformative journey, to say the least.
One of the main takeaways from the set visit is that the films explore a fascinating interplay between the new and the old—the alien and the familiar— with their props, costumes, and sets. In other words, while there is a lot of futuristic technology on display, they all look aged and worn in, resembling artifacts you might find in a World War II museum. There's a decidedly terrestrial, recognizable element to the imagery, due in part to Snyder unexpectedly falling in love with the village of Veldt.
"I think the interesting thing is the way Veldt evolved [over time]," Snyder says. "In the early days [of writing], I always thought it was a generic village. I didn't care as much about it because I liked all the space guys and the warriors. But as we made the movie, we really took a deep dive into the culture and it became its own thing."
Snyder shoots the village reverentially, like something out of a Terrence Malick film, capturing beautiful shots of farmers harvesting wheat with scythes at sunset, lines of villagers weaving through the golden fields in slow motion. Veldt and its people are the heart of the story, and it's purposefully reminiscent of our own world.
On the other side of the cinematic coin are the films' sci-fi elements, which evoke brutality, violence, and bloody conquest. The movies' props department looks like a gigantic extraterrestrial armory, full of swords, spears, grenades, bazookas, and a zillion other instruments of torture and death. And oh yeah…there are lava guns, too.
"Don't get too hung up on the lava," Snyder says with a laugh. "Everybody loves lava! But it's more… you know when metal drips out of a foundry? That's what the bullets are like. They're like some sort of liquid metal."
Ah, rifles and blunderbusses that shoot molten bullets—an idea so simultaneously childish and badass it boggles the mind.
Each faction in the films has a unique style of weaponry, but the Imperium is far and away the most sadistic of the bunch. One infernal contraption—which the prop designers lovingly dubbed the "Beetlejuice Chair"—is a seven-foot, arachnid-like torture device with legs that the Imperium use to transport unruly sorts. It holds the transgressors in place so that soldiers can cave in their skulls from behind with a "bone staff," spilling their brains everywhere. The victims' teeth are then taken for documentation purposes. Wholesome, family-friendly sci-fi Rebel Moon is not.
"Zack told me, 'It's like Star Wars but with violence, sex, and swearing,'" Skrein recalls, minutes before returning to set to film another act of barbarism as Noble. Years ago, Snyder pitched the idea of Rebel Moon to Lucasfilm as a potential Star Wars spinoff. The deal was obviously never made, but Snyder feels it worked out for the best in the end.
"Star Wars' fanbase basically aged with the movies, and then they had children that then also became fans of the movies, and their children had children who became fans of the movie," Snyder says. "I do understand the love of Star Wars, how canonized it is… and actually how immobile it is. That's why I'm here now doing Rebel Moon the way I'm doing it, because we really have no rules except for the ones we make."
New, original IPs are few and far between these days in the film industry, and Rebel Moon, if successful, could embolden other studios to take risks on more self-contained projects that don't build off of established franchises or feed on pop culture nostalgia. From everything we saw on set, from the ornate costumes, to the grotesque prosthetics, to the insanely awesome lava guns, Rebel Moon just feels… singular. It's clearly inspired by Kurosawa and Lucas, but it has an edge and bizarreness to it that can only come from an auteur with a voice as distinctive as Snyder's.
Rebel Moon took over 150 days to shoot and, according to Snyder, rivals the production scope of his own Batman v Superman: Dawn of Justice. The size of the sets and meticulous detail put into every piece of scenery and costuming speaks to the scale of the film as well—this is a big budget affair, by every measure.
But more important than all of that is the fact that this is a true passion project for Snyder. These worlds, these characters, this story—they've been playing out and evolving in his head since he was a film student. For those with an affinity for "weirdo sci-fi" (Snyder's words) who crave space operas with massive worlds full of rich histories and fleshed-out characters, Rebel Moon looks like it may be a worthy obsession.
Rebel Moon hits Netflix on Dec. 22, 2023.