News
How Wonder Woman 1984 Connects to the Larger DCEU
We visited the Wonder Woman 1984 set. Is it part of the DC Extended Universe?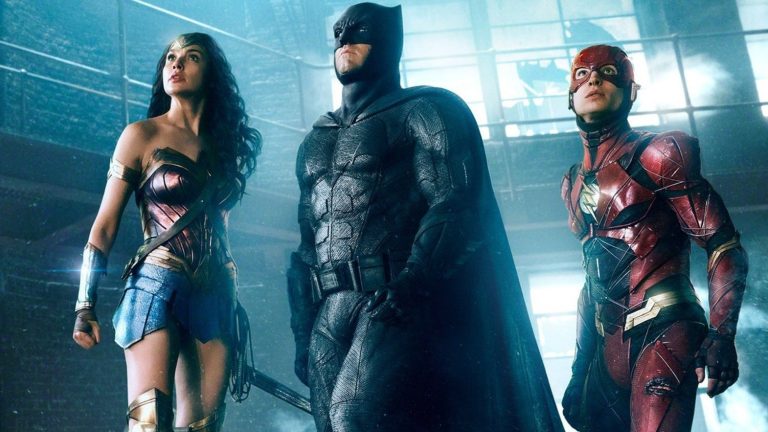 While the first Wonder Woman film didn't have many connections to the larger DC Extended Universe, it still obviously took place in the same world as Justice League and many of the other DCEU films. That being said, the DCEU is in a very different place in late 2020 than it was in 2017. The state of DCEU continuity is, let us say, messy—and seemingly getting messier. How will Wonder Woman 1984 fit into all of this?
When the DCEU launched in 2013 with Man of Steel, it had an eye toward creating a shared cinematic universe like the one Marvel has constructed with the MCU. More recently, however, the franchise has backed off on that strategy, with DC films like Joker not even trying to exist within the DCEU, casting Joaquin Phoenix in the role previously and currently held by Jared Leto. Furthermore, with the younger Robert Pattinson (age: 33) set to take over the role of Batman/Bruce Wayne from Ben Affleck (age: 47) in Matt Reeves' upcoming The Batman, the DCEU will have to make some serious retcons if it has any interest in continuing the DCEU as a shared universe in any substantive manner.
In many ways, Wonder Woman 1984's setting lets it off the hook. Cleverly (and probably intentionally), both Wonder Woman films have been predominantly set well before the main events of the other DCEU films—the first in 1918 and the second in, well, 1984. While there was a Wonder Woman frame tale that saw Diana hanging in contemporary Paris (where she receives a present from Bruce), mostly, these films have avoided getting involved with any of the present-day DCEU shenanigans by simply opting out of the 21st century altogether (a relatable instinct, honestly).
So how does Wonder Woman 1984 connect to the larger DCEU? Den of Geek was part of a group of reporters who visited the Wonder Woman 1984 set in London in 2018. While there, we were able to get some insight from both director Patty Jenkins and producer Charles Roven on the subject…
Roven said there will not be tie-ins to the larger DCEU, adding: "One of the things that Patty has [done], and I don't know what's going to happen in the future because we don't even know where this could go, but specifically she wanted to make sure that we had the character in the universe that was standalone, so that we could continue her character without having to weave [in] the other characters."
For Roven, this choice is not so much about opting out of a shared cinematic universe, which he never explicitly said Wonder Woman 1984 does or does not do, but rather about focusing on the character and world of Diana.
"We wanted to just make sure we could deal with her themes," Roven adds. "That's what I was saying earlier. We haven't finished telling her story. We wanted to concentrate on her. We felt that if we didn't pick a time before, let's say, the DC Universe started with Man of Steel because everything evolved from that, when we were doing everything that dealt with the time after that. We felt that we just needed to focus on her like we did on Wonder Woman."
When discussing the subject with Jenkins, the director downplayed even any connections to the previous Wonder Woman film, saying: "I think there are little things [that connect to a larger story], but those things come secondarily to the story [for this film]. I'm not a huge fan of doing chapter two of a seven-chapter story. That's just not my jam. I feel like that may happen in the way background, but every movie in my opinion that I want to make should be its own great movie, and I kind of like to think about them that way. So I have my own ideas about what [Diana's] overarching arc is, of the whole thing, but it's the story [for this specific film] first."
While both Jenkins and Roven seem to want to play down connections between Wonder Woman 1984 and any other DCEU film (perhaps in an effort to bring in an audience who hasn't seen all or even any of the other DCEU films), there are some unavoidable connections. The most glaring one: the miraculous return of Steve Trevor, who died at the end of Wonder Woman and whose loss Diana was still mourning during the events of Justice League.
"Again, you don't have to worry about anything post this film because everything [that] happens in this film happens between Wonder Woman and this [Wonder Woman 1984], right?" says Roven. "However Steve Trevor finishes in this movie, they're still from 1984 to … 2017 to deal with whatever happens to Steve Trevor after that, OK? But you just have to see where he ends up at the end of this film, right?" Um, pray for Steve Trevor.
In other words? The creators of this film would very much like you to treat it as a standalone, even though it technically still exists within the world of Justice League, which is to say, colloquially, the DC Extended Universe. By setting the film well before the events of that film, Wonder Woman 1984 is seemingly opting out of addressing the larger DCEU in any explicit way. We will have to wait until Wonder Woman 1984 actually hits theaters, but, for now, maybe don't get your hopes up about Bruce sending Diana any more presents… if you were even into that sort of thing to begin with.
If that disappoints you, then know that Wonder Woman can only stay in the past for so long. Jenkins has already spoken publicly about her intentions to tell a modern-day story in Wonder Woman 3. Hopefully, the DCEU will have gotten its act together by then.
Wonder Woman 1984 hits theaters on October 2nd. Warner Bros. will be dropping a new trailer for the film this Saturday during the Wonder Woman 1984 panel at 1pm ET at DC Fandome.