Features
Why Netflix's Fear Street Has an R-rating
Leigh Janiak insisted that her trilogy of horror movies, based on R.L. Stine's novels, have an R-Rating and it makes sense.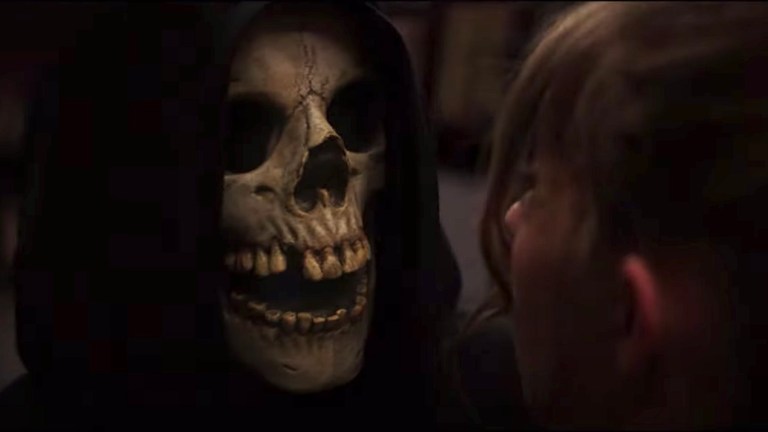 Ask most horror nerds when their love of the genre began and they will tell you it was when they were 13. Or 11. Or 8, or 6 etc. You get the gist. Almost none will say 18. So R.L. Stine's Fear Street books, written for teens, were influential and beloved by many young people discovering and building their passion for all things scary.
Now a trilogy of films based on Stine's series is coming to Netflix – the first, Fear Street Part One: 1994 is already available to stream with the second and third parts arriving weekly. All three of these films are R-rated (which is roughly the equivalent of a 15 in the UK), and according to Janiak this was a deal breaker.
"When I was hired, I very much was like, 'These movies are R rated. And that's the only thing that they can be,'" she told Den of Geek. "And my producers definitely supported that. And Fox, who was the studio that greenlit the movies, also supported that very much. I think that anytime you're making a studio horror movie, there's a little bit of that fear of like, is that going to be the finish line that we get to?"
Though there are plenty of excellent (and far scarier) horror movies rated PG-13 (that's 12A in the UK) – including Insidious, What Lies Beneath, Drag Me To Hell, The Woman in Black, A Quiet Place, The Sixth Sense, Under The Shadow and The Others, to name but a handful, Fear Street is drawing on very specific reference points. Part one is set in 1994, around the time of the slasher revival and there are very clear nods to movies including Scream, I Know What You Did Last Summer and The Faculty. Part Two is set in 1978 and it nods towards the original slasher heyday of Halloween, A Nightmare on Elm Street and Friday the 13th – all of which are R-rated movies.
Because of that, Janiak hasn't skimped on the gore.
"I mean, the kill moments are so bloody and so violent, that I don't even know if someone had raised their hand and been like, "No, no, no, no, no," what that would be or what that would have done," she laughs. "I don't even know if it's possible. We might've had to reshoot!"
Though the kill count is high, and the blood flows liberally, Janiak says it was key that she stay true to the spirit of the books, "There's violence, there's blood, there's hints of sex. And then for me, just a lot of fun. They're really, really fun to read. That was kind of the thing, every decision we made with the movies or with scenes was like, 'How fun can this be?'"
There was one thing she had to dial back on though.
"I will say there was one conversation that we had, when we were shooting the '90s movie, where I may or may not have gotten a call from someone at the studio being like, 'There are a lot of fucks in this movie. You got to do some takes that don't have the kids saying 'fuck' so many times.'"
So should 13-year-old budding horror nuts stay away from the Fear Street films? Depends on the kid, but only in the same way as their parents probably shouldn't have watched Friday the 13th at a slumber party when they were 13…
Fear Street Part 1: 1994 premieres on Netflix on July 2nd. Fear Street Part 2: 1978 will follow on July 9th. The trilogy will conclude with Fear Street Part 3: 1666 on July 16th.