News
Why Kevin Smith Won't Make a Marvel or Star Wars Movie
It's not just brand loyalty that keeps Smith focused on projects based on DC Comics and away from his beloved Marvel and Star Wars.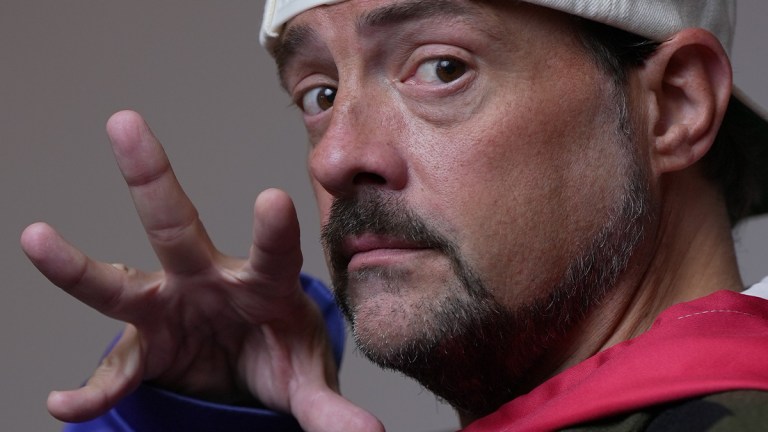 Back in the heady days of the second wave of superhero movies, after Batman & Robin but before the MCU, the biggest nerd in Hollywood wasn't Kevin Feige, nor even producer Avi Arad. No, it was Kevin Smith, who filled laid-back and dialogue-heavy movies such as Clerks and Dogma with pontifications about wage-earners on the Death Star and the sexual habits of the Fantastic Four. Smith even gave Stan Lee a cameo in 1995's Mallrats, before X-Men and Spider-Man put the head of the Merry Marvel Marching Society in a movie.
Over the years, Smith has been connected to superhero properties in one way or another, whether it's writing a script for the ill-fated Superman Lives (leading to this legendary story about Jon Peters) or writing Daredevil, Green Arrow, and Batman comics. More recently, Smith has directed a few superheroes, filming several episodes of The Flash and Supergirl. Does that mean Smith's ready to make the jump to the MCU or Star Wars universes?
"No," Smith bluntly answered when asked that question by a fan (via the Guardian). "It's a fool's errand – you're going to piss somebody off." While certainly true — just look at bad faith review bombs of Marvel and Star Wars properties such as She-Hulk: Attorney at Law and Obi-Wan Kenobi — Smith is no stranger to pissing off fans. So infamous is his habit of arguing with viewers online that it appears as a plot point in Jay and Silent Bob Strike Back, Clerks II, and even his latest movie, Clerks III.
But something has clearly changed for Smith, which he attributes to writing and producing Masters of the Universe: Revelation. "When I worked on Masters of the Universe, I took a lot of heat from people who felt like I had ruined their childhood," Smith admitted. "Going near a Marvel or a Star Wars would make me insanely reticent."
While that might sound like giving up, Smith remains fairly positive about his role in Hollywood. "They've got a billion people to make those movies," he opined; "but nobody's making Kevin Smith movies, so I might as well make them." Of course, he also admitted that he's very lucky to be making these Kevin Smith movies. "I arrived at the perfect moment between film-making and YouTubing," Smith explained. While even five years later, "the floodgates would have opened and there would have been a billion mes," Smith claims that his voice "would have been totally lost in the 21st-century sea of far more talented YouTubers and TikTokers."
Although Kevin Smith movies have included some more ambitious fare as of late, including horror movies Red State and Tusk, Clerks III finds Smith returning to the View Askewniverse that he began with his 1994 debut movie Clerks. Our own Don Kaye called the film "a surprisingly emotional finale," driven by both Smith and the audience's affection for the characters he created. Will these characters last as long as Luke Skywalker or Spider-Man? Probably not, but Smith is clearly okay with that.