Features
Kevin Smith's Clerks III Script Left Rosario Dawson Shocked
Rosario Dawson talks about coming back to the View Askewniverse for Clerks III, the conclusion of the trilogy.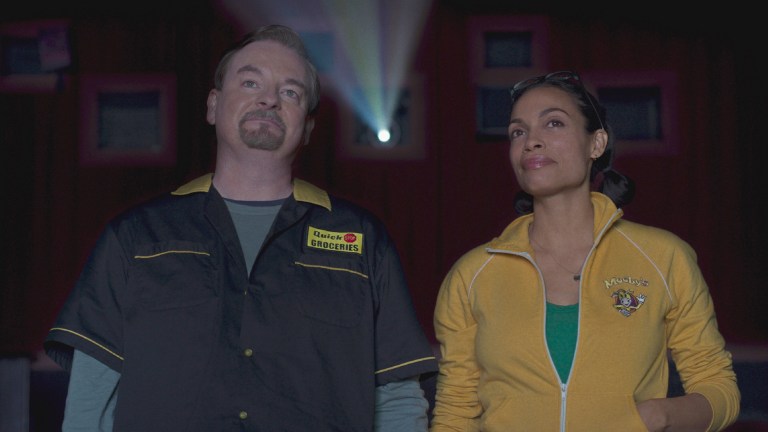 While she did make a relatively brief appearance in 2019's Jay and Silent Bob Reboot, as a completely different character, Kevin Smith's Clerks III marks Rosario Dawson's first major return to Smith's View Askewniverse since her character Becky Scott debuted in Clerks II back in 2006.
By the end of that film, the sexually liberated, commitment-averse Becky had become pregnant with the child of Clerks mainstay Dante Hicks (Brian O'Halloran) and accepted his sudden proposal of marriage. But the thing about happy endings is they only work if you stop the story at a certain point. Hence why Dawson tells Den of Geek that she was surprised when she read the script for the new movie and learned that Dante and Becky's journey veers in quite a different direction (which we won't reveal here).
"He didn't tell me," Dawson recalls. "I had to read it [and] experience it for myself. It was really upsetting. I had to put the script down for a second. But I understood it, and it felt really special and important… It lends itself to some really special scenes and moments and speeches, and character developments that just felt really profound and special and important, and real and honest and true."
While it's hard to delve much deeper into details of Clerks III without spoilers, Dawson says that she's satisfied with the way the story of Dante and Becky turns out. "I think [Smith] made a right choice," she says. "And I got to bring Becky back. Becky's just fun and awesome, and light and charming, and it was great to kind of give that some more life."
As Clerks III opens, Dante and his longtime friend and business partner Randal Graves (Jeff Anderson, of course) are still co-owners of the Quick Stop, still bickering and geeking out pointlessly over Star Wars and other pop culture references, and still visited by their usual motley assortment of weird characters and customers (including, naturally, Jay and Silent Bob, played by Jason Mewes and Smith).
When Randal suffers a major heart attack, however, it leads him to take stock of his life. He decides he's going to make a film, a film about his and Dante's lives and experiences while working at the Quick Stop. As they begin shooting though, it soon becomes apparent that we're watching them make a meta version of the original Clerks, right down to the black and white film stock.
The View Askewniverse and Kevin Smith's own personal and professional life have always merged in different ways throughout the years, and as Dawson points out, Clerks III was inspired by Smith's own near-fatal heart attack, the kind nicknamed by doctors as "the widowmaker."
"Kevin is such a man of the culture," says Dawson. "His experience surviving a widowmaker was major breaking news, and we all kind of went on that journey with him. So him using that [experience] in this, with these characters, just felt really right and powerful and real and good, and in a way that he could be self-referential to this whole journey. It felt really remarkable that he could make that kind of film, and have that perspective and the rich history with which to do it. Not everybody can make this film."
Smith had actually set out to make Clerks III back in 2013, completing a script that year but having trouble finding the financing. By the time he did have the money in place, around 2018, he suffered his heart attack—and that event led him to completely reimagine what Clerks III would be about and write a brand-new screenplay.
Although Smith held a live reading of the original script in 2019, to raise money for a non-profit theater in New Jersey, Dawson has never seen it.
"No, I never got to read it," she says. "That was like the ultimate tease, the fact that it was there and existed and was floating around. I never got to experience it… he explained a little bit to me, and it's very different. But I do think you know, this one struck at the right time because it strikes the right chords."
Lest one thinks that Clerks III is a morose meditation on mortality, aging, and grief, remember that this is still a Kevin Smith film. Dawson is quick to note that the irreverent (and let's face it, often questionable in terms of taste) comedy has been part of this franchise for nearly 30 years.
"It's going to have those same great diatribes and conversations, and debates and silliness," Dawson explains. "The things we love so much about it is that humor and the things that have become iconic, but we forget just how personal his stuff is and how emotional it can always get. The absurdity that's sprinkled everywhere is what helps land some of those really hard punches that he delivers."
While it's unclear whether Clerks III brings Dawson's time in the View Askewniverse to an end (she could presumably pop up again somewhere), the actress is geek culture royalty, with a foot in two of the biggest nerd-centric franchises around.
She's slated to star as the title character in Ahsoka, the long-awaited Star Wars series for Disney+ that is still currently filming, and there have also been rumors that she may reprise her role in the Marvel Cinematic Universe as Claire Temple, the nurse who gave aid to street-level superheroes across five Netflix/Marvel series: Daredevil, Jessica Jones, Iron Fist, Luke Cage, and The Defenders.
With Matt Murdock officially re-entering the MCU via a new TV series called Daredevil: Born Again, speculation has run rampant about whether the rest of the original cast will be called back as well.
"I read something somewhere that was like, 'She's been contacted,' and I was like, 'I have?'" says Dawson, shutting down the rumors for a minute. "But they know where I am. It's all Disney: Star Wars, Marvel [Laughs], it's all in same space, so they know where I am."
She adds that she would gladly come back to the MCU if asked. "I love Claire Temple," she says. "She was the first character I ever got to live so long with. I'd never had that chance before. To do it over multiple shows with different showrunners, it was just really special to watch her develop and grow. She's a special character so I'd love to explore where she's at right now. That would be awesome. If not, I'm really happy for everyone. I love them so much."
Clerks III is in theaters this week for a limited engagement via Fathom Events.