Features
How Kevin Smith's Brush with Death Changed Clerks III
Kevin Smith tells us Clerks III changed for the happier after his heart attack. It became a chance to give something back to Randal and Dante.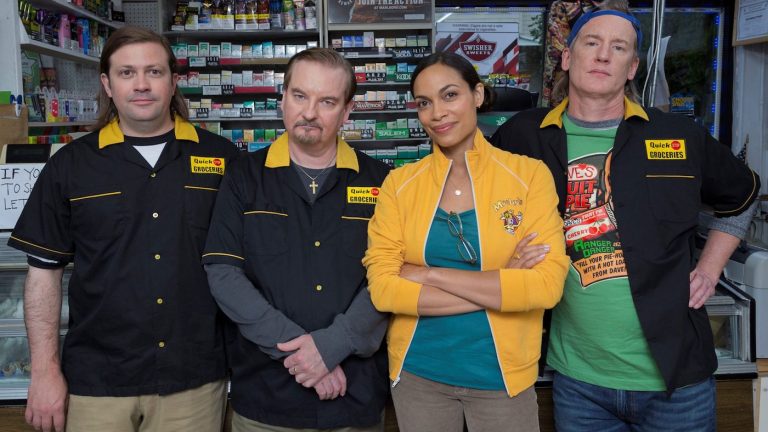 Clerks III was originally set during a hurricane—Hurricane Sandy, to be exact. In the fallout from that cataclysmic event, we would've found lovable counterculture antiheroes Dante Hicks (Brian O'Halloran) and Randal Graves (Jeff Anderson) older and definitely the worse for wear after the floods swept away their Quick Stop convenience store like an act of God. From that on, things would've just gone downhill for the pair.
This is the concept Kevin Smith turned into the first draft of Clerks III, and the one he presented to an audience with a live-reading of the script at the First Avenue Playhouse in Atlantic Highlands, NJ in 2019—the same place where Smith did auditions for the original Clerks movie nearly 30 years earlier.
However, by the time of that Clerks III's live-reading, Smith already knew it wouldn't be the version of the story to finally make it to the big screen. Between 2013, when Smith first began developing the concept of a threequel, and 2021, when he finally shot the movie, the writer-director's life had changed in a big way: he survived what doctors call "the widowmaker" heart attack.
"That story was written by a guy who was obsessed with death but had no idea what death was," Smith tells us now. "And then I had the fucking heart attack and I learned what death really is. That version of Clerks III was very King Lear. Everything breaking down. This version is more celebratory, it's more joyous."
Joyous is a good word to also describe Smith when we caught up with him in the Den of Geek studio at San Diego Comic-Con in July. At the time, he's dressed as his popular alter-ego Silent Bob, who alongside Jason Mewes' Jay shows up yet again in Clerks III. The new movie marks the ninth time the pair have played these characters in a live-action film, and Smith is quick to joke about "how sad it looks" to see a man over 50 wearing a backwards cap. Yet the genial good spirits and unmistakable twinkle in his eye suggests otherwise. Here is a storyteller thrilled to have more story left to tell, and in the case of Clerks III, that story became much more focused on the glass being half full, even for a pair of knuckleheads who've been working at the Quick Stop since the '90s.
While acknowledging he still loves the initial version of Clerks III that he came up with, Smith now suggests that take on Dante and Randal's fates feels "cursed" after all the years of false starts and delays.
"Then I was thinking, after the heart attack, about doing a movie where I was going to play myself going back to work at the Quick Stop and trying to recreate the situation through which Clerks was created."
Returning to his roots has been a common theme throughout Smith's career. The original Clerks was, famously, the indie breakout of Sundance in 1994—a grainy, black and white, 16mm movie that Smith shot in the same convenience store he had worked for years. In many ways, the pop culture phenomenon that Clerks became in the '90s was a way to escape that world—yet he's never gotten too far from it, whether with direct sequels to Clerks or spinoffs in the larger "View Askewniverse" built around the Quick Stop (a feat Smith achieved more than a decade before the Marvel Cinematic Universe, we might add).
Still, it didn't take long for the director who wanted to go home after a life-changing event to realize he could finally change the lives of his most beloved creations as well. He would also offer them something rosier than the bleakness he originally planned.
"This would just be better if I did it through Dante and Randal, and gave Randal my heart attack," Smith explains about how his quasi-documentary changed. "Let him go on the journey of making Clerks and bringing it, in a weird way, full circle. Dante and Randal have given me everything, so it felt like maybe I'd give them the same shot they gave me."
Indeed, Clerks III blurs the lines between fact and fiction when Randal, now pushing 50 and a co-owner of the Quick Stop convenience store he once hated, has his own heart attack and uncomfortable brush with death. Afterward, he realizes he doesn't want to spend the rest of his life talking about movies with his pal Dante (O'Halloran). Instead they're going to make one, and it'll happen to look an awful lot like 1994's original Clerks.
Smith has always been a believer of the old advice to write what you know. So giving one of the onscreen clerks his heart attack was part and parcel for a storyteller who's been recounting his medical experiences for several years now from the stages of comic book convention halls and talk show studios.
"If you can use it, fucking use it," Smith explains, "especially if it's a bad thing that happens. Nearly dying, having a massive widowmaker, is a bad thing. But if you can take it and repurpose it into something kind of fucking useful and shit, suddenly you can [take] the power from what it was and turn it into a power in a different way."
Nonetheless, we couldn't help but note it's interesting that the eternally snarky Randal is the one who goes on Smith's journey of both a heart attack and filmmaking reclamation—not Dante, whose daily miseries in the original Clerks were clearly modeled on Smith's own experiences.
When we mention that irony to Smith, he's quick to point out that while Dante was his avatar, he originally wanted to play Randal, who in turn was based on his childhood pal Brian Johnson. That's why Randal always got the best lines until Smith realized that, in his words, "I'm no actor," and instead gave the part to his high school friend Anderson.
Dante and Randal might've begun as a heightened version of Kevin and Brian, but there was always a little bit of Smith in both characters—perhaps more so in Randal as the years progressed.
"For me, the filmmaker, it's like a weirdly personal triumph because I've spent my whole life trying to become Randal, and at least in the movie, I do finally get to become Randal in some weird way," Smith says. "But [making a movie] also just didn't feel like something Dante would do, which is where me and the character differ. If Dante is indeed based on me, and he indeed was, it stopped being me such a long time ago. Dante would've never made Clerks. He's a shit or get off the pot kind of guy… I wouldn't have bought that personally, and I'm a big Clerks fan. If it was Dante making the movie, I'd be like, 'I don't see it.'"
Yet it was the misery of Dante's counterpart, the perpetually sarcastic Randal, in whom Smith saw the capacity for change, especially since his too-cool-for-school slacker routine wears a little differently on the other side of 40.
"Randal has nothing to lose," Smith says. "He's got no love, no family, no life outside the Quick Stop. He's just led a nonstop existence of sniping and cynicism. He got to own his own store, but perhaps doesn't feel quite as fulfilled. Both of those things are anathema to me, in as much as I've been fulfilled for a long time now. I get to make the movies I want and tell the stories I want to."
In Clerks III, he finally wanted to tell a story about "empowering these cats" instead of tearing them down. It's time to get off the pot.
Clerks III is playing in limited engagement now via Fathom Events.