Features
What Went Wrong With Teenage Mutant Ninja Turtles II: The Secret of the Ooze?
Producer Tom Gray talks about the making of Teenage Mutant Ninja Turtles II: The Secret of the Ooze, and all the ways it divided fans.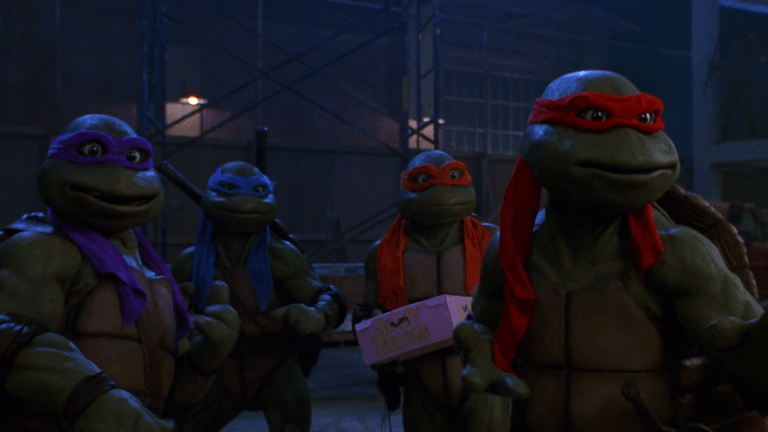 The story of how Teenage Mutant Ninja Turtles went from underground comic book to the highest grossing independent film of all time is the stuff of Hollywood legend. But ask producer Tom Gray about the sequel, Teenage Mutant Ninja Turtles II: The Secret of the Ooze, and you are likely to hear an altogether different tale. One of a frantically rushed production, censorship backlash and a change of director and direction. Actors were replaced, there were clashes with the comic book creators and a series of strange and unusual characters were added to the mix – including Vanilla Ice.
Gray was head of production at Golden Harvest, the Hong Kong studio behind martial arts classics like Bruce Lee's Enter the Dragon, when comedian-turned screenwriter Bobby Herbeck first approached him about a live-action film adaptation of Kevin Eastman and Peter Laird's cult comics.
It's fair to say he took some convincing.
"I hated the idea. I thought it was stupid," Gray tells Den of Geek. Undeterred, Herbeck pestered Gray for months until the Golden Harvest chief had a sudden change of heart.
"I had an epiphany and thought we could just put stunt guys in turtle suits and make all our money in Japan. That was why I was interested; making it low budget. It escalated when Steve Barron came onboard."
Barron had made his name with groundbreaking music videos for Michael Jackson's "Billie Jean" and A-Ha's "Take on Me" and sold Gray and TMNT creators Eastman and Laird on his vision for the movie.
More importantly, he enlisted the late Jim Henson and his legendary Creature Shop to bring the Turtles to life using state-of-the-art animatronics, which came at no small expense.
Even so, Gray found the project was a hard sell when it came to finding a major studio willing to distribute the movie.
"George Lucas's Howard the Duck had just come out and bombed," he recalls. "When I went around people would say 'oh no I'm not going to put my name on the next Howard the Duck. Teenage Mutant Ninja Turtles, how absurd.' Nobody wanted to step up in the major studios."
Undaunted by the mass rejection ("Hollywood is always the last to know") Gray eventually secured a deal with New Line Cinema, then best known for A Nightmare on Elm Street.
The rest, as they say, is history.
That first Teenage Mutant Ninja Turtles movie came from nowhere in the spring of 1990 to make an astonishing $135 million, becoming a cultural phenomenon in the process. A sequel was inevitable but the results were anything but.
"It was rushed," Gray says when asked for his overriding feelings about Teenage Mutant Ninja Turtles II: The Secret of the Ooze. "Once the first film opened, we figured we had to get another one out as quickly as possible because this whole thing could fade away very quickly if we didn't come back."
Incredibly, a release date for the sequel was set for almost exactly a year on from the original. That seems crazy to think now, in the era where the Marvel Cinematic Universe is carefully plotted out years in advance, but this was 1990 and New Line Cinema. At this point the production company which was working on its sixth Nightmare on Elm Street Movie in the space of just seven years. The quality of those films had varied wildly but one thing had remained consistent: the quick turnaround.
"New Line wanted it out on pretty much the same date, maybe a week earlier in fact. So, we rushed into the production, got a script together. The overarching thing was speed. We had to get it out," Gray remembers. "I think that's probably the reason why it doesn't top many people's list of the best Turtles movies."
A Change in Tone
One of the first challenges facing Gray was a tonal one. While the first TMNT film had garnered praise for maintaining the dark and dangerous feel of the original comics, not everyone was happy.
"We started getting some pressure from parental groups. They felt it was a little too dark and a little too frightening for children," Gray says.
In the US, there were reports of Turtles toys and merchandise being banned in schools over worries they encouraged aggressive behavior in kids. In the UK, the characters were even rebranded the Teenage Mutant Hero Turtles amid concern among censors that the word "ninja" promoted violence. Michelangelo's nunchucks were also banned. It wasn't just the censors who expressed concern either.
"The toy company was also telling us that maybe we shouldn't be too dark," Gray said. "And then, of course, then there was Jim Henson himself, who died while we were making the film. His whole thing from the beginning was that he didn't want to make a really dark film. Steve [Barron] was able to convince him it was the way to go even though it was different from the Muppets and everything he had done before. They had a great relationship. Jim trusted Steve."
The decision was made to approach the material with a lighter tone, with Todd Langen's original script undergoing a major rewrite to address the change. Despite the change Gray insists an attempt was made to retain some of the darker elements.
"We tried to get somewhere in between but probably didn't succeed."
Ultimately, however, the looming deadline left little room for nuance.
"If you sit down and think about this thing too much, you're never going to get underway," he reasons.
A New Director
In another notable shift that fans have questioned down the years, Barron did not return for the sequel.
The Irish filmmaker told Flickering Myth that the shift in sensibilities was the deciding factor.
"[It was] lighter, and all the instructions that had gone on from the first film were coming from the producers about keeping the color and lightness and getting away from the dark edge in number two," he said. "For me it was poppy, and that wasn't my sensibility."
Gray tells Den of Geek Barron didn't come back "for reasons that I won't go into" but during the interview paints a picture of difficulties during their work together on the first film.
"I fought with the crew every single day but they did a hell of a job. Budgets were not adhered to but I've always given them credit because of their vision," Gray says.
The producer also revealed that the first film was re-edited from Barron's original version after his bosses were left unhappy with the director's cut.
"The studio did edit the film in the end to come up with a different version. It was felt it was cut so you didn't get to see the roundhouse kicks and fighting which was the hallmark of Golden Harvest. When the bosses saw it in Hong Kong, they complained that they couldn't tell what the turtles were doing. They wanted to see these guys kicking and fighting. Steve's style was good but we wanted another look."
Despite Gray's diplomatic tone, it's not difficult to imagine such developments might have created tension. In Barron's place came American filmmaker Michael Pressman, who Gray knew from his days at United Artists.
"What I liked about Michael was that he was a disciplined director. Having gone through the problems with the first picture I wanted someone who shot fast and stayed on budget. That was my main motivation," the producer says.
A capable director who has gone on to enjoy a long and varied career in television, little of the blame for Teenage Mutant Ninja Turtles 2's failing can fall at Pressman's feet though it's undeniable that some of the creative spark of the first film was lost with Barron's exit.
So was much of the original's violence, with the Turtles rarely shown using their weapons in the finished film while the action set pieces were also significantly watered down.
Eastman and Laird
Despite the criticism levelled at the sequel for failing to retain the tone of the comics, all of what went into the movie was greenlit by the TMNT creators. Part of the deal inked by Peter Laird and Kevin Eastman saw them retain final approval on anything in the film. But that created other issues both at script and production level, as Gray recalls.
"Kevin was certainly more malleable with going along with things because of the budget but Peter was very difficult to get things by because he would say 'Oh, well Michelangelo would never say that'. So, it was very hard from the point of view of the writer trying to figure it all out."
With Barron no longer around to mediate and sell them on the plans and with time ticking on, the pair's reluctance to sign off on ideas led to increased tensions.
"We argued a little bit," Gray says. "These things are never sweet or nice. It gets down to what we can do and, in the time provided. It's about compromise. In the end they approved Langren's changed script. Maybe it was reluctantly but we weren't going to meet the demand and get this out if they kept changing things."
Tokka and Rahzar
One of the most noted criticisms of Teenage Mutant Ninja Turtles 2 concerned the decision to introduce two new sidekicks alongside returning villain Shredder, rather than draw on the wild array of mutant animals that had featured in the comics and TV series.
Many fans had expected to see Bebop and Rocksteady, the mutant warthog and rhinoceros supervillains made famous in the cartoon, feature. However, that cartoon outing proved both a blessing and a curse.
"I didn't want them in any of the movies," Laird later revealed on his personal blog. "It's not so much that I disliked the characters so intensely, but more that I found their constant one-note shtick in the first animated series to be extremely annoying and silly to the point of being stupid."
Gray's version of events differs slightly.
"We wanted new villains because we would get a piece of the royalty, which we didn't have with the first movie. We figured if we created something they didn't come up with we would get a piece of the pie. It was a business decision."
Together with the creatives at Henson's Creature Shop, they "threw together" Tokka and Rahzar, a mutant Alligator Snapping Turtle and wolf respectively, based on pretty much whatever was available.
"Those things were basically the Henson Creature Shop's ideas, because they had to figure out, technically, what they could do, how big they were going to be and how they could move," Gray says. "They had to design all this stuff, put someone in the suit and then wire them up or get the animatronics going to make it work. So, we just went to them and said we need a couple of villains."
Indeed, the resulting animatronics proved less complex and less compelling than the heroes in a half shell – and it showed on screen.
"They were just big models," Gray admits. "We cut corners, there's no question about it."
Sweaty and Claustrophobic
Meanwhile, the turtle suits themselves had undergone little in the way of upgrades since the first film, when the actors playing the four leads experienced any number of issues. Not the least of which being the claustrophobia and sweating that comes with wearing up to 70lbs worth of turtle suit.
The animatronics also, despite being state-of-the-art, continued to suffer their fair share of glitches.
"We knew what the difficulties were and they were unbelievable," Gray says. "There were days when we couldn't even get these things set up. We were filming right near the Wilmington Airport. We set up a shot and when it came time for action the Turtles would not speak. We realized they were on the same frequency as the airport."
Gray blames the lack of a major upgrade, in part, on the lack of additional budget.
"The budget didn't exponentially go through the roof, because of the speed," he explains. "I have read things saying it was $20 million. It wasn't, it was $16.5 million."
A New April O'Neil
Away from the animatronic issues, the human cast of Teenage Mutant Ninja Turtles 2 proved a mixed bag. Corey Feldman didn't return to voice Donatello after pleading no contest to a drug possession charge while, more notably still, Judith Hoag was replaced by Paige Turco as April O'Neil.
Hoag later told Variety she was never approached about the sequel, claiming her omission was a result of the fact she complained about the level of violence in the first movie and the six-days-a-week shooting schedule.
"Everybody was beating everybody up," Hoag said. "I thought the movie suffered because of that. It was something I spoke to the producers about, I think they thought I was too demanding, and moved on."
Not that Gray felt the production suffered as a result of either changes.
"No, not at all," he says. "Certainly not with Corey Feldman because it's a voice. Remember when you play that movie around the world it will be in 40 or 50 different languages and subtitled anyway. It makes no difference and nobody overseas even knew Corey Feldman was doing a voice…With Judith, we thought it might be of concern but then again it's all about the Turtles. People aren't showing up for Judith – though she did a fabulous job – it was really all about the Turtles."
Elias Koteas also failed to return as the ice hockey stick-wielding vigilante and ally Casey Jones – though that was more down to the film's shift away from adult themes and one of the more violent human characters.
"Casey was discussed but the reason he dropped out – and I don't think this was a major issue – was the direction we wanted to take the film," Gray says. "We wanted to go lighter. That was part of cleaning up the act."
In his place came Ernie Reyes Jr, a rising martial arts star who had served as a stuntman on the first film and was introduced as Keno, a pizza delivery boy who befriends the turtles. It was a stark departure from Koteas's character but, once again, it was one Gray says came with the backing of the TMNT hierarchy.
"If Peter and Kevin had wanted Elias back, he would have been back. So, either we were able to convince them that we wanted to go with Ernie and they went along with it."
Vanilla Ice
Quite how they were convinced to include rapper Vanilla Ice in the proceedings is anyone's guess, with the rapper turning up in a mid-film nightclub scene to perform new single "Ninja Rap." His cameo continues to delight and horrify fans to this day. Few will be surprised by the commercially-minded circumstances that led to his appearance.
"SBK the record label producing the soundtrack album said 'You gotta have Vanilla Ice in this, he's hot' so we put him in…We had a good album out of it. Sometimes you don't make the movie for the reason of art you make it because the thing could go away in a heartbeat. I've always been fairly honest and upfront about our motives. It is a business."
While others might disagree, Gray stands by the inclusion of Vanilla Ice in the film.
"He actually did a very good job. He's a very cool operative and he loved doing it."
Shredder or Krang?
Looking back on the sequel, as much as anything, the most disappointing aspect was the decision to resurrect Shredder rather than explore different villains in the way other comic book franchises have.
While Shredder has always been the main antagonist, as with Bebop and Rocksteady, there remained a plethora of colorful villain characters that could have been plucked from the pages of the original comic or the animated series. But the decision to stick with Shredder was not one takem lightly by anyone, and others were discussed.
"We went through the whole catalogue of villains and certainly Krang and all these other characters were in play," Gray says. "We thought of them but we stayed with what works and that's what you do in these situations. Don't try and get too clever."
As much as anything he blames the Hollywood system and a refusal to take risks. New Line too, would have no doubt been happy to press ahead with a Shredder-oriented sequel, seeing him as the TMNT's very own Freddy Kreuger of sorts.
"Nobody trusts their instincts," Gray says. "You go with what worked before and try to modify it a little bit. If it works [and the plethora of Freddy sequels suggests it did] then you are justified in using the same thing over and over again."
Once again though the decision to stick with Shredder and avoid the kind of time and expense required to create something like Krang, a brain-shaped alien carried around in the waist of a robot man, was influenced by that release date.
Teenage Mutant Ninja Turtles II: The Secret of the Ooze opened in theaters on March 22, 1991, less than a year on from the original. It went on to make over $78 million to become the second most successful independent film of all time.
Despite turning a profit, the film garnered mixed reviews and left Gray and others disappointed.
"It didn't deliver on what we had hoped because there was this race against time to get it out one year after the first one. When you do that, you really have to compromise."
Teenage Mutant Ninja Turtles III
After the rush to make a second film, it was decided that they would take more time over the third one.
But anyone hoping for a return to form was left disappointed by the Teenage Mutant Ninja Turtles III: Turtles in TIme, which saw the gang head to 17th century Japan.
"With number three, we were aiming something at the Japanese market, which was the number one market for foreign films," Gray explains. "That's why we had the time travel storyline with the samurais. That was definitely one of the motivations."
There was just one problem though.
"We hoped it would get the film released in Japan. To this day, it has not been released in Japan."
Though Gray returned to produce an animated fourth film in the 2000s box office returns diminished with every film. By the time Michael Bay got involved in the franchise, Gray was long gone. He now considers himself "out of the turtle game" with this being one of the last interviews on the subject. But despite the highs and lows endured on the second film, Gray remains proud of what was achieved.
"These movies were made by committee. It's amazing they turned out so well."