Features
Gladiator 2 Still a Priority for Ridley Scott
Gladiator producer Douglas Wick tells us that everyone, including Ridley Scott, is still pursuing Gladiator 2… as long as it can live up to the original classic.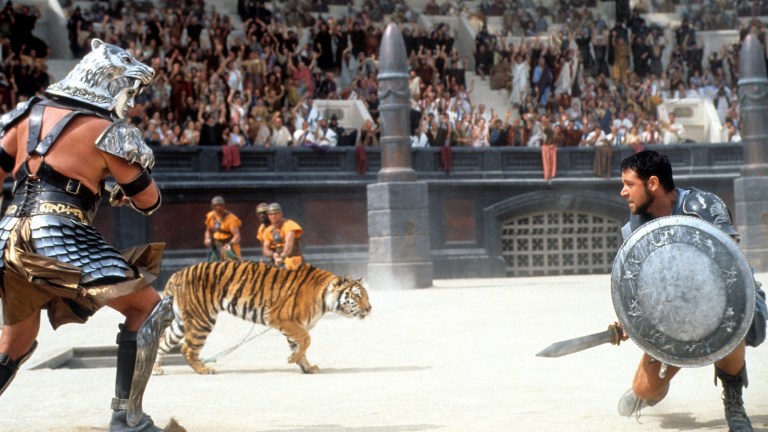 While speaking with Douglas Wick about Gladiator during its 20th anniversary, and in time for the movie's 4K Blu-ray Steelbook release, the producer said the first answer to any question should be having Ridley Scott in the meeting. Apparently that holds true for the long-gestating Gladiator 2 as well, which Wick confirmed is still very much alive.
"Yes, we're working on it, and we've just all vowed that we'll only proceed if we get something great on paper," Wick tells me about the possible sequel. "We're too respectful of the first movie to ever do anything cynical."
The idea of a Gladiator 2 has been floating around since almost the day the original movie came out. At one point Scott, who directed the Oscar winning classic, even toyed with the idea of bringing Russell Crowe back but in a different role since Crowe's Maximus died at the end of the original movie. That obviously did not happen (thankfully), but the movie is apparently still in development with Scott attached.
"[It's being done] completely with Ridley," says Wick. "There's no Gladiator without Ridley."
This is the first news we've heard since Scott and Wick brought the project to Paramount Pictures in 2018. With the original being produced by DreamWorks Pictures, the sequel needed to find a new home and at Paramount it was announced that Scott had tapped Peter Craig to write the screenplay. Craig seemed like an interesting choice given his previous films included Ben Affleck's The Town and two relatively similar themed blockbusters in The Hunger Games: Mockingjay – Part 1 and Part 2. But there hasn't been a whole lot of public movement on the sequel since then.
Wick hinted the problem was squaring away the story, which makes sense as the titular gladiator of the original movie not only died but was seen entering an idyllic afterlife with his family. At one point years ago, Scott said he liked the idea of a sequel focusing on the character of Lucilla, who was played by Spencer Treat Clark in the original movie, growing up to be a gladiator. But it is unclear if that's still on the table.
Of course following up a beloved original movie with a legacy sequel is becoming a common occurrence two decades later. Still, that first picture has aged with incredible grace because almost everything about it works. Wick described Oliver Reed's final performance in the movie as the gladiator owner Proximo as "catching lighting in a bottle," but it could also apply to Russell Crowe's star-making turn as the general who became a gladiator or Joaquin Phoenix's unforgettably creepy Commodus. Even the Hans Zimmer score of Gladiator is still hauntingly ear-wormy.
"Just starting to hear the sounds that he heard for the movie, that was just the beginning of understanding we would now have a whole other level to the experience," Wick says of the first time he heard some of Zimmer's orchestrations for Maximus' adventures.
For a sequel to recapture all of that would be extremely difficult. But 20 years on, it's clear there is still magic in the sounds of Zimmer's strings as a bloodstained hand touches fields of wheat.
The Gladiator 4K Blu-ray Steelbook is available now.