Features
Venom: Let There Be Carnage – What Happened to the Cop Mulligan
Venom: Let There Be Carnage ends on a crazy cliffhanger, but we're still more intrigued by what happened to Stephen Graham's Mulligan.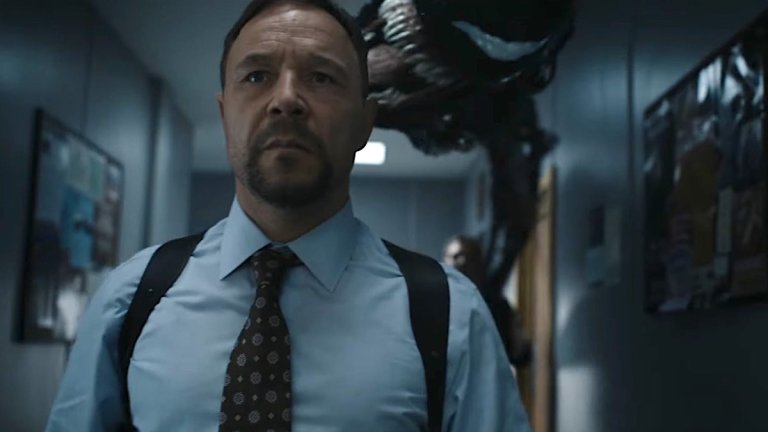 This article contains big Venom: Let There Be Carnage spoilers.
If you've scrolled around the internet in the last day or two, you might've seen folks talking about a little movie called Venom: Let There Be Carnage. With the superhero sequel breaking box office records over the weekend, and ending on a cliffhanger that seems to tease we'll finally get some proper Spider-Man on symbiote action in the MCU, there's a lot out there for genre fans to unpack. Yet one of the most curious mysteries about Eddie Brock's cinematic battle with Cletus Kasady is the literal carnage it left in its wake.
For example, what exactly happened to Stephen Graham's Patrick Mulligan?! You remember, the police detective who seemed vital to the events of Venom 2 but then disappeared in the midst of all that symbiote chaos during the climax. Well, it's funny you should ask…
The last time we get a good look at Graham in Venom: Let There Be Carnage, the detective had just revealed to Eddie Brock (Tom Hardy) that he was the then-much younger officer who shot Naomie Harris' Frances Barrison, the mutant who becomes Shriek. Unfortunately for Mulligan, she lived. It's why Carnage (Woody Harrelson) takes the copper hostage at the end. Funnily enough, more than one person has told me it seemed like the character was killed off by Shriek after she gets him up on the bell tower and proceeds to take "an eye for an eye."
So in case you missed it, it turns out Shriek didn't get her moment of pure, bloody revenge. These things are hard to catch when you have so much sound and fury going off around symbiotes. In fact, we (briefly) see Mulligan one more time with both eyes as a new symbiote seems to consume him.
"Monsters, monsters everywhere," is the last we hear from our good lawman. So wait, was that Carnage coming for him? And why didn't we see what happened next? The answer is because they have to save a big reveal for the sequel. They have got to hide that…
Mulligan Becomes Toxin
That's right we're about to get a third major symbioted character. Or fourth when you count Riz Ahmed's Riot from Venom (2018). While the how's and why's of this occurring in Venom: Let There Be Carnage remain frustratingly opaque, Toxin is actually Carnage's son, just as Carnage is Venom's.
In the comics, Toxin was the third major symbiote character introduced on the page after Venom and Carnage, first appearing in Venom/Carnage #2 in 2004. This red and blobbier looking symbiote is created reluctantly when Carnage (both the symbiote and its host Cletus Kassady) realize they've become pregnant. Far more vain and narcissistic than even Venom, and with the memories of Kasady's broken home, Carnage has no desire to give birth to a spawn which could become more powerful than himself, just as Carnage became more powerful than Venom. So he resigns himself to killing it as soon as it's born.
Kasady even goes so far as to bond the symbiote to a hero cop who happens to be stumbling by, Det. Patrick Mulligan, so he can easily kill both while they're disoriented. Luckily, Venom sought this event out, hoping to raise his grandchild symbiote. It is Venom who even names the new creature Toxin—after himself. The two characters, however, have a falling out because Brock in the comics is still kind of unhinged while Mulligan wants to be a real good guy.
So instead of becoming Venom's partner, Toxin turns out to be the first symbiote to be a true ally to Spider-Man and a real superhero, as opposed to a partner of convenience, as is often the case with Venom.
Presumably, Venom: Let There Be Carnage is setting Graham's Mulligan up to be a possible partner (or rival) to Venom in a new movie down the road. And similar to how Venom inexplicably gave birth to the Carnage symbiote without even realizing it in Venom 2, we're left to deduce that Carnage's symbiote likewise "infected" Mulligan with its his spawn when that tendril was wrapped around the lawman's face earlier in the church.
It makes sense though to hire an actor of Graham's caliber—he truly is phenomenal in Boardwalk Empire and The Irishman—to be more than just "the copper" in your superhero movie. With that said, how this will all shake out now that Eddie Brock has transported himself to the Marvel Cinematic Universe—which according to director Andy Serkis was a last minute decision—remains to be seen.