News
Venom 2 Box Office Shatters Franchise and COVID Records
Venom: Let There Be Carnage earned $90.1 million over the weekend, breaking records and confirming again that cinemas are rebounding this fall.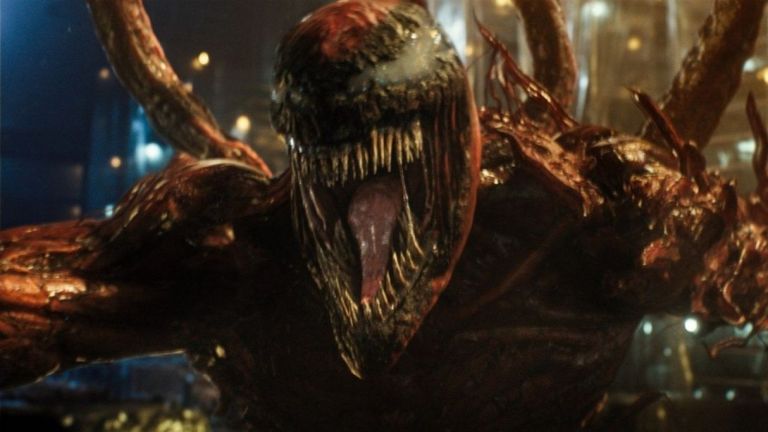 It would seem reports of movie theaters' demise were greatly exaggerated. That seemed obvious last month when Shang-Chi performed beyond expectations and earned $94.7 million over a four-day holiday weekend. Yet it seems even more clear now since Venom: Let There Be Carnage, the follow-up to Tom Hardy's madcap 2018 superhero movie, blasted past the box office records set by its predecessor, as well as every other film to open in a traditional three-day window since the COVID-19 pandemic started.
Grossing an estimated $90.1 million this weekend, Venom 2's box office is a major win for Sony Pictures as well as theatrical exhibitors. The latter is especially eager to rebuild confidence in the moviegoing experience after previous anxiety among movie studios led to a reshuffle of this fall's release schedule—including Venom: Let There Be Carnage, which was originally supposed to open on Sept. 24. In fact, Sony apparently lowballed expectations by projecting the film to open around the $65 million range this weekend. Instead the red and black slugfest earned more than the first Venom movie's debut of $80.3 million in 2018 (then a record for October) and more than Marvel Studios' own Black Widow in July. That Scarlett Johansson-led superhero swan song grossed $80.2 million in three days.
Additionally, Venom: Let There Be Carnage has set the second highest October opening record, placing itself behind another supervillain spinoff movie, Warner Brothers' Joker, which grossed $96.2 million in its first three days in October 2019.
The over-performance of Venom is a vindication for Sony after previously moving Venom 2 from September to Oct. 15 before finally settling on an Oct. 1 debut. During that repeated shuffling, some outlets had even surreptitiously reported that the studio was considering moving the picture to January 2022, a rumor which Sony vigorously denied.
That rumor, however, reflected a growing trepidation among studios after the end of the summer proved to be a lackluster time for movie theaters with The Suicide Squad flopping at the box office, and Disney's own Jungle Cruise and Black Widow at least disappointing in their own theatrical runs. Of course all of those movies shared one other thing in common: being available online the same day they premiered in theaters, which meant they also instantly became available for HD piracy. But despite growing concerns about how the Delta variant is ripping through the U.S., particularly in states with higher unvaccinated populations, it seems many Americans, and for that matter global audiences, are ready to return to cinemas en masse.
Venom's success is also an interesting win since the movie, which features Hardy's lovable goofball performance as Eddie Brock/the alien goo in his brain, was met with a more divided critical reception than other recent superhero movies Shang-Chi and Black Widow. Sitting just on that nether region between "fresh" and "rotten" on review aggregate site Rotten Tomatoes, Venom 2 has a current RT score of 59 percent. Notably though, its audience score is a much more enthusiastic 86 percent. CinemaScore, which more scientifically surveys audience perceptions, also has pegged the film's word of mouth at a respectable "B+."
Given Venom: Let There Be Carnage ends on a massive cliffhanger for comic book movie fans, its success guarantees more Eddie and Venom action in the years (or months?) to come. It also sets the stage for other blockbusters with exclusive theatrical windows to really push the COVID era records higher this month.
For instance, the long anticipated James Bond movie, No Time to Die, has yet to open in North America. The film, which marks Daniel Craig's swan song as 007, has years of built-up hype after Bond turned out to be one of the first movies to be delayed in 2020 due to the pandemic. And with the film already opening in UK and several other international markets, No Time to Die has already grossed $119.1 million in four days. The hype is real for this one, and many will be looking very closely to see if Bond could become the first film in nearly two years to gross over $100 million when it premieres in North America next weekend… quite the turn around from folks speculating Hollywood would abandon the fall just a few months ago.