Features
Why Uncle Frank Is the True Villain of the Home Alone Movies
Gerry Bamman helps us unpack why Uncle Frank was Kevin McCallister's nemesis in Home Alone.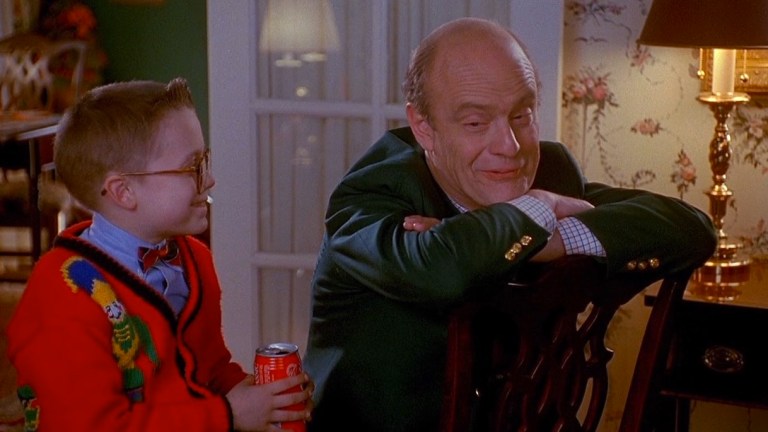 As a kid, Home Alone wasn't just the funniest Christmas movie I had ever seen, it was also the scariest. And it wasn't Old Man Marley, the Wet Bandits, or the furnace in Kevin's basement that had me quaking in my boots. No, it was the specter of a man whose scowl and withering tone conjured up memories of about four different family relatives all at once. Uncle Frank (Gerry Bamman) only appeared in a handful of scenes over the course of the first film, but in those brief snippets, the actor, who was aided by John Hughes' script and the direction of Chris Columbus, was able to convey something that rang so painfully true for so many families out there.
We all have that one uncle or aunt who can be cruel, cheap, cantankerous, selfish and often downright rude. And yet, because they are family, we endure them over the holidays, safe in the knowledge that our coming together is only a temporary arrangement. From the moment Bamman looked down his nose at a young Macaulay Culkin and uttered the legendary words, "Look what you did you little jerk," Uncle Frank has been the living embodiment of those memories.
Those words have been uttered to Bamman on more than a few occasions too. In fact, perhaps unsurprisingly, Bamman tells Den of Geek it's usually the line most often quoted back to him by fans. He also says that, initially, the attention he got because of the Uncle Frank role was tough to deal with.
"In the beginning, sometimes it was a little difficult because I was sitting down at a restaurant trying to eat and there would be this line of people," Bamman says. "But it was okay. It goes with the territory. I just feel you have to accept it and be nice."
Bamman said he landed the role via the usual channels—an audition followed by a call back before being offered the part—but he does remember catching the eye of director Christopher Columbus during the process thanks. "Chris asked me to do an improvisation in response to Catherine [O'Hara] discovering that Kevin is missing," Bamman says. "I did this bit that he felt was very funny."
The exchange in question takes place on board their flight to Paris, a few scenes after O'Hara, who plays Kevin's mom, has let out a shout of "Kevin!" in realization that he's been left behind. While in the film, Uncle Frank attempts to sympathize with the McCallister parents by explaining he too forgot something—his reading glasses—in the audition room, Bamman took things in a slightly darker direction.
Though he doesn't recall what he came up with line-for-line (it's over 30 years since he auditioned!), Bamman said came up with an idea where Frank would have gone off on a wild tangent essentially detailing every parent's worst nightmare about leaving their kid at home.
Recalls Bamman, "It was this whole thing about how 'Yeah, you can just imagine Kevin being alone in the house and going out into the yard and getting boots frozen in the snow and he would freeze there, and he wouldn't be discovered until we get back.'" Bamman says The Shining-inspired riff was just "whatever came into my mind," but it grabbed Columbus' attention, so much so in fact, he ended up asking him to do it again when they filmed the scene. "They ended up not using it. I think they decided what they had was shorter and more economical to use."
In either case, the scene perfectly illustrates the callousness of Uncle Frank's character and his unique disposition, although Bamman rejects the notion that Frank's an out-and-out villain. "Uncle Frank is a fly in the hero's face. A kind of annoyance to be swatted away," Bamman explains. "That ended up being the kind of character I kept getting cast as. I would have loved to play the real villain or the real hero, but that just wasn't in the cards. I still enjoyed it, because it's often a comic role and I enjoy doing that."
While credit must go to Bamman for imbuing something in Uncle Frank's character that makes him both repulsive yet strangely comforting and familiar, the actor insists it's all down to Hughes' script.
"Good writing makes things easy and I had some very choice lines to deliver," the actor says. "You certainly couldn't play Uncle Frank as the generous benevolent uncle, because it's not written that way. It's written as a cheapskate who is hard to get along with. I just wish they were more because I enjoyed what I did." Even so, Columbus, who Bamman describes as a "very patient, very organized, very gentle" director, encouraged improvisation.
In the first movie, Bamman got to do exactly that during an exchange on the Paris-bound flight with his long-suffering wife, Aunt Leslie, played by Terrie Snell where after determining the glasses they have been given are "real crystal," he urges her to put it in her purse. It's a brief moment Bamman said he came up with on the set but it's one that perfectly encapsulates the petty, hilariously chintzy ways of Uncle Frank.
His biggest moment of improvisation came in Home Alone 2: Lost In New York, when Kevin sneaks into the bathroom while he is having a shower. "I had known from the script what music they were going to use and listened to it and sort of pretty much choreographed what I wanted to do," he says.
"When we got to the shoot, Chris started directing me and I said, 'Oh, Chris, Chris, please let us take a look at what I have been working on.' And he did and he loved it. That was probably the biggest contribution I made."
One scene that didn't end up making the cut from the original Home Alone involved Uncle Frank playing a trick on Kevin at the McCallister house. Having encountered Kevin while coming out of his bedroom, the script called for Frank to ask him, "You know what they're gonna call you in France, don't you?" He'd then yell "yank" and pants the shocked boy. Ultimately, the scene did not make the final cut with Bamman concluding: "I think they thought it was too close to child abuse but I thought it was quite fun."
Bamman also recalls being slightly in awe of Culkin, who he remembers being closely guarded by his father Kit while on the set [Culkin later accused his father of controlling behavior and even took him to court to have his name removed from a trust fund.]
"He was a very precocious and smart 11 year old," Bamman says. "I was sort of awestruck by his contributions to the film and his suggestions and improvisations. Just a terrific, promising young man."
However, Bamman said he never expected Home Alone to be as successful as it was, but began to get an inkling that something special was happening in the run-up to the film's release.
"We knew nothing because in those days there wasn't the internet," Bamman explains. "So I had this college student staying in my house who a friend of mine had asked to put up because he needed a place to stay. One day he and a few of his friends were in the next room, jabbering away and they were talking about a film that was coming up that they had to see, and I started listening and it was Home Alone. At that time, that was pretty much unheard of. So that was my first tip off that it was big."
Bamman may not have seen Uncle Frank as a villain but plenty of fans did. Initially, he recalls being "almost mobbed" wherever he ran into fans eager to meet everyone's least favorite uncle. Yet the dawn of the internet saw Uncle Frank become the subject of any number of weird and wonderful fan theories that only further enhanced his status as the true villain of the piece. The most prominent of these centered on the notion that Uncle Frank was, in fact, a criminal mastermind who hired Harry and Marv to rob his brother's house.
The theory, repeated several times online, pointed to the fact Frank refused to pay towards the hefty pizza delivery bill at the start of the first film, and that he appears to despise Kevin throughout all their interactions. Some even highlighted the deleted pantsing scene as further proof of Frank's villainy. These theories, coupled with the fact many are now watching the film in a modern context, with Uncle Frank's treatment of Kevin bordering on bullying, go some way to explaining why the character has emerged as one of the movie's main antagonists and a more insidious, if slightly comedic, threat to Kevin than Harry and Marv.
Perhaps Bamman may have felt differently had he been given a little more to do in the sequel. Although Uncle Frank does blast Kevin as a "nosey little pervert" and threatens to "slap him silly" during Home Alone 2's aforementioned shower scene (a warning later used to trick Tim Curry's concierge) that proved the main crux of the character's appearance in the sequel.
While Bamman still has positive memories of the experience on Home Alone 2, there's a sense that more could have been made of his character in a move that would have surely further fleshed out his position as a secondary villain of sorts.
Says Bamman, "There was a little bit more waiting around, which is always tedious, because they were using the family much more as extras and just in the background." And Culkin may not have returned for the next sequel, but in hindsight it felt like a missed opportunity to not then refocus Home Alone 3 on Uncle Frank's son Fuller, played by a young Kieran Culkin.
Bamman certainly believes it was a "terrible mistake" to jettison the McCallister family cast, particularly as it would have been an opportunity to further flesh out his role. Then again, in doing so, it may even have turned Uncle Frank into a more likable character, losing his villain status in the process. Also given the visibility of Uncle Frank and the film's success, Bamman hoped the role would lead to bigger and better things but, despite a solid career of film, TV and stage work in the years since, it's not quite worked out that way. Yet at 81, he's made peace with that.
"I hoped it would sort of trampoline me into more character roles, but it certainly has helped my retirement fund and I appreciate it," he says. "It certainly changed my visibility. After the film first came many, many people would recognize me. Some still do. Earlier this year, I was going through the security line at an airport and the TSA officer who was patting me down was on the floor, examining my shoes, and he looked up at me and even though I had a mask on he said, 'You're Uncle Frank aren't you?'"
Ultimately, Bamman's just happy to have done something that has earned recognition. He may not agree with the notion of Uncle Frank as the film's true villain, but the fact his performance has generated so much online discussion and evoked so many memories for fans out there—including this one—is satisfying to say the least.
"That's what almost any artist wants: to have the work recognized," Bamman says. "Now that I've realized and been shown how important the character was in the film, I would have probably wanted more screen time. I didn't know what was going to happen with the movie."