Features
Inside the Elf 2 Movie Will Ferrell Turned Down
Nearly 20 years on from the festive favorite, we look back at the scrapped plans for an Elf 2 that Will Ferrell turned down.... along with a reported $29 million payday.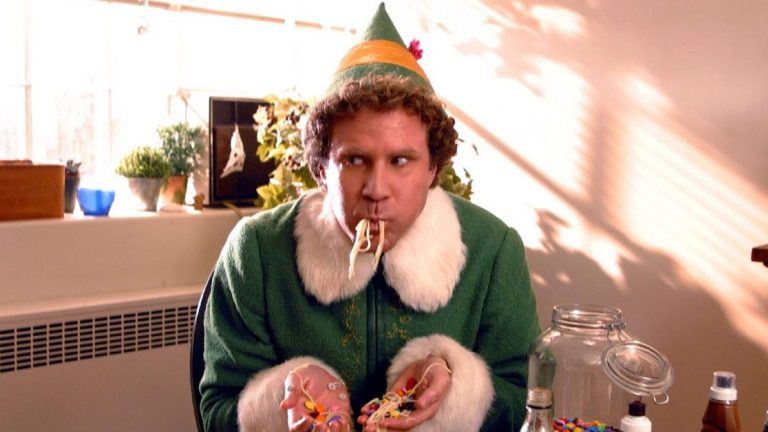 There are few tasks in Hollywood harder than making a sequel which improves on the original. Writing a follow-up to a bonafide modern Christmas classic, however, might be one of them!
When Elf first arrived in theaters back in November 2003, few could have predicted it would go on to become one of the most beloved Christmas movies of the 21st century. Yet Elf was that rare example of cinematic lighting in a bottle; the coming together of actors and filmmakers destined for big things.
Will Ferrell was a fast-rising comedic star fresh from Saturday Night Live and having only recently stolen the show in Todd Phillips' frat house comedy Old School. Zooey Deschanel had a string of credits to her name, but it was Elf that helped establish the "manic pixie dream girl" persona that would bring her repeated success in the decade that followed. Even director Jon Favreau was a relative novice at the helm of a major movie. Before Elf, he was primarily known as an actor on shows like Friends and as the writer and star of Swingers. Otherwise, he had just one previous directorial credit to his name, the 2001 crime comedy Made.
The fact they all came together to make Elf is even more fortuitous when you consider that David Berenbaum's script was originally written a decade further back in 1993, with the likes of Chris Farley and Jim Carrey among the contenders to play Buddy in a significantly darker take on the story. Berenbaum's script would ultimately go through multiple rewrites with Ferrell and long-time collaborator Adam McKay providing some input along with Favreau himself, who retooled the movie as a homage-of-sorts to TV specials like the 1964 stop motion animated classic, Rudolph the Red-Nosed Reindeer.
The result was a modern Christmas classic to rival Home Alone, with Elf achieving the rarely-seen feat of being both genuinely heartwarming while also hilarious in a way that appeals to audiences of all ages. Made for $33 million, it went on to make over $225 million at the box office and has been a mainstay among home entertainment rentals and festive TV reruns ever since.
But while all of the above aptly demonstrates why Elf came out of nowhere to earn a place among the Christmas movie greats, it also highlights just how difficult any attempt to repeat that feat would be. Some have tried. Home Alone 2 attempted to up the ante by essentially moving the action to a bigger and better house in New York, yet strayed a little too close to the original's narrative playbook to surpass its exploits. Gremlins 2 took things in the other direction with a follow-up so far removed from the original, it featured a sequence where professional wrestler Hulk Hogan broke the fourth wall.
Elf has never had an official sequel, but there have been tentative toes in the water. An hour-long stop-motion animated musical, Elf: Buddy's Musical Christmas was produced in 2014 with Jim Parsons stepping into the role of Buddy. Meanwhile the forgettable Vince Vaughn Christmas effort, Fred Claus, was a clear attempt to ape the naughty but nice success of Elf. Spoiler alert: it didn't. 
Still, there was a point when an official Elf sequel looked like a strong possibility. In fact, an entire script was written and pitched to Ferrell himself at some point around 2005—shortly after he achieved A-list status in the comedy hit of 2004, Anchorman: The Legend of Ron Burgundy. And in July 2005, screenwriter Scot Armstrong turned in a draft for a proposed follow-up. Armstrong had plenty of credit in the bank where Ferrell was concerned, having written his breakthrough hit Old School, as well as the comedies Road Trip and Starsky & Hutch. He's also done an uncredited rewrite on the original Elf, so was as well-placed as anyone to tackle the sequel.
Armstrong's script opens on an amusing enough set piece that sees Buddy pay a trip to the dentist. In need of laughing gas on account of the terrible condition his teeth have been left in due to his excessive sugar consumption, the introductory gambit would have seen Buddy go rogue after a surprisingly angry reaction to the painkiller.
That introduction segways to the main crux of the story, narrated once again by Bob Newhart's Papa Elf. Buddy is now a successful children's author having parlayed his real-life North Pole experiences into a series of story books. Deschanel's Jovie remains by his side with the couple now living in New York City with a 10-year-old daughter, Susie who adores her father and his elf-like ways.
Despite enjoying life in the Big Apple, the lack of space is taking a toll, as demonstrated by a scene in which Buddy constructs an elaborate bobsled track in their cramped apartment that sends test pilot Susie crashing into the wall. Similar attempts at building a spectacular tree house in their tiny yard also land them in trouble with the local authorities.
Ultimately, the Hobbs family are forced to up sticks and move out of town, thus setting in motion the main thrust of the film's plot with Buddy once again a fish-out-of-water struggling to get to grips with life in the suburbs.
In a near-mirror image of the first film, audiences are treated to a montage of Buddy in an assortment of unfamiliar scenarios, from encountering neighborhood speedwalkers to ordering from a drive-thru despite not being in a car. Yet the main narrative focuses on Buddy's relationship with Susie and the all-too-familiar shift in family dynamics that comes with the onset of adolescence. Essentially, Susie makes friends with a clique of girls at school and soon realizes her dad, who dresses like an elf and pulls her to school on a sled, is not cool.
In a crucial tipping point, Buddy derails Bring Your Dad to School Day by regaling Susie's classmates with stories from his life growing up with Santa, much to the chagrin of Mr. Spicer, an affluent fellow parent, who owns an oil drilling business and serves as an antagonist of sorts. Embarrassed by her dad, Suzie later chastises Buddy for not being "normal." In response, he undergoes a makeover, ditching the elf outfit and sugar-laced diet and donning more ordinary clothes and a new name: Brian.
Soon Buddy is making concerted and wildly mistaken attempts to be more mature. At one point, he enters and then quickly leaves an adult book store while the family car is painted beige. One particular highlight sees Buddy join the local country club where he plays racquetball with golf spikes on and builds castles out of casino chips while playing poker and unknowingly psyching out fellow players.
Despite this, he remains the butt of the jokes with his neighbors, where his continued social faux pas make him a target of ridicule for Mr. Spicer. A dinner with several other families is a rich source for comedic material, not least during a game of charades which descends into Buddy blurting out random words like "monkeys that play hockey." The dinner party ends in further embarrassment when Spicer dons Buddy's old elf suit and proceeds to prance around claiming to be a leprechaun.
With Susie humiliated and increasingly distant from her dad, the script then takes a left turn into more fantastical territory when the film's narrator, Papa Elf (Newhart), is kidnapped mid-sentence by the film's claymation villain Koal Kringle, a kind of evil Santa/Grinch figure. While Buddy's family woes continue, he's soon alerted to Papa Elf's kidnapping by Leon the Snowman. Though he initially vacillates, telling Leon "I'm not Buddy, I'm Brian." He's soon swayed and heads off to Switzerland to meet a global network of Santas who gather at Christmas HQ in a scene that appears ripe for cameo appearances.
It's thus up to Buddy to not only save Papa Elf and rescue Christmas but also win favor with his daughter again. It's not a massive spoiler to say he achieves all three while also getting his own back on Mr. Spicer who ends up being given a live monkey at Christmas who proceeds to immediately attack him. Armstrong's script is undoubtedly littered with comedic potential, much of which would have likely been ironed out further in any subsequent rewrites by Ferrell, McKay, or Favreau, among others.
Yet the crux of what made Elf funny as a fish-out-of-water tale often feels secondary to what is largely a family drama. While the original undoubtedly dealt with Buddy's family issues and feelings of abandonment, Elf's emotional notes remained secondary to the comedy. The biggest issue with the sequel script, if any, is that two-thirds of it centers on establishing Buddy's issues with his daughter, leaving little time to explore the more inventive elements introduced in the final third, e.g. the global network of Santas and Koal Kringle.
More noticeable still, the film suffers from the absence of James Caan's character Walter and his family, who previously played a key role in the first film. Once again though, the script posted online was only a first draft and would have likely undergone multiple changes. Ultimately, however, the project was DOA from the minute Ferrell appeared to have a change of heart about making the movie.
Speaking to The Hollywood Reporter about the proposed project and the fact he was reportedly offered $29 million to star, Ferrell said, "I would have had to promote the movie from an honest place, which would've been, like, 'Oh no, it's not good. I just couldn't turn down that much money.' And I thought, 'Can I actually say those words? I don't think I can, so I guess I can't do the movie.'"
Ferrell has made sequels to several of his hits before, so his response was something of a surprise. However, a further explanation during an appearance on What Happens Live With Andy Cohen hinting at some concerns over the premise of returning to the role as a dad adjusting to suburbia.
"I just think it would look slightly pathetic if I tried to squeeze back in the elf tights: Buddy the middle-aged elf," Ferrell said. Ultimately, the actor's decision may have been the correct one. After all, Anchorman 2 did little to embellish the legacy of the original while the less said about other belated comedy sequels to movies of that era—we're looking at you Zoolander 2–-the better.
Instead Elf stands tall as a perfect snow globe of a movie: a self-contained ball of eye-catching elements that, when shaken into life, creates something truly magical and most likely will never be repeated again.