News
Thor: Love and Thunder Set Photos Reveal Key Flashback Scene
Chris Hemsworth and Natalie Portman return for some Marvel reshoots that appear to capture an MCU flashback in new Thor: Love and Thunder set images.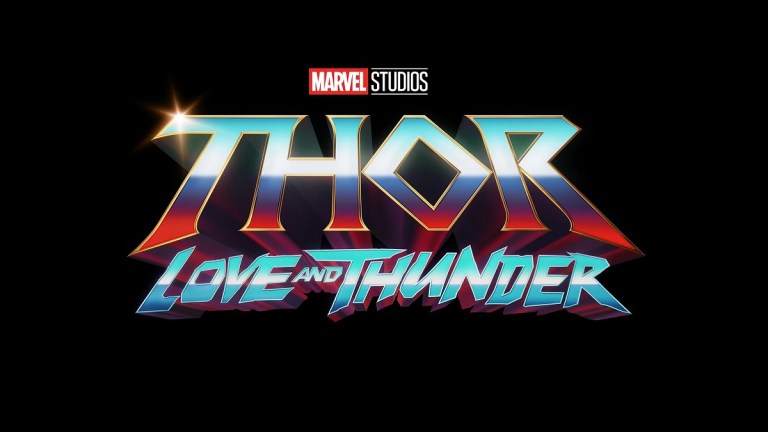 Thor Odinson and Jane Foster had a blooming MCU romance during the first two Thor franchise movies, but following the Ultron Offensive depicted in Avengers: Age of Ultron, the happy couple split for reasons that have yet to become clear.
It looks like we'll find out exactly why the relationship deteriorated in Marvel's upcoming Thor: Love and Thunder, though, as Thor (Chris Hemsworth) and Jane (Natalie Portman) have just been snapped on set during reshoots for the film in what looks to be a flashback scene.
The images, which capture the pair sporting Thor: The Dark World-era hair and clothing, seem to feature Thor and Jane very much still in love and chatting outside a jewellery store, where Thor lingers to browse the rings – hinting that at some stage he may have been planning to propose to Jane. However, as we know, that didn't happen, and Thor was apparently a free man by the time we saw him again during the Doctor Strange post-credits scene, which formed part of an introductory section in 2017's Thor: Ragnarok.
You can see the images below…
Thor: Love and Thunder will see the couple thrown together again in an MCU entry that is set to futher explore their romance, and what happens when Jane Foster becomes the Mighty Thor, adapting elements from Jason Aaron's celebrated comic book run. In Aaron's tale Thor once again becomes unworthy and Jane, who is battling cancer, picks up Mjolnir and gains his powers. Unfortunately, every time Jane becomes Thor, she loses the benefits of her cancer treatment, and if she continues to wield Mjolnir it's thought she will eventually die.
Thor: Ragnarok director Taika Waititi has returned to helm the summer blockbuster, and deliberately chose the challenging storyline to stray from his comfort zone. "I want to make something that I've never done or never cared for. I would like to attack something like that."
He later added "What I wanted to do from the beginning was to ask: 'What are people expecting the least from this franchise?' Oh, I know – a full-blown love story!"
"If you wrote down all the elements of this film, it shouldn't make sense," he admitted to Empire. "It's almost like it shouldn't be made. If you walked into a room and said, 'I want this and this and this.' Who's in it? These people. What are you going to call it? Love And Thunder. I mean, you'd never work again. Maybe I won't after this."
Thor and Jane's romance recently re-emerged in Marvel's animated Disney+ series What If…? during an episode that pondered what would have happened if Loki and Thor hadn't grown up together as brothers. Jane ran into Thor – now a 'party prince' with little interest in superhero antics – and the two fell in love all over again. Also, Darcy married Howard the Duck. Wild show.
Hemsworth reprises his role as Thor in the forthcoming fourquel alongside a stacked cast that includes Portman, Russell Crowe, Tessa Thompson, Chris Pratt, Matt Damon, Sam Neill, Jaimie Alexander, Pom Klementieff, Dave Bautista, Karen Gillan, Sean Gunn, Jeff Goldblum, Vin Diesel and Melissa McCarthy.
Thor: Love and Thunder will be released on July 8, 2022. You can check out the complete schedule of Marvel movies and TV series that are in the pipeline right here.
In the meantime, if you want to dig deeper into the Marvel Cinematic Universe, please consider subscribing to Marvel Standom on the Den of Geek YouTube channel, where we dish out weekly episodes on all the new Marvel TV series, trailers and movie releases. Can't stand our faces? That's fair! You can listen to Marvel Standom on Spotify and Apple, too.