Features
The Troubled Blockbuster Movie Summer of 1997
The summer of 1997 saw a Batman film, a new Jurassic Park film and a Speed sequel lead the charge. What could go wrong?
This article comes from Den of Geek UK.
In its June 1997 issue, Empire magazine declared on its front cover that we were heading into "the hottest blockbuster season for years." Hindsight is great, of course, and it turns out the looming figure of George Clooney in a Batsuit would be an ironic choice to go with that headline. But I remember the build-up to the summer of 1997 movies well. And Empire was right. The line up looked great, with new Batman, Jurassic Park, and Speed movies leading the charge.
Immediately in the aftermath of that summer, many were quick to write off the blockbuster season as a disaster. But, 21 years on, turns out there were some films that endured better than others. That said, there were still some high profile casualties…
The bigger they are…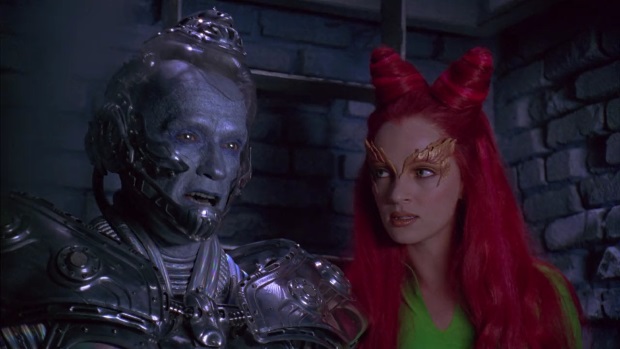 Even heading into the summer, one or two films had already skipped to an end of year release. Starship Troopers, for instance, escaped the summer glut, although it would still struggle a little at the box office when it did land. Great movie, though.
However, the two movies other studios were steering well clear of were Batman & Robin and The Lost World: Jurassic Park. With good reason.
Joel Schumacher's reboot of the Batman saga, 1995's Batman Forever, was the biggest summer blockbuster of that particular year, hence Warner Bros swiftly signing the director up for another movie. Unusually for the time, although commonplace now, the idea was to try and turn the film around in two years, rather than the three year gap that was considered bare minimum in the 1990s (outside of Police Academy films, natch).
What's interesting about Batman & Robin was how calm and seamlessly it all seemed to come together. Schumacher seemed relaxed in interviews, the film ran pretty much on schedule (with the main bulk of filming completed two weeks early), and even replacing the actor in the leading role – Clooney taking over the Batsuit from Val Kilmer – caused little fuss. Warner Bros was, unsurprisingly, convinced it had a hit on its hands, and the merchandising and tie-in deals were firmly struck.
It's worth remembering that 1997 saw the rise (before his recent fall) of Harry Knowles, and his website of rumors. Whilst the hype around his site always seemed a little disproportionate to its actual impact, it's clear that Hollywood was rattled by the early reports he was posting that Batman & Robin was a poor movie. That didn't stop the film, though, finding a big audience on its opening weekend, and that's often forgotten. While down from the numbers of Batman Forever, Batman & Robin still grossed nearly $43 million in its first weekend. The problem was the film was, and still is, a stinker. Word of mouth and tough competition hammered its second weekend numbers, and the film slinked out of US cinemas in the end with a surprisingly low $107 million in the bank. Plans for a fifth film, Batman Triumphant, were soon put on hold. A further knock was that Joel Schumacher – who had been alternating Batman films with John Grisham adaptations for Warner Bros – didn't go on to make The Runaway Jury.
Even before Batman & Robin had hit US cinemas, though, Steven Spielberg had brought his dinosaurs back. Spielberg has subsequently suggested that he didn't enjoy making The Lost World: Jurassic Park quite as much, with his focus more on the two films he made immediately afterwards (Amistad and Saving Private Ryan). And the film certainly feels a little diluted compared to the first movie.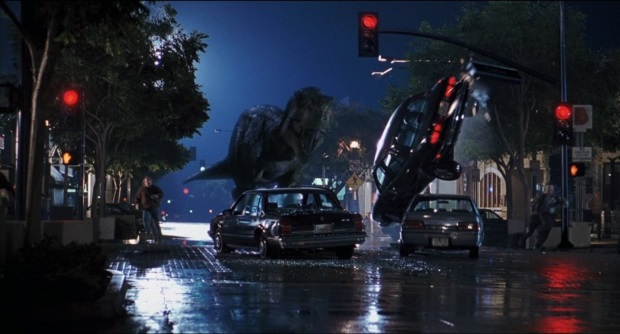 This time, it skewed further away from the Michael Crichton source novel, but effectively became – as every Jurassic movie until this year's, Fallen Kingdom, has been – a retread of the first film. Albeit a retread with an epilogue that felt odd watching it, and still feels odd today. I still quite like The Lost World, though, and it's got a couple of excellent sequences in it. I wrote about the movie in more detail here.
Reviews, though, reflected the fact that the film was a more watered down take on the original movie, and the box office tallied with that as well. "It's tough to justify why these characters would decide to go back to that nightmare alley," Spielberg mused in promotional interviews for the film. Still, the film garnered the-then biggest opening weekend of all time at the American box office, with $72.1 million smashing the record previously held by Batman Forever. Spielberg would opt not to return to direct 2001's Jurassic World III, though, which would continue the series' [then] box office decline.
Then there was Speed 2. The original Speed was the kind of sleeper hit that summer blockbuster seasons had a habit of occasionally throwing up. Headlined by Keanu Reeves and Sandra Bullock, making a star out of the latter, it launched the directorial career of then-cinematographer Jan De Bont. It also proved to a huge, profitable hit, and Fox wanted a sequel.
It managed to get De Bont back (having made Twister in between), and Sandra Bullock signed up too. Keanu Reeves, though, wisely declined, and Jason Patric instead took the male lead role. Willem Dafoe agreed to be the villain, and someone came up with the idea of setting the whole thing on a fairly slow moving boat.
This was the other film of 97 that was hammered online before the film had made its way into cinemas. Eviscerated in reviews, the film was a hugely expensive misfire. Some reports put the cost as high as $150 million, at a point where that kind of budget had only been seen on Waterworld (although Titanic was around the corner). The film sank to less than $50 million in the US. Plans for Speed 3, which occasionally resurface, were duly shelved.
The predicted hits that stumbled
Outside of the headline grabbers, there was a bunch of other films that pretty much any studio in Hollywood would have greenlit in a flash. In fact, some of them did.
Warner Bros, for instance, was presented with a package of Billy Crystal, Robin Williams, director Ivan Reitman and an $85 million price tag to make Father's Day. This was the era when a powerful agency, such as CAA, could put such a package together, and the studio – rather than actively developing the project itself – could as close as it get come to buying a blockbuster off the shelf. The problem was that Father's Day really didn't gel, and the exhaustively expensive comedy would limp off the screen, to less than half of its cost in the US. It remains a pretty forgotten film.
More too was expected of Conspiracy Theory, that also brought together two big movie stars. Mel Gibson and Julia Roberts were recruited to headline this one, with Patrick Stewart in one of his earliest major movie roles as the villain (he was, of course, a global star by this stage off the back of Star Trek: The Next Generation though). Lethal Weapon's Richard Donner directed, and the premise seemed to mix a bit of Lethal Weapon with a bit of Taxi Driver. I've got a fair amount of time for the ambition and edge of Conspiracy Theory personally, although it doesn't feel a rounded film at all to me. A tough sell too, as Warner Bros discovered. It was no flop, but the $75 million US gross was below expectations. Still, it's a testament to the power of movie star power in '90s Hollywood.
Volcano, meanwhile, remains a fair amount of fun, but was hit by arriving months after that year's other volcanic picture, Dante's Peak. 'The Coast Is Toast' remains a masterclass in movie taglines, but it turned out that not as many moviegoers as Fox has hoped wanted to see a volcano erupt from underneath Los Angeles.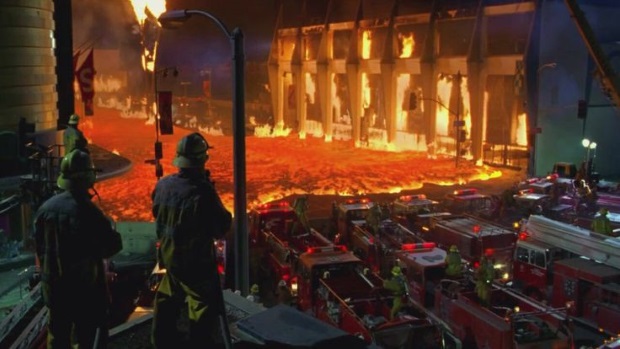 The Fifth Element was the other slight underperformer, but Luc Besson's sci-fi extravaganza has very much lived on. Bruce Willis, Milla Jovovich and Gary Oldman headlined the ultra-stylised production, that was divisive then and remains pretty divisive now. Box office was middling in the US, but tellingly – and presciently – the film became a sizeable hit courtesy of its non-US tally. A hint at how future blockbusters would be measured right there.
A few movie star and high profile pictures struggled too. John Grisham adaptation The Chamber, starring Gene Hackman, quickly sank. Harrison Ford and Brad Pitt's coming together in the troubled The Devil's Own landed a summer debut in the UK, but left cinemas quickly. And surprisingly, Disney's hugely underappreciated Hercules only just broke through the $100 million barrier at the US box office. This was at the point where questions were being asked as to how could Disney compete with the output of Pixar. That, though, is a whole different article…
The films that broke through
It would, though, be remiss to say that 1997 was a disaster of a summer for big movies. It just proved to be a different one, where things that had worked in the past weren't working as well as they had done before.
There were big breakout hits. Con Air, starring Nicolas Cage and the finest accent he ever committed to film, was an old-style action blockbuster, and a hugely successful one. Likewise, pairing Harrison Ford with Air Force One generated a very successful late summer hit, one that erased the box office doubts aimed at Ford after the aforementioned The Devil's Own.
Then there was Contact. Whilst hardly a massively profitable film – it cost $90 million simply to make – Robert Zemeckis' hugely ambitious screen adaptation of Carl Sagan's novel was a nine figure success, and demonstrated that the cinemagoing public would buy into intelligent sci-fi if done well. It's hard not to draw a parallel with Christopher Nolan's Interstellar there.
Men In Black, meanwhile, caught Will Smith very much on the way up. He'd already topped the box office the previous year in Independence Day, but Men In Black was a full-on, name above the title blockbuster. It was also smart planning by Columbia, to position a high profile comedy in the midst of a fairly serious collection of summer movies. Men In Black remains light, but it cleaned up, and the franchise continues to this day, with film four set to start filming this summer.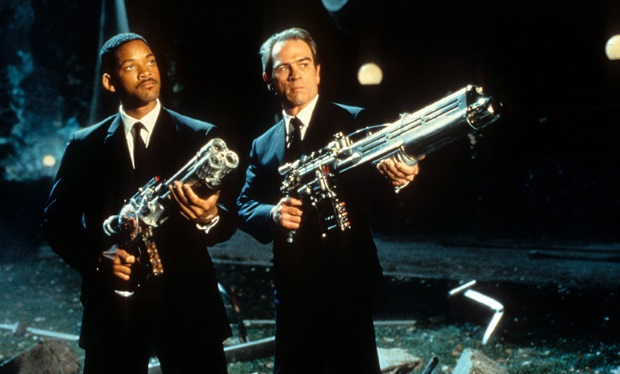 A quick word too for My Best Friend's Wedding, a very funny romcom starring Julia Roberts, that outgrossed by distance its competition in the genre, One Fine Day (Clooney again with Michelle Pfeiffer), Picture Perfect (Jennifer Aniston in one of her earliest movie headline roles), and Addicted To Love (Meg Ryan and Matthew Broderick, although that's a much darker film really).
The utter breakout that nobody saw coming, though, was a little film called The Full Monty. Already in the summer of 1997, we'd seen a big British success, as Rowan Atkinson took the title role in the film take on Bean. Much money was made. But The Full Monty, slipped into an early September release slot, would go on to become the biggest film of all time in the UK for a good week or two, before Titanic promptly took its record. It's hard to overstate just what a phenomenon it became (the stage musical is still on tour too). Not bad for a low budget film with no major movie star attached.
What happened next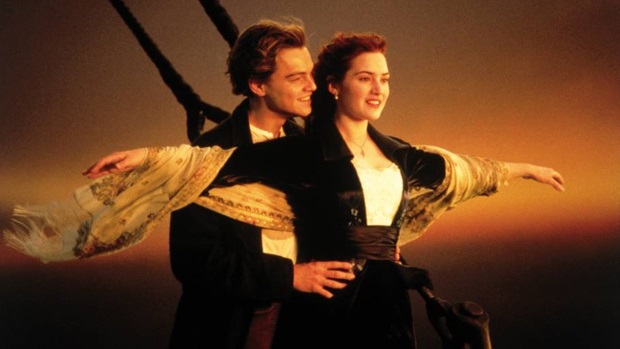 It'd be later in the year when what constituted a hit movie got turned upside down. James Cameron's late, expensive and clearly doomed to failure (if you believed the notices leading up to its release) Titanic became the first film to gross $1 billion worldwide on its first run. It broke box office record after box office record, won 11 Oscars, made stars of Leonardo DiCaprio and Kate Winslet, and made Celine Dion a bit of change as well.
Also, though, it changed what Hollywood saw as an 'event' picture, noting the lesser reliance on star power on the poster. Look, for instance, at how Michael Bay's Pearl Harbor would go on to try and emulate – unsuccessfully – the Titanic formula. And look at how, in subsequent years, the effects would take over the trailers, rather than the big stars.
1997 was an odd year, then, for big blockbusters. One that to a degree affirmed star power, but also pointed – as Independence Day had done the year before – to a future without it.
And you know what? Starship Troopers is still great. Even if not enough people went to see it…