Features
The Suicide Squad: What's Next for Harley Quinn in the DCEU?
The Suicide Squad shows off the next evolution of Harley Quinn in the DCEU. Where could Margot Robbie take her next?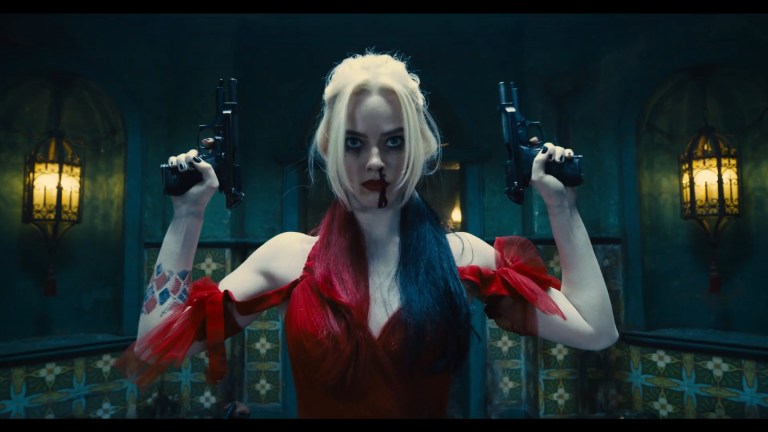 This article contains major spoilers for The Suicide Squad. We have a spoiler free review here.
The Suicide Squad might just be the best DCEU movie yet. Not only is it a sterling ensemble piece about the horrors of American imperialism but it's also the world's weirdest buddy comedy. And in a film full of stunning performances–Idris Elba, David Dastmalchian, and Daniela Melchior please stand up–we got another killer turn from Margot Robbie as Harley Quinn.
After kicking all kinds of ass in Birds of Prey, the Mistress of Mischief is back and better than ever. This is a truly emancipated Harley, one who hates the Joker, will kill an abusive man in a second, and who plays a huge part in saving the day after choking out a man with her thighs, of course.
While Robbie has said she has "no current plans to reprise the role" after The Suicide Squad, we couldn't help but think of where the DCEU's most badass and brutal on-screen anti-hero has been and where she could go next. Thanks to the comics, cartoons, and imagination of those at DC Comics, we've got plenty to draw on.
Let's start with where Harley has been to see how it impacts her potential future…
Before the DCEU
Harley began her career in the beloved Batman: The Animated Series cartoon as a one-time henchwoman for the Joker. But that quickly changed and she soon became a core part of the show, and not long after became a fan fave character in the comic book universe.
This iteration of Quinn was a huge influence on James Gunn in bringing her to The Suicide Squad and might explain that unforgettable animated sequence as she escapes from the palatial prison of Corto Maltese.
It's also important to note as until The Suicide Squad her most popular contemporary iteration was once again in a cartoon, but this time it was the DC Universe turned HBO Max smash hit adult animation series that bears her name.
Harley Quinn in 2016's Suicide Squad
While David Ayer's Suicide Squad might not have been for everyone–apparently including Ayer himself–one thing stood out: Robbie as Harley Quinn. While she was mostly sexualized and used as eye candy, Robbie gave Harley depth, humor, and heart. It was the standout performance and is a huge part of why the DCEU version is so popular today. While it's great to see Harley's growth, we have to mention the movie where Robbie made her debut.
Birds of Prey
Cathy Yan's brilliant Birds of Prey let Robbie go wild with her take on Harley. This was the action heavy R-rated take that fans wanted to see. With a predominantly female creative team behind it, the film eschewed the male gaze and misogyny that Harley has sometimes had to fight through.
Here we saw a Harley who was freed from the Joker, had her own crew, her own incredible fashion sense, and even her own burgeoning moral code. Not only was this a badass outing for Harley but it feels tonally and aesthetically in tune with the route that James Gunn went in The Suicide Squad. The emancipation of Harley Quinn began here, long may it reign! 
The Suicide Squad Sets Up What's Next for Harley Quinn
While it's unclear where Robbie sees the character going next, we get a good feel for Harley and her new found freedom here. The world is her oyster. She has new allies–maybe even… friends?–and a magical javelin. Basically, anything can happen as she heads into the future.
Poison Ivy
This seems like the clearest and most popular option for more Harley Quinn.
While it looked like it might happen in the form of the now not happening Gotham City Sirens movie (which Suicide Squad director Ayer was once attached to), there's still legs in this partnership which has been delighting fans for decades. In both the comics and cartoons her relationship with Poison Ivy has been a key part of Harley's lore. While they began as friends, the canon has shifted to being on-again off-again romantic partners in all mediums. So we need to see that on screen in live action… SOON!
It would be really easy to take the comedic action stylings of the HBO Max Harley Quinn series which saw the pair traverse the hard realities of love in Gotham and bring that to either a longer format series–which we'd love–or a movie. Just putting these two A-listers together would be a huge selling point and if they played into the queer romance it would make huge waves.
"Trust me, I chew their ear off about it all the time," Robbie recently told us when we asked about the possibility of adding a live action Poison Ivy to the DCEU. "They must be sick of hearing it, but I'm like, 'Poison Ivy, Poison Ivy. Come on, let's do it.' I'm very keen to see a Harley-Poison Ivy relationship on screen. It'd be so fun. So I'll keep pestering them. Don't worry."
If DC decided to go a little more dramatic they could take from the pair's comic book canon. It would make a lot of sense to explore Harley's love life post the Joker as both of her most recent DCEU appearances have made note to mention his negative impact on her life.
During the 2013 Harley Quinn comic series fans got to see the pair finally become official as Harley came to terms with her abusive relationship with the Joker. An easy route for the DCEU to take–either seriously or more comedically–would be to make Harley and Ivy a sort of Thelma and Louise of the DCEU, a couple of cool gals against the world… and if they have their "daughter" Cass Cain with them too we'd be very happy.
While they broke up in the official DC Comics continuity, they are currently getting back together in Harley Quinn: The Animated Series – The Eat, Bang, Kill Tour. The hilarious sequel to the cartoon expands on their romance and plays into that more humorous angle. But simply the fact that the pair are together again in the comics means that there's even more canon to take from here.
Female Furies
In spite of the sad news that Ava DuVernay's New Gods movie is no longer in production, we might have found a silver lining. In recent years Harley has faced down against Granny Goodness and even joined her Female Furies. This has happened in both the ongoing Harley Quinn comics series and the DC Universe cartoon. It's a really cool and out there idea for the character in the DCEU, and could be a cool way to introduce the more cosmic aspects of the universe through the lens of one of the world's most popular comics characters.
It would be pretty easy to do a Female Furies movie or TV show where Harley is enlisted into Apokolips' hardcore squad of warriors. There'd be an exceedingly fun fish out of water element as well as the potential to do something totally different than we've seen before.
There's also the option to emulate the Harley Quinn TV series and follow Harley as she seeks out Granny Goodness in order to gain the nefarious power of the Motherbox, which would obviously go wrong pretty quickly. While we've seen elements touched on in Zack Snyder's Justice League, DC isn't afraid of reimagining things regularly and we'd love to see Harley on an epic cosmic adventure with Darkseid on her heels!
Another HBO Max Spinoff?
If the villainous Peacemaker is getting his own HBO Max show, why shouldn't Harley? And there are a ton of incredible routes the series could go. The most obvious right now would be continuing the Harley we see in The Suicide Squad.
Seeing as Rick Flag and Harley were clearly close, it would be very easy to intertwine the Harley show and the Peacemaker series. What if while Peacemaker was trying to "save the world," Harley and potentially Bloodsport–he served with Rick and clearly cared about him–were hunting him down in their own series? That would be a pretty smart way to expand the radical world of The Suicide Squad while giving Robbie far more space to play with the character she's long defined.
Ever since Birds of Prey, fans have been wishing for a Black Canary or Harley-focused spinoff. With Peacemaker setting the precedent for solo DCEU shows, this could be another great route. We'd love to see the return of Ella Jay Basco as Cass Cain or even the return of Rosie Perez as Renee Montoya. This is a little more of an outlier but the gritty crime movie tone of Birds of Prey really fits into the current DCEU and HBO Max vibe. And in our real dreams, Cathy Yan would get the Gunn treatment and direct.
Batgirl
We're finishing off with what is currently the most likely of our options. The upcoming HBO Max Batgirl movie is penned by Christina Hodson. Hodson and Robbie have a close working relationship as the Bumblebee screenwriter also wrote Birds of Prey. There's also the fact that Robbie is a huge supporter of female-led storytelling so bringing her clout and fan favorite character to Batgirl would do just that. It would be really cool to see Harley pop up here as either an antagonist or ally to Barbara Gordon.
As this is going straight to HBO Max, there's likely more freedom to play with canon and format. But with Robbie unsure of Harley's future it could be more realistic to expect a brief cameo rather than a full on-screen Harley storyline when the movie hits the streamer down the line.
The Suicide Squad is on HBO Max and in theaters now!