News
Margot Robbie Wants Poison Ivy to Join Harley Quinn in the DCEU
We're desperate to see Poison Ivy appear in the DCEU. We talked to Margot Robbie, aka Harley Quinn, about the possibility.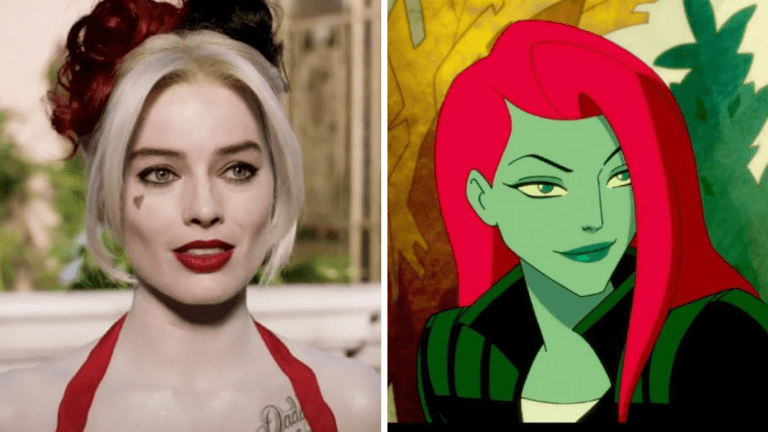 Some things just go together: Peanut butter and jelly. Song and dance. Harley Quinn and Poison Ivy. That last classic combo has been long established in DC Comics canon. While casual fans may think of Harley Quinn and Joker as the ultimate duo, any dedicated consumer of pop culture knows that Harley's true love is actually Pamela Isley, aka Poison Ivy. The two have often been an item—either platonic, romantic, or something in-between—in the comic book universe, but have also seen some seriously romantic storytelling in HBO Max's Harley Quinn animated TV show.
One Harley-centric story in which the green goddess has been notably absent from Quinn's orbit is the DC Extended Universe. As we inch closer to the release of The Suicide Squad, the third feature film in which Margot Robbie has played Harley Quinn, Poison Ivy's absence continues. As part of our The Suicide Squad cover story for our latest Den of Geek magazine, we had a chance to ask Robbie about when we might see Harley's BFF and/or true love make an appearance in this corner of the DC universe.
"Trust me, I chew their ear off about it all the time," says Robbie, when asked if there has been any discussion of bringing Poison Ivy to the DCEU. "They must be sick of hearing it, but I'm like, 'Poison Ivy, Poison Ivy. Come on, let's do it.' I'm very keen to see a Harley-Poison Ivy relationship on screen. It'd be so fun. So I'll keep pestering them. Don't worry."
Previously, Robbie had discussed wanting to see the Harley-Poison Ivy relationship come to the DCEU with PrideSource, saying: "If you read the comics you know that Poison Ivy and Harley have an intimate relationship. In some comics they convey it as a friendship; in other comics you can see that they're actually sexually involved as a couple. I've been trying to—I would love to have Poison Ivy thrown into the universe, because the Harley and Poison Ivy relationship is one of my favorite aspects of the comics, so I'm looking to explore that on screen."
It's nice to know that Robbie is on the case, especially as she is one of the biggest assets the DCEU has in its corner. When the Australian actress isn't scooping up Academy Award nominations for her smaller, more dramatically-driven films, she plays Dr. Harleen Frances Quinzel in the DCEU. She is currently one of the highest paid actresses in Hollywood, and has started her own production company, LuckyChap Entertainment, which has produced films like I, Tonya, Birds of Prey, and Promising Young Woman. Basically, Robbie is not only talented in front of the camera, but also is active in the behind-the-scenes business of Hollywood as well. She has been a consistent presence in the DCEU during a rocky period of recasts and restarts. And all of this might just mean that a future with Robbie's Harley and Poison Ivy on screen together is very possible.
Would you like to see Poison Ivy in the DCEU? Who would you cast as Poison Ivy? Let us know in the comments below.