News
The Shining Myth Debunked in New Book
Stanley Kubrick was known as an exacting director, but a new book about The Shining from Pixar creator Lee Unkrich suggests otherwise.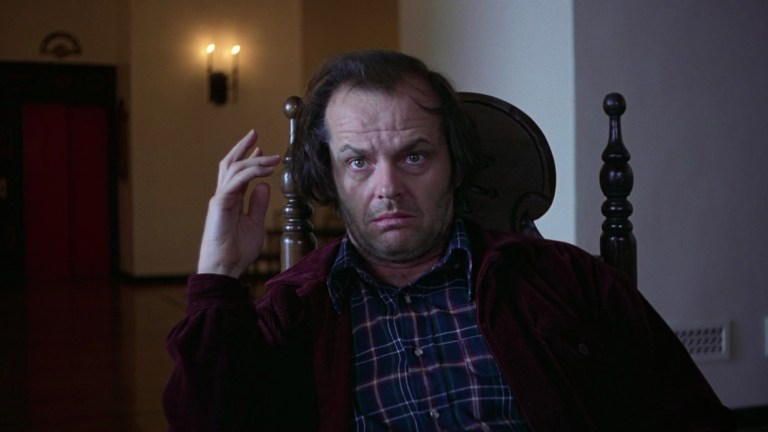 "I'm not gonna hurt you." When the increasingly unhinged Jack Torrence says those words to his wife Wendy midway through The Shining, we don't believe him. We might believe that Jack's actor Jack Nicholson has no intention of hurting Wendy's actor Shelley Duvall, but we're not sure that the man behind the scenes has her best interests in mind. No, not author Stephen King, who published The Shining in 1977. Rather, the man directing: Stanley Kubrick.
Even before his death in 1999, Kubrick achieved mythological status, helming some of the most influential and popular movies of all time, including 2001: A Space Odyssey and A Clockwork Orange. Part of that mythology drew from his public persona as a reserved intellectual, a cold and calculating technician who treated his actors as just another part of the set, there for him to move around.
According to the legend, that exacting style came to the fore while shooting the aforementioned scene from The Shining. Reports have indicated that Kubrick demanded 127 takes of Wendy backing up the staircase of the Overlook Hotel, waving a baseball bat at her menacing husband Jack. So accepted is the 127 takes story that it has been enshrined in The Guinness Book of World Records.
But one particular superfan seeks to re-write the book on The Shining. Literally. Lee Unkrich is best known for directing the Pixar movies Coco and Toy Story 3. But lately, he's been dedicating his time to writing a massive behind the scenes study of Kubrick's The Shining, and although legend says Kubrick broke a world record when shooting that scene, forcing the actors to repeat it 127 times, "Its completely not true," Unkrich told IndieWire. "It was reported by a crew member who wasn't even on the set when it was shot." In fact, Unkrich argues that the shooting of the scene reveals a very different side to Kubrick.
"I think what happened is that some of the actors conflate rehearsals with takes because Kubrick would rehearse a lot," Unkrich argued, framing the director as more of a collaborator than a taskmaster. "And it was really part of his writing process. He would continue to shape the dialogue through the rehearsing."
Drawing from the movie's shot logs as evidence, Unkrich contends that the most takes were devoted to "the big, long dolly shot that brought Jack and Wendy and the hotel manager into the Gold Ballroom at the beginning of the movie," which required 66 takes. "Kubrick sometimes did a lot of takes, sure," he admits. "But that wasn't the norm."
Unkrich even goes on to dispel claims that Kubrick abused Duvall while shooting The Shining, psychologically terrorizing her to create Wendy's frazzled state. He went straight to the source and found that Duvall "has nothing but great things to say about Stanley. She loved him. She thinks he got a great performance out of her." While he does point out that Duvall "didn't always agree with his methods" and admits it was an extremely difficult part to play," he says the abuse reports are "completely unfair."
So in the end, maybe we should believe Jack when he tells Wendy that he isn't going to hurt her. But is even a 1200 page book enough to change well-entrenched public opinion?