Features
The Many Saints of Newark's Billy Magnussen On How He Found His Paulie Walnuts
Billy Magnussen catches the look and hooks of the OG crook Paulie "Walnuts" Gualtieri in The Many Saints of Newark.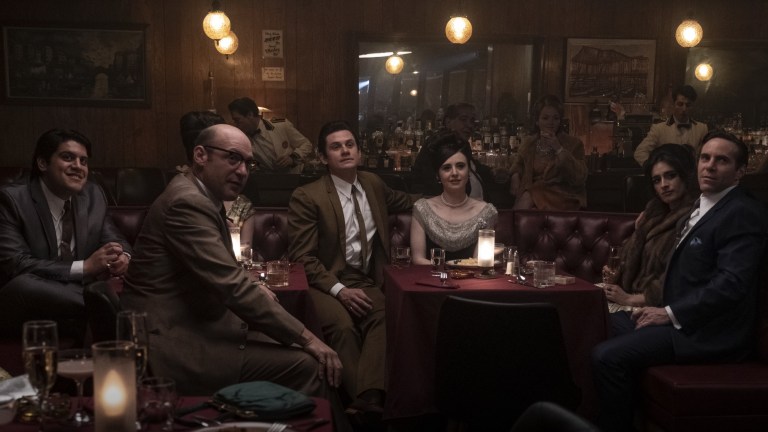 It's hard to walk in an old gangster's shoes, even if they are patent leather, but it helps if you have the OG's custom tailored, classic wide collar mustard-yellow coat. Front-buttoned, with wool blend material, soft inner viscose lining, long sleeves, and open hem cuffs, it is stylish and smart, though not blood resistant. Billy Magnussen is too young for gray wingtips in his hair, but he's just the right age to flip from one mob player to another. In The Many Saints of Newark, the prequel to David Chase's influential TV series The Sopranos, Magnussen plays a young Paulie "Walnuts" Gualtieri, a fan favorite played almost inimitably by Tony Sirico.
Sirico was a real mobster before he went into acting, even did a semester in prison. He brought a street-wise authenticity into the role, which is now lodged in Sopranos fans' consciousness like a bullet in the back of the head. Magnussen's Paulie has an extremely memorable introduction in the film, but it's not in the skull, and it's messier than a .22. Let's just say, you should wear denim coveralls when rotating tires.
Paulie Gualtieri, along with Silvio Dante (John Magaro), are part of Dickie Moltisanti's (Alessandro Nivola) crew in The Many Saints of Newark. The younger versions of series regulars don't get a lot of screen time in the film. Big Pussy (Samson Moeakiola) is only really there to show us how he got his name. Directed by Alan Taylor, the movie hits some of the historic moments referenced in the series. It doesn't tackle Dickie's feud with Jilly Ruffalo. While an eye gouging scene could have been fun, Paulie's assist in the new film earn him his gangster film button.
In a sit down with Den of Geek, Magnussen, who is also featured in Cary Fukunaga's James Bond film, No Time to Die, talked about keeping it real, while playing it tough.
Den of Geek: Are you prepared for any of the inevitable blow-back from the fans regardless of how they respond?
Billy Magnussen: No, I did my job. I do my thing. People are going to respond the way they respond. I have no control over that. But I had a wonderful time making this film. And I feel very blessed to be a part of the legacy of Sopranos. It's huge. And I am just truly honored.
How daunting is it to nab a character that was so enmeshed in the consciousness of a generation of TV viewers?
Well, when you say it like that, it's a different story. You know what? When I got the job, I had never watched The Sopranos, because I couldn't afford HBO growing up. And especially in college, I could not afford HBO. So, I never got to watch it. But going into that, once it really became an opportunity in front of me, I dove deep, deep, deep into it. And I personally also fell in love with what Tony [Sirico] did with Paulie Walnuts. It was actually an exciting opportunity for me, to be like, "Ooh, he did that. Let's see what I can do," and then play in there, because it's fun. We're playing and having a good time.
When you're prepping for a character that yours will grow into, do you study the subject, or the source?
Both. Definitely. That's a really great question. I think it's important. There's a difference between playing a real person and trying to bring that to life. And then you just study that person. But there is Tony, and then there is Paulie Walnuts. And I think they're very closely interchangeable. I was trying to find moments of Tony in Paulie Walnuts. That's the thing. I want to know what he was thinking as he was creating the character and going deeper and deeper into his story.
So yeah, it was just a lot of time, taking as much information in, finding mannerisms, building the character, the physical and everything, the cadence of the voice. Yeah. It was just a lot of work. And then you try to get to a point where you don't have to think about it anymore, and you just kind of do it.
I know that Tony Sirico, he based a lot of his mannerisms on James Cagney. Did you watch a lot of Cagney for this?
I did not know that actually. Thank you for telling me. I did not know that he did that. I never came across that anywhere.
"What do you hear? What do you say?" is from Angels with Dirty Faces.
That's awesome. No, I did not know that. Thank you for sharing that. Honestly, I was just following his rhythm, just trying to find that spirit, that essence he was bringing into it. And also living in the show, the film as present as possible, with those given the circumstances of the character,
Did you ever get the blood out of the yellow coat?
I don't know. We got to ask the wardrobe people. I didn't get to keep it, sadly, but it was a smooth, smooth outfit. I mean, we had one of the best costume designers on this, because everyone … When you have set production or production design like that, you get to just live in these worlds. And it gives you a weird grounding and a sense of freedom as you move through it.
What does wardrobe bring to a role?
I think it brings a lot. It's – what is this person waking up in the morning and putting on it? What is that attitude? As you put your armor on, to say the least, what is that? And how do I move through the world? And Paulie Walnuts was a confident [character], he wasn't afraid to be dull, wasn't afraid to be bright and just out there. So it was fun.
Not afraid to put nail polish on.
Exactly. Right. Is that silly or what?
You're from Woodhaven, Queens, which used to be pretty big in the mob, did you run into wise guys? I know you moved out early.
It's funny. My dad has a lot of stories. He really grew up there and with Gotti and all that stuff. He was asked to once be a delivery man for him and stuff. He turned down the job. And it was there, it existed. But again, you just didn't get in their business. You just don't need to be in their business and stay away from it. That's what I was raised to follow. It's not your business. If they want you to work for them, don't. Just don't get in business with them. Those were the rules.
Did you get any pointers from David Chase?
Of course, of course. David Chase is the commander-in-chief of this process. So again, he made a beautiful, beautiful show, The Sopranos. You're kind of moving through it and waiting for the thumbs up. Or if you don't get the thumbs up, you still have to keep working. So, it was awesome to have him there to orchestrate the whole piece and make it what it is. And we're following his lead, so that's a great feeling. Because I respect the man drastically.
Do you see the characters that he writes in him? Is there a Paulie Walnuts in David Chase?
I have to say yes, because all these characters came from his mind. I don't think he lived his life that way, but they all came from him. So they are aspects of David Chase, I would say, as any artist, as any writer probably would be. I think, yeah, of course these characters live inside David.
What's Alan Taylor's like to work with?
I think he had a hard hill to climb up and a monstrous, monstrous thing to overcome. And I think he is a gentleman.
David Chase told Deadline there might be another film in the formative years of Tony Soprano. Was there any talk of that on the set? Would you do it?
Considering I'm contractually obligated to do it, I don't think I really have a choice. But I haven't heard anything. So, I can't really speak on anything.
When you auditioned, did you have to get the Paulie laugh?
I actually auditioned for a different role originally for the piece. And then I was approached after my audition, would I be interested in playing Paulie Walnuts? And then doing a deep dive on Paulie Walnuts, I was like, "Yeah, let's go."
Are you a gangster movie fan?
Of course. Who isn't? It's high stakes. It's all about family, community. Yeah, of course. Love them.
Which are the ones that you go back to? And which were the ones that you see in Many Saints of Newark?
I don't know. I think The Sopranos it's its own kind of jam. One of the most brilliant pilots ever created was putting a gangster in a therapy session and really getting into the mindset of this character. So, I think it stands alone, and that's why The Sopranos is its own little journey. I don't think you can compare The Godfather to Goodfellas. I don't think you can. Or do you feel that way?
I compare them all the time. That's my job. When you're clicking into moments from the series, do you ever feel it gets too self-referential, or you're winking at the audience?
No, I think the group of actors were never winking. I think we were just trying to do the justice of what was on the page and what the story was. And as all the great actors that were in it, you show up every day and just play and try to make it honest and real. I don't think so.
Where do you see gangster movies going? Do you think The Irishman changed the gangster film?
No, I thought it was beautiful. I thought it was a really good take on aging gangsters. It's kind of a beautiful film in that sense. Especially, we know De Niro and Pacino, their lineage with gangster films and stuff like that and that whole Mafiosa [movie tradition]. I think it was a beautiful nod and a goodnight almost to it. I thought it was very, very wonderful.
You are also in the new Bond film.
I play a CIA operative that works with Felix.
Like The Sopranos, there's a whole history behind Bond Films. Tony Soprano says he comes in late in the mob game. How does it feel to come into a franchise after all that groundwork has been set in people's minds?
I look at it as a job and an opportunity more than anything. I don't know. I hope people enjoy what I get into and what I do with it. That kind of thought mentality, I think it's a waste of time or my energy, as I'm moving into a production and figuring out the character and trying to do all my work. There's just so much work I have to focus on rather than all the outside stuff going on. So again, it's more now having these meetings, that it's like, I feel the weight of all of it. But in the moment while doing them, you're just like, "Wow, I'm doing this. I'm a part of this. And I hope I show up and bring my full self to it."
The Many Saints of Newark will be released in theaters on October 1, and will be available on HBO Max for 31 days from the theatrical release.