News
How The Many Saints of Newark Almost Brought Carmela Soprano Back
The Many Saints of Newark was set to begin with a scene featuring Edie Falco as Carmela Soprano. Director Alan Taylor describes why it was changed.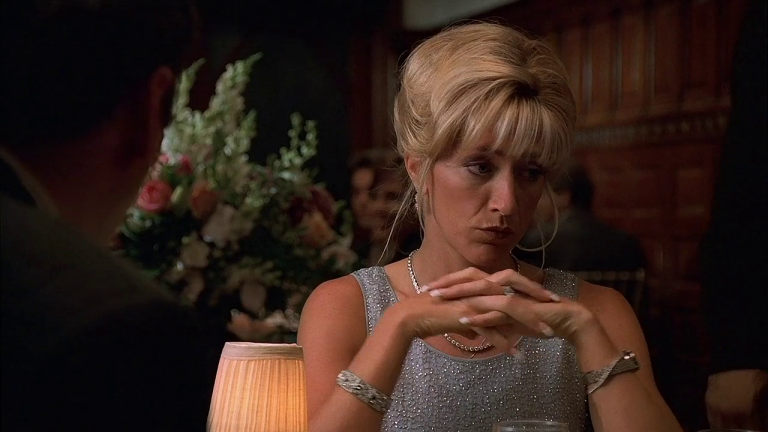 To some, The Many Saints of Newark is just a period piece mob movie that will pop up in their HBO Max feed on October 1. To others, however, it's manna from heaven – the first time we'll see classic characters from The Sopranos onscreen since the legendary HBO show signed off in 2007. 
Slated to appear in The Many Saints of Newark's 1967 version of Tony Soprano's New Jersey are: a young Tony Soprano (Michael Gandolfini), his father Giovanni "Johnny Boy" Soprano (Jon Bernthal), uncle Corrado "Junior" Soprano Jr. (Corey Stoll), mother Livia Soprano (Vera Farmiga), Paulie "Walnuts" Gualtieri (Billy Magnussen), Silvio Dante (John Magaro), Sal "Big Pussy" Bonpensiero (Samson Moeakiola), and potentially more.
According to The Many Saints of Newark director Alan Taylor though, the film nearly opened with a scene featuring one of the series' most important characters played by her original actress. Taylor first told Collider that the opening scene of the film initially included Edie Falco embodying her Emmy-winning role as Carmela Soprano. Ultimately, that scene was scrapped in favor of the movie's current intro and Falco nor Carmela will be featured in the final product.
When Taylor spoke with Den of Geek after the news had already broken, he was understandably hesitant to expound upon what the opening scene could have been any further.
"I'm already starting to think it wasn't a great idea to say that much. I tend to be candid and brutally honest," the director says.
Taylor did add that it was nice to see Falco back in her iconic role – even if for only a moment.
"Sadly, Edie doesn't appear but it was a great excuse to bring her in," he says. "We put her through hair, makeup, and wardrobe. She became Carmela again for a second. (Losing the scene) is just part of the brutal process of finding the movie along the way."
Now only one question remains: what exactly was that scene? Is the missing Many Saints of Newark Edie Falco intro destined to become the latest in a long line of Sopranos mysteries like "what happened to the Russian?", "did Tony die?", and "why does Paulie laugh like that?" Maybe!
We likely won't know until the Blu-Ray release and we get to check the deleted scenes. Until then, we can only speculate. It's safe to assume that the missing Carmela Soprano scene did not occur any time after The Sopranos' finale. For, while Taylor is comfortable in asserting his theory that Tony Soprano was killed, series creator David Chase is adamant about leaving that a mystery. Any scene featuring Carmela wasn't going to pick up in a hospital room with her mourning her lost husband.
It's possible that the Carmela Soprano intro had something to do with her relationship with the Moltisantis. Dickie Moltisanti (Alessandro Nivola) has been described as the central character of The Many Saints of Newark. Dickie was Carmela's cousin so a moment featuring the two could have provided a useful connective tissue between the TV show and the movie.
Ultimately though, Taylor is confident that Sopranos fans will be happy with the introduction scene that he and Chase chose.

The beginning that we have right now is a stroke of genius that David came up with late in the game. We had an earlier beginning that we actually had shot but this seemed to shape the movie more," he says.
The Many Saints of Newark premieres in theaters and on HBO Max Friday Oct. 1.