Features
The Journey Of Ma Rainey's Black Bottom From Stage To Screen
The director and cast members of Ma Rainey's Black Bottom describe bringing August Wilson's classic play to the screen.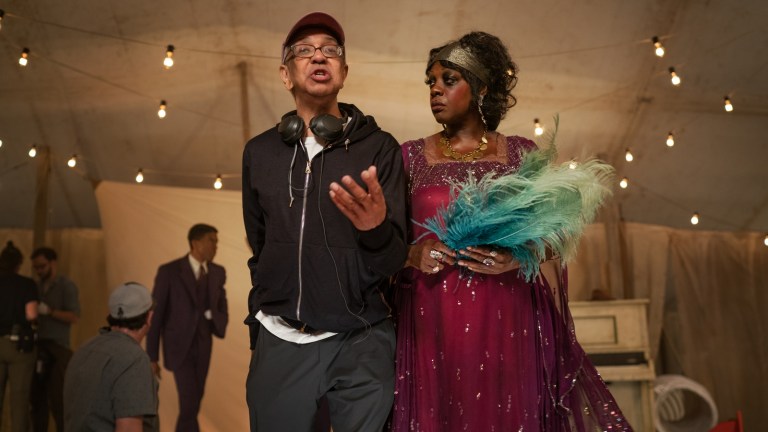 The new Netflix film Ma Rainey's Black Bottom, starring Viola Davis and the late Chadwick Boseman in his final screen role, is a searing drama set in 1920s Chicago, based on a Tony-winning play by legendary playwright August Wilson. The 1982 show is part of Wilson's 10-play "Pittsburgh Cycle," a series of plays mostly set in Pittsburgh's Hill District, each in a different decade, that use families in that neighborhood (where Wilson himself was born) as the lens through which Wilson examines the Black experience in America throughout the 20th century.
Ma Rainey's Black Bottom is the exception. Set in Chicago, it does not revolve around a family in the traditional sense but instead a band led by the title character (Davis), a fictionalized version of the real-life blues singer who was a pioneer in terms of both her professional and personal life. One of the first blues singers to record her own music and cross the divide between white and black audiences, she fought resolutely to control her own business and live her life — she was reportedly bisexual — the way she wanted.
"What's really fascinating to me and what I really appreciated and I felt a kind of freedom (about), if you will, is that this is the only play in the cycle that isn't set in Pittsburgh and that isn't sort of family-based," says director George C. Wolfe. "It's not about mothers and fathers and sons, it's about Ma Rainey and her band and it's the only character that's based on a real person. So I felt a kind of freedom to just dive in… I felt like I could bring the history of Chicago, history of the South, history of Ma and have that come to play inside of this brilliantly crafted piece of writing."
One of the producers of the film version of Ma Rainey's Black Bottom is Denzel Washington, who struck a deal with HBO — which was later transferred to Netflix — to produce nine of Wilson's 10 plays as films (Washington previously directed and starred in a 2016 film version of Wilson's play Fences, alongside Davis). Wolfe says that Washington's dedication to seeing all Wilson's plays adapted in this manner was a major factor in getting this version of Ma Rainey's Black Bottom to the screen.
"I think what's thrilling is that Denzel has made a personal and professional commitment to make sure that all of August's work is filmed," says the director. "I think he was very protective of the work and very protective of the journey that we all went on. I directed him in a play on Broadway a few years back (a revival of The Iceman Cometh), and so he and I started this collaboration of working together and evolving a way of working together. That just continued to grow once we were working on this film. I've found him to be a very smart, very incisive and very generous collaborator."
Wolfe himself is a playwright and, as he stated, a Broadway director, with classic productions like Jelly's Last Jam, Angels in America, and Bring in 'da Noise, Bring in 'da Funk on his resume. But he says he did not approach adapting Ma Rainey's Black Bottom to film any differently from the way he has tackled other works on the stage and screen.
"Whether it's on stage, or film, or radio, the thing that you're reaching for is truth," he explains. "Truth in the storytelling, truth in acting and truth in choices. That's what you're digging into. There's this big machine in the middle that can create wide shots or zoom in for a close-up, and there's a degree of composition that goes along with that which is fun to play with, but in essence, you're always searching for truth and always trying to embody that and get to the purest manifestation of that truth."
Ma is the sun around which the other planets in the story orbit, including the four members of her band: trumpeter Levee (Boseman), band leader and trombonist Cutler (Colman Domingo), bassist Slow Drag (Michael Potts) and pianist Toledo (Glynn Turman). Also in the mix are her nephew Sylvester (Dusan Brown) and her lover Dussie Mae (Taylour Paige). But it's the fiery, angry Levee — scarred by his childhood experiences and hungry to start his own band — who sets himself against both Ma and his bandmates and acts as a catalyst for the story's events.
Wolfe continues, "That's what dictates the journey — the human truth, the human frailties, and the human strength, and how they dance together and how characters stand in opposition to one another. So that's the challenge, and the cast is extraordinary and they are completely and totally gifted, and that's why we chose them to be in the film so that, therefore, we thought they could fully embody, in an astonishing way, the truth."
For the actors, it all begins with the words set down by Wilson, who died in October 2005 at the age of 60 shortly after the premiere of the final "Pittsburgh Cycle" play, Radio Golf. "You first begin with trusting August Wilson," says Michael Potts. "You trust the words of August Wilson because you can't say it any better than he says it. And then you do your homework. You figure out what it is that drives these characters. What do they want in life, where are they presently in their lives, and how these desires or these impediments are related to everybody else in the story that you're telling?"
Potts continues, "So you learn the history — the relationships that I have with Cutler and Toledo and Levee. Really what we're doing is playing a scene that is happening in this one particular day. So you try to make it as specific as possible based upon the given circumstances. You have to trust your fellow actors that you're in. Trust August Wilson, trust your fellow actors that you're in the piece with, and listen. Listen very, very closely."
"As a Black performers, we're used to searching for roles that have depth, roles that have a shelf life, roles that are accepted by a vast audience," says Glynn Turman. "We look for those roles but they're not always there. And Mr. Wilson broke through a glass ceiling, so to speak, when he presented his canon of work for black performers, 10 wonderful plays with numerous different characters to play…It means a lot when anything happens that furthers his mission, which is to bring awareness of a people's culture, life, and experiences, in a form that is entertaining enough to make us inclusive in the American story."
George C. Wolfe says that while Ma Rainey's Black Bottom clearly touches on themes and situations regarding race, religion and culture that are still with us today, he's not concerned with how those themes find a way to resonate with audiences in 2020.
"If you do the hard work, the message reverberates," he explains. "I was intrigued by the potency of Ma. I love the fact that she did not ask for anyone's approval. I was really drawn toward Levee's desperation to succeed so much so that he ends up making foolish management and artistic decisions. I was drawn toward all these stakes, which continue to reverberate today, but I couldn't think about today."
Glynn Turman feels that the central question of the play and the movie is very much still on the frontline of the Black experience today. "(Wilson) asks a really important question: what is the black man going to do with himself?" he says, "And that's followed by the idea that we've got to come together, all of us, and work together — I can't do this by myself."
He adds, "You throw all that out the window and you come together and you work together. Then you stand up and you can be counted as individuals who take control of their destiny. So it answers the question, what's the black man going to do with himself? (That's why) this is the right movie, the right story, for the right time, in the right venue."
Ma Rainey's Black Bottom is available to stream on Netflix now.