Features
The Devil All the Time Director on Channelling Donald Ray Pollock's Book and Casting Robert Pattinson
Director Antonio Campos talks us through his dark Southern noir The Devil All the Time, out now on Netflix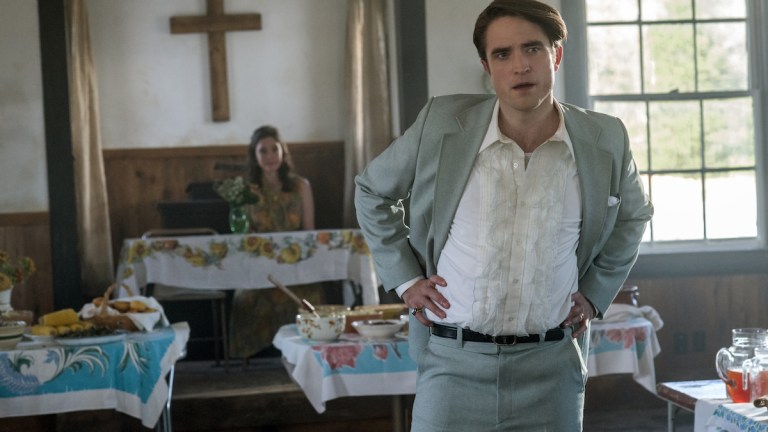 Since the first sinister trailer for Antonio Campos' adaptation of Donald Ray Pollock's novel The Devil All the Time arrived, the film has caused quite a buzz. This is the latest Netflix original to land, a pitch black drama set in the Ohio town of Knockemstiff where the corrupt and the lost intertwine in a mix of horror and tragedy. One of the standouts from the trailer is the incredible A-list cast brought together for this ensemble piece. Robert Pattinson plays a predator preacher, Bill Skarsgard a damaged war veteran, Sebastian Stan a dirty cop and Jason Clarke and Riley Keough husband and wife serial killers.
"I wasn't like Nick Fury showing up," laughs Campos when he chats to us about building his cast. "It's a very long drawn out process." Though he has two actual Avengers in his line up, this is a portrait of villains rather heroes and those trying to negotiate the world between two wars.
Campos chats to us via Zoom from his home in Chile about casting, building the world of Knockemstiff and the Godless fanatics that populate his film.
When did you first come across the book and what made you hunger to turn that into a movie?
I read the book because Randy Poster, who's known as a music supervisor, gave me the book and he said, "I think you'd really like this and that if you like it, then we could do it together" and he would produce. And I really loved it. I thought, well this something I'd love to do with my brother, who's not a screenwriter, but has written short stories and prose. So that's how it all started. And then from there, it was many years of just working on the script and getting this cast together.
What did you love about the material? Because, there's not much redemption for anyone other than possibly Arvin.
I don't always go when I read a story "Okay, well, this character needs to be redeemed". It's more "do I enjoy the journey that I go on with the character? And do I experience something that I haven't experienced before? Can I get into their head and mindset?" A lot of characters were from the universe of Southern Gothic and noir and hard-boiled fiction, which are two of my favorite genres, but they felt different. They felt a little more complicated. And the way that Don [Ray Pollock] was weaving from one story to the other was really exciting. At the end of the day, it was this main thread with Willard and Arvin that held it all together.
This father-son story set between two wars and the trauma that the father passes on to the son. That was the thing that tied it all together. That generational story I found really compelling. I've been drawn to generational stories recently, in the last few years, the last four or five years, it's been the kind of story that I've been most excited to try to tell. Then dramatically the exploration of faith in the book, and the fact that the book is about all these people that are such devout fanatic believers, but there isn't really the presence of God, but still there's some sort of grand design that reveals itself by the end. That aspect of it I thought was really compelling to do.
You mentioned obviously your incredible cast, can you tell me a little bit about how you went about assembling such a massive group of A-listers on this?
That's the question I get the most. I wasn't like Nick Fury showing up and going there. It's a very organic process where I was lucky to have come across some of these actors along the way. Like Rob, we had some mutual friends and we started to become friendly and I showed him the script and he immediately sort of gravitated towards Teagardin. I actually said "you're basically the first person to have read this, tell me who you'd love to play?" And he said Teagardin.
Tom had been cast as Spider-Man, but I hadn't seen him as Spider-Man. He was just this really interesting young actor. I really was drawn to his personality and his energy. I had seen The Impossible so I knew that he had chops. And I knew that he also had this interesting background in theater. I just saw this young scrappy guy who could portray someone like Arvin. That was good fortune that I had met him when I met him. Just little by little, it's a very long drawn out process.
Lots of your cast are British but they all absolutely nail the accent, can you tell me about that?
The accents were really specific. We got really specific to regions and we had an amazing dialect coach named Rick Lipton and Don Pollock had recorded a lot of the dialogue himself. So the actors could listen to it to get the Southern Ohio of it. Don had found a female friend of his to record some of the dialogue for Haley and for Riley to hear. Then Don had found some friends in West Virginia, and then there's this really great documentary from the 60's called Holy Ghost People and that was a big reference point for the West Virginia accent. It's a documentary about these kinds of Backwoods churches.
Don Ray Pollock is your narrator, which is incredible. How did that come about and how did that affect you in terms of any changes from the book?
We always had Don's voice in our head for a narrator and there was nobody else that could play it. We were lucky that he said yes. It was a lot of pressure on my brother and I, because we loved the book and we respected the hell out of Don. We really wanted him to be happy with the script and with the movie. He read drafts along the way, he gave his thoughts, his notes, he'd riff on the voiceover and, as we were editing, I would send him, "Oh, like, record this line, record that line". And he'd record it right away, do a few takes. It was a very collaborative process. It was just like working with another actor. But an actor that knew this world inside and out.
But because it was Don and because we were so close, I felt a lot of pressure and a big obligation to be faithful to the spirit of the book because we really loved it so much.
The world building of Knockemstiff is so detailed, how did you manage to create that and was Don a help to you in making that world feel so very tangible?
I would go to Ohio and visit Don. Don would take me to different locations and he'd be like "this is what inspired the prayer log" and sometimes those things lined up, but for instance I never saw a house that was Willard's house. He never took me and said, "This was Willard's house". We shot the film in Northern Alabama and I randomly saw this house in the middle of nowhere. And I was like, "Let's find out who owns that house and get that house". And we managed to get it. Don showed up on set and he walked up and he was like, "Man, that's the house, that's the house".
He'd never told us or drawn a picture or anything. He'd just described it so beautifully in the book and I had a feeling for what he was looking for. It was this house on a Hill. I spent enough time in Knockemstiff and Chillicothe, Ohio, which was the basis for me to get a sense of the world Don was creating. Also the book is a work of fiction, so it's genre and it's elevated, it's heightened. Finding locations is like casting. You're patient, you spend the time just finding exactly the right place to shoot something. You know within a second, you're like, "that's it". It presents itself.
The Devil All the Time is available to stream now on Netflix.