News
The Devil All the Time Trailer Teases Dark Netflix Drama with Tom Holland and Robert Pattinson
The trailer for Netflix's The Devil All the Time previews a star-studded film that delves into dramatic depths.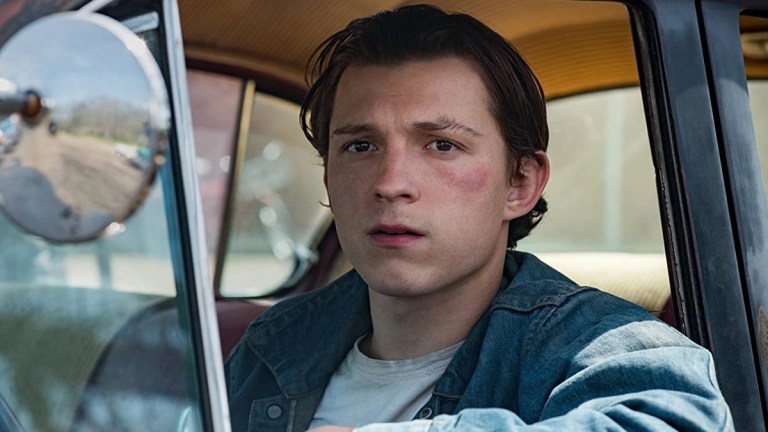 Netflix movie The Devil All the Time has released its first trailer, showcasing an impressive ensemble within a bleak piece of dramatic Gothic Americana. Indeed, the film is headlined by Marvel's current big screen Spider-Man, Tom Holland, opposite DC's imminently-debuting big screen Batman, Robert Pattinson, setting up a collision course of characters so seemingly epic, it might just make you forget to wish they were in their respective crimefighting outfits.
The film was directed by Antonio Campos, who worked off a script he co-wrote with brother Paulo Campos, adapting Donald Ray Pollock's 2011 novel of the same name. Bearing a story spanning from World War II to the 1960s, the film is set in the rural Ohio town of Knockemstiff (really, that's what it's called), centering around a young man (Holland) who not only discovers a dark secret about his family, but becomes threatened by some of the corrupt locals, most notably a fire-and-brimstone-heralding preacher (Pattinson).
With a September premiere now set, check out the trailer for Netflix's The Devil All the Time just below.
As Netflix's official logline for the film reads:
"Some people are just born to be buried. In Knockemstiff, Ohio and its neighboring backwoods, sinister characters — an unholy preacher (Robert Pattinson), twisted couple (Jason Clarke and Riley Keough), and crooked sheriff (Sebastian Stan) — converge around young Arvin Russell (Tom Holland) as he fights the evil forces that threaten him and his family. Spanning the time between World War II and the Vietnam war, director Antonio Campos' THE DEVIL ALL THE TIME renders a seductive and horrific landscape that pits the just against the corrupted."
Director Antonio Campos comes into the film off a recent television directorial stint on USA Network's The Sinner and an episode of Netflix's The Punisher. He's also known for films such as 2012 thriller Simon Killer and 2016 fact-based TV reporter tragedy Christine, which starred Rebecca Hall, and was nominated for Tops in the 2017 Americana Film Festival.
Besides its co-headliners, The Devil All the Time cast are an impressive ensemble that includes Sebastian Stan (The Falcon and the Winter Soldier), Bill Skarsgård (the It movies), Mia Wasikowska (Crimson Peak), Jason Clarke (Pet Sematary), Riley Keough (Mad Max: Fury Road), Harry Melling (The Old Guard), Haley Bennett (Red Sea Diving Resort) and Pokey LaFarge (Sun Records).
Star Tom Holland will, after this film, be seen in the drama, Cherry, which serves as a quick reunion with his Avengers: Infinity War and Engame directors Joe and Anthony Russo. His return as Spider-Man for the untitled Homecoming threequel is currently scheduled for December 17, 2021. Co-star Robert Pattinson would have been coming off his role in director Christopher Nolan's Tenet had it not been for that film's now-numerous COVID-caused pushes on its release date, which is currently September 3. His debut as DC's new Caped Crusader, The Batman, is currently scheduled to hit on October 1, 2021.  
The Devil All the Time Release Date
The Devil All the Time will hit Netflix on Wednesday, September 16.