Reviews
The Crossroads Collection DVD review
Jack Kibble-White looks back at a soap opera once considered an immovable part of the British TV landscape…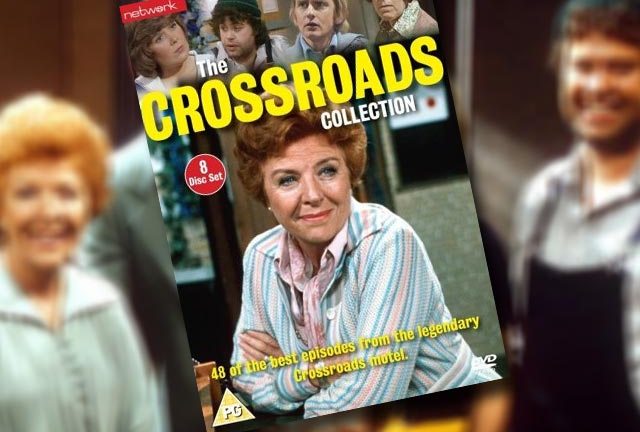 Crossroads is a series that, when it was originally on, was at the periphery of my TV awareness. I knew about it not through first hand exposure, but through the distortion of Jasper Carrott, Little and Large and the rest using it as a watchword for "naff" television. Yet looking back at it now as someone with a keen interest in the history of British TV, it's a series that has a lot to say about its time.
Crossroads was the product of an ITV regional company desperate to maintain a high profile in the network schedule. For a long time (and as wonderfully evinced in the many regional news items included on this DVD collection), it was a programme that its producers – ATV – were proud of and happy to plug in their magazine and news programmes as often as possible.
And quite right too. Crossroads began back in 1964 (although the earliest we get on this collection is episode 496 – the previous 495 having long since been junked), and enjoyed a chequered history on the ITV network, with various companies such as Thames and Granada, moving it around and sometimes dropping it from their schedules.
Of course, in retrospect it's easy to imagine that Crossroads, rather like Emmerdale today, existed in the shadow of Granada Television's Coronation Street, but in fact for much of its life, and despite the aforementioned ITV regional wrangle, Crossroads gave the Manchester soap a good run for its money, pulling ahead in the ratings for substantial periods in the 1970s.
But as Meg Mortimer's rendition of "We Need A Little Christmas" from 1979 demonstrates, Crossroads was quite a different proposition to the other British soaps. Initially broadcast 5-days a week, it was a freewheeling series that seldom looked back, and seemed not to worry about little slips in the scripts, not to mention those occasional bigger ones such Jill Chance's 11-month pregnancy. With so much screen time to fill (far more than Coronation Street, which was then just two episodes a week), there was simply no time to do anything other than commit it all to videotape, and move on.
This then is where Crossroads' infamy comes from, and it is still there, alive and well on this eight pack DVD.   The sets are in fact, quite stable, but some of the storylines are less so. Hurling Benny (Paul Henry) from one crisis to another, seems like an easy way to tug on viewers' heartstrings, but episode 2869, included in this collection, is particularly jaw dropping. I had previously been aware of Simon May's "Benny's Song", a self-pitying Benny monologue cut to a saccharine John Miles-esque piece of disco, but little did I realise that this song made an appearance in an actual episode (and during the Festive season too). As Benny's lover dies, we are treated to a Vaseline-camera smeared montage as Benny (in voice-over) proclaims to the music "Everything in my life always went wrong. Until she came along." You'd never get away with it today.
But then perhaps, this is one of the greatest things about watching Crossroads in 2008; from jaunty incidental music in the early episodes, to Larry Grayson turning up as a chauffeur, it's refreshing to see that the rules of British soap, and the conventions of realistic drama, weren't always so strongly defined. For all its faults and propensity for making it up on the hoof, Crossroads could at times be compelling and revolutionary (it dealt with abortion far earlier than the other British soaps). Besides, those criss-crossing end credits remain strangely hypnotic to this day.
Extras There is a veritable cornucopia of treats to be had here, of which the highlight has to be either an episode of Noele Gordon's daytime show Lunchbox, or a studio grilling in which Gordon attempts to defend Crossroads' honour against a pack of journalists.
That aside, there are plenty of regional news reports, including one in which a studio interview with the cast ends up consisting of little more than Roger Tonge reducing the others to tears of laughter, while never actually being very funny. A reminder of the later years of Crossroads (although happily not of the 21 st-century revival) comes with a news item on Dee Hepburn joining the cast, and there is also a 25-minute documentary from 1994 looking back over the years, and wondering if the show could ever return.  
All in all, this box set ably captures the affection in which Crossroads was held by its viewers, rather than the rather distorted vision of the Brummie soap as portrayed through the media ever since – and that alone makes it an almost indispensable purchase for those with an interest in the history of British TV.
Series:
Disc: