News
The Batman Trailer Reveals Zoe Kravitz as Catwoman
In just a few seconds, The Batman trailer tells us a lot about how Zoe Kravitz will play Selina Kyle and Catwoman.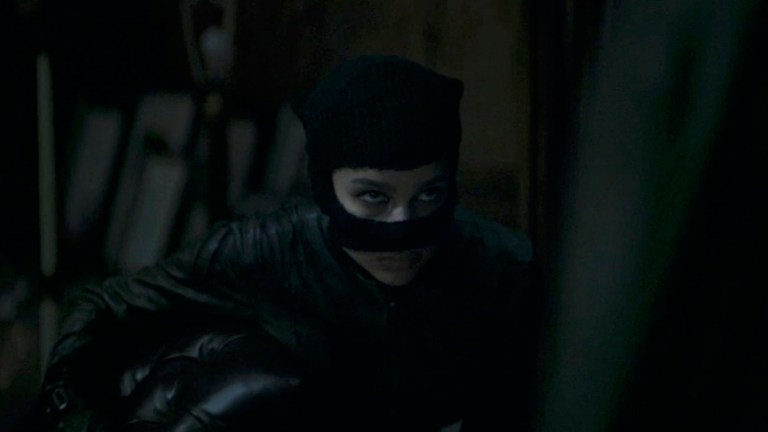 Zoe Kravitz as Catwoman is one of the great bits of superhero movie casting. And today during DC FanDome we got a very small glimpse of the new iteration of the anti-hero when The Batman trailer was unveiled in all its eerie glory.
The Batman director Matt Reeves introduced the panel and revealed that the film would work as an origin for Batman's rogues gallery including Kravitz's character.
"Selina isn't yet Catwoman" Reeves told host Aisha Taylor. So, what do we know about her. Well, it's the early days of the rogue, and just like Bruce she's in the early days of her career before she becomes the iconic jewel thief we know and love.
We only got to see a little of her costume which does feature the short, spiked ears that fans immediately connect to the Darwyn Cooke iteration of Selina, and Kravitz's recent pixie cut already had us thinking that would be a huge influence. Reeves also mentioned Cooke's short story Ego as a narrative and thematic influence so the late artist's influence will definitely be felt.
It certainly seems like fans will be seeing a more stripped back version of Selina Kyle. We know that Bruce has made his own costume and it feels like Selina will also be following that route. In the trailer we get a feel for her aesthetic. If you've ever wanted to see Catwoman in a badass balaclava kicking the crap out of Batman then you've been blessed.
She's also got a skintight leather-looking getup which seems perfect for causing chaos for the caped crusader. It's a really fun way of visually establishing how green Selina is while also being a blessed breakaway from the militarized "realism" of the costumes in every post X-Men superhero movie.
It's clear that the fight choreography is key in The Batman with both Catwoman and Batman showing off some killer moves in the trailer. The most exciting thing is that whatever their relationship may end up like, the pair are clearly antagonists when they meet with none of the gentle flirtatious romance of The Dark Knight Rises. Basically this is a very exciting trailer which hints at big things for Catwoman and Kravitz as Selina in the world of Reeves' Batman.
Currently The Batman is slated for release in October next year and honestly can we just get a time machine and go there now because we need this badass goth Batman in our lives.
The full schedule of upcoming DC superhero movies can be found here.