News
The Super Mario Bros. Movie First Reactions Are In
First reactions have arrived for the highly-anticipated Super Mario Bros. Movie starring Chris Pratt and Jack Black. Did the critics say "Let's-ago" or "Oh no"?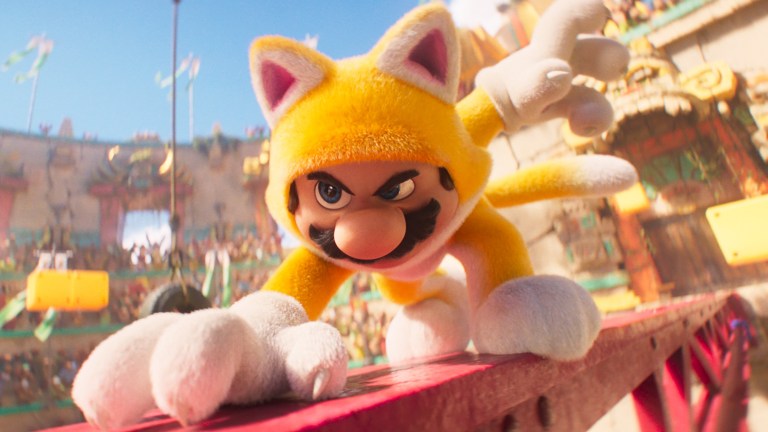 Back in the early '90s, nerdy kids across the world thrilled at the sight of Bob Hoskins and John Leguizamo wearing robot boots and standing in front of a giant metal "M." No, we did not understand how, exactly, those blue and gray images correlated to our favorite red and green plumbers on our Nintendo systems. But we could accept some deviation in the adaptation. After all, as the tagline promised, "This ain't no game."
Three decades later, we've learned to process our collective trauma of seeing our favorite video game turned into a cyberpunk dystopian tale that made us feel things we weren't old enough to understand. But the promise of a new Super Mario Bros. movie has reopened those old wounds. Would this version bring back nightmarish images of the heroes dancing behind giant-bodied Goombas? Would our children, too young to have lived through the terror of 1993, be disappointed by this take on Mario, forsaking them for the Jim Carrey-assisted hijinks of Sonic the Hedgehog?
This latest take on Super Mario Bros. has a few things in its favor. Unlike the 1993 movie, this film has much more involvement from the Nintendo brass, including Mario creator Shigeru Miyamoto. Furthermore, it's directed by Aaron Horvath and Michael Jelenic, the duo behind the initially controversial but undeniably durable Teen Titans Go!. The voice cast includes some inspired choices, such as Charlie Day as the cowardly Luigi, Jack Black lending his roar to Bowser, and Seth Rogen as what will presumably be a 4:20-friendly Donkey Kong, presumably with a rendition of the infamous "DK Rap." On the other hand, Chris Pratt plays Mario for reasons, supplanting long-time voice actor Charles Martinet. It has proved to be a divisive move, considering Martinet's voice is easily the most recognizable thing about Mario besides his overalls and mustache. It remains to be seen if Pratt can do our favorite video game plumber justice.
Although we won't know about the general audience's thoughts until the movie releases wide, the social embargo was lifted this weekend, allowing critics and lucky fans to share their opinions after the movie's world premiere. So far, early reactions are overwhelmingly positive, lauding the fan service in a movie that sounds like it's absolutely jam-packed with easter eggs. The quality of the animation and the music seem to be highlights as well.
That said, io9's Germain Lussier was not as enthused with the film, criticizing its "overly goofy, bare-bones plot, filled with bad jokes and worse song choices.
Do these reactions make you feel like a jealous younger sibling, waiting for Mario to die so you'll finally get your chance to control Luigi? Or does it make you think the whole Nintendo thing is overrated, sending you to the playground to explain why Alex Kidd in Miracle World is the superior platformer?
You'll get a chance to make up your mind when The Super Mario Bros. Movie comes to theaters on April 4 in the US and April 7 in the rest of the world. The movie stars Chris Pratt, Anya Taylor-Joy, Charlie Day, Jack Black, Keegan-Michael Key, Seth Rogen, Fred Armisen, and Charles Martinet.