Features
Steven Spielberg Should Reconsider Not Directing Another Musical
Steven Spielberg says he will never direct another musical after West Side Story. This would be a shame.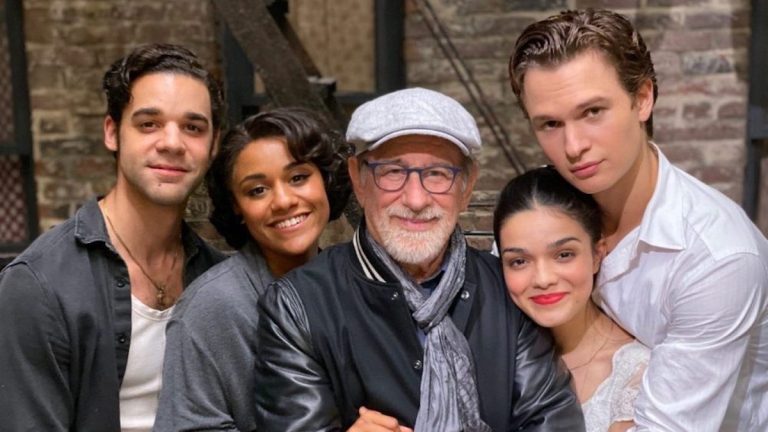 When someone has just returned to this mortal plane after scaling Mt. Everest, it is perhaps premature to ask them which vast rock they would like to climb next. Yet that's exactly what we feel obliged to do following news over the weekend that Steven Spielberg—Hollywood's own veritable Edmund Hillary—is done with musicals after West Side Story.
The revelation came via Variety, which reported about Spielberg attending the PGA Awards Breakfast on Saturday. There, the director and producer had nothing but lovely things to say about his experience of adapting West Side Story to the screen. His efforts have resulted in the musical receiving some of the best reviews in Spielberg's 21st century career, as well as netting him his eighth nomination for Best Director at the Academy Awards. Nevertheless, Spielberg took the opportunity to say that he was done directing musicals after his first full fledged effort in the genre, although he will continue to produce them, including an upcoming screen adaptation of the Broadway version of The Color Purple, which in turn was based on a 1982 novel by Alice Walker that Spielberg previously adapted to the screen in '85 as a non-musical.
Far be it from us to tell one of the greatest talents in Hollywood history what to do with his career and finite time as a filmmaker… but Spielberg wishing to retire from the musical genre feels like a missed opportunity. Since near the very beginning of his time in the industry, which has spanned close to six decades, Spielberg has admitted to always being smitten with the musical genre. And now, thanks to his extraordinarily robust and vivid direction of a Leonard Bernstein and Stephen Sondheim musical about turf wars, many are realizing just how complementary his eye is to the art form.
When it was first announced that Spielberg intended to "remake" West Side Story in 2014—and thereby follow in footsteps trodded by Robert Wise and Jerome Robbins in a legendary 1961 screen version—everyone thought the filmmaker was at best misguided. His longtime collaborator Tony Kushner even recalled telling his husband, "You're not going to believe this. He's lost his mind." Kushner of course was won over enough to wind up writing Spielberg's version of the material, crafting a far more sensitive and intelligent meditation than anyone expected from a story rife with potential third rails in the modern world: racism, cultural appropriation, and the concept of love at first sight, to name but a few.
But what won over first critics last December, and then a larger swath of mainstream audiences following the movie's debut on Disney+ earlier this month, was Spielberg's flashy and nimble moviemaking. The director's muscular camera set-ups–in which the frame bobs and weaves alongside its dancing Jets and Sharks, and underlines each embittered power play as they squabble over a gun or a girl–haven't been this ebullient since at least Catch Me If You Can 20 years ago. Or as a colleague of Spielberg, Guillermo del Toro, more succinctly said on Twitter last month, "[His] camera is dancing."
It was a triumph for the filmmaker, and one which justified revisiting musical ground as sacred as West Side Story.
Unfortunately, a large portion of the audience is only now beginning to discover the movie's many charms on streaming after the film failed to set the box office on fire last Christmas. Of course one should assume that this isn't the primary reason Spielberg is is ready to walk away from the genre, at least as a director. The filmmaker rarely revisits the same genre twice; his war movie, Saving Private Ryan (1998), changed the way war pictures were thought of in the popular imagination, including in projects he produced like Band of Brothers. However, he never filmed a movie directly about armed conflict again. Munich (2005) was his lone effort in the espionage thriller, lest you count Indiana Jones' adventures to thwart the Nazis as some kind of counterintelligence.
Indeed, with the exceptions of the few times Spielberg has dabbled in sequels (the aforementioned Dr. Jones as well as the first Jurassic Park follow-up), the only time he seemed to be directly revisiting similar material was when he twice made an "alien" movie based on ideas he personally conceived of: Close Encounters of the Third Kind (1977) and E.T. the Extra-Terrestrial (1982).
But the thematic and tonal chasm between those movies is as vast as Devils Tower is tall. And so, too, are the opportunities Spielberg has yet to take advantage of in the musical genre.
Yes, West Side Story is the filmmaker's first straight-ahead entry into the genre of toe-tappers, but it is hardly his first flirtation with the form. Indiana Jones and the Temple of Doom (1984) famously begins with a Cole Porter classic, "Anything Goes," cheekily sung in in Mandarin and with a dance sequence that channels the early talkies musicals of Busby Berkeley. He similarly has included musical-adjacent sequences in movies like Hook (1991), Always (1989), and  even Ready Player One (2018).
There is a rhythmic precision to Spielberg's visual vocabulary that he finally got to revel in by adapting one of the favorite musicals from his childhood—one full of pathos and tragedy, and melodrama. But there are many other types of stories that can be told in song and dance, and that are as eclectically diverse from West Side Story as Munich is from The BFG. Better still, there are many musical opportunities that could come without the baggage of being viewed skeptically in the press and by the general public as an unlikely remake of a stone cold classic.
With West Side Story, Spielberg set himself up with something to prove to audiences, critics, and even his own favorite playwright: Why are you making this? After the film's generally beloved reception, not only would Spielberg not face that kind of skepticism again, he would have the room to build buzz about a return to the genre—and in a film which perhaps wasn't revisiting material that already has a mythic aura around it from a previous screen adaptation.
Spielberg has long been a filmmaker who likes to partner with some of the best talent of the cultural moment, be it someone like Daniel Day-Lewis or Meryl Streep in front of the camera, or Kushner or the Coen Brothers behind it. The idea of the filmmaker partnering with a major creative musical talent of this moment—which could range from the obvious like Lin-Manuel Miranda to the perhaps less predictable, say Tom Kitt and Brian Yorkey—and designing from the ground up a musical based on an original story specifically for the screen is an interesting one. And if he just wants to put on his entertainer hat, getting Greatest Showman's radio-ready hit makers Pasek and Paul could be pretty slick.
The success of the aforementioned Hugh Jackman-starting spectacle, and the more melancholic and nostalgic La La Land, shows there's plenty of appetite still for original movie musicals. Or barring pure originality because the industry seems determined to barrel toward a world where everything in theaters must be based on intellectual property, there are plenty of great modern musicals that have a built-in younger audience who doesn't need to be convinced it's worth seeing a new movie with music their grandparents listen to. Someone is going to eventually make Hadestown into a movie, right? Why not try to see if it can be handled with the inspiration of West Side Story instead of, say, Les Misérables?
Spielberg of course has other passions to pursue. It's what brought him to West Side Story, and it's what's taking him to this year's eminently intriguing The Fabelmans. And the prospect of him trying to one-up the car chase in Bullitt (1968) is nothing short of tantalizing. So perhaps he just feels like he's done everything he can with one masterpiece in that long-chased dream of making a musical. But, personally? We think he's still got rhythm in green pastures.