Features
West Side Story: The Brilliance and Tragedy of Its Disney+ Release
The Disney+ release of West Side Story is reviving interest in a Steven Spielberg masterpiece before Oscar voting… but is it saving the movie?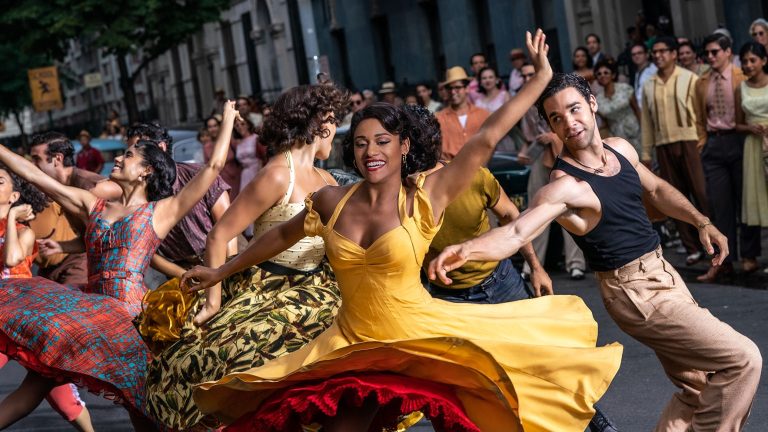 A funny thing happened on the way to Oscar-voting season: the internet discovered Steven Spielberg made a West Side Story movie.
Forgive the glibness, but it certainly felt that way over the last week when Film Twitter was inundated by stunned reactions to a certain tweet which revealed just a single snippet of Spielberg's lively cinematic remake of the Leonard Bernstein and Stephen Sondheim musical. In the clip a solitary, mind-numbingly complex dolly and crane (or drone?) shot follows a group of characters that include Maria (Rachel Zegler) and Anita (Ariana DeBose) as they enter a school gymnasium to attend a dance. Within that lone shot, the camera weaves and pirouettes, flies and swoons across the dance floor, all while conveying a maximum density of information to the viewer.
As Guillermo del Toro marveled on Twitter, "[Spielberg] made the camera dance." As a connaisseur and auteur of cinema, del Toro had of course already seen and studied the startling precision of Spielberg's first musical. But he still wanted to take the opportunity to spread the good word after another Twitter user posted the clip. It's the below one by Shane Anderson which more simply said, "This shot from WEST SIDE STORY is fucking insane."
Yes it is, and yes it should be celebrated. But by the way the clip went viral, and so many tens of thousands of folks acted stunned by Janusz Kamiński's cinematography, it became clear that a lot of them—most of them—had never seen that shot or any other from Spielberg's West Side Story. And these are folks who spend parts of their weekend tweeting about movies!
This fact belies both the shrewdness of Disney reviving interest in the movie a week before Academy Award voters start turning in their final ballots and also the minor tragedy of a movie as visually magnificent as West Side Story still being a box office loser.
In spite of early skepticism toward Spielberg remaking one of the greatest musicals in movie history—Robert Wise and Jerome Robbins' 1961 big screen adaptation of West Side Story—Spielberg astonished critics and the audiences who did show up last December by releasing his most electric cinematic work in at least a decade. The filmmaker admitted he grew up adoring the original cast recording of the 1957 Broadway production as a child well before he saw the Wise movie that went on to win Best Picture.
Now, half a century later, Spielberg proves he had something else to say about West Side Story by making a film which reprised the awe and youthful exuberance of his earliest blockbusters. The gymnasium shot is just a drop in the ocean of the filmmaking energy raising all boats in this new adaptation. Just as importantly, however, is that he and screenwriter Tony Kushner's approach to the material brought a newfound acuity and intelligence to the material, addressing long held criticisms of the original musical's lack of awareness of the real Puerto Rican experience in New York City, as well as retroactively seeing the seeds of white aggrievement and class struggles in the tensions between the Sharks and Jets. They live in a world already lost to gentrification as they carry their knives to "the Rumble."
It's a magnetic achievement which most critics, and the small but dedicated audience who saw the movie, were shouting from the rooftops about last holiday season. Sadly, it would appear to have fallen on mostly deaf ears since West Side Story flopped at the box office, opening at a meek $10.6 million in its first weekend in the U.S., and going on to gross a slight $38 million domestically and not quite $73 million worldwide.
Yes, there was a pandemic, and yes there was a renewed anxiety due to the Omicron variant, but none of that stopped Spider-Man: No Way Home from becoming the third highest grossing movie in U.S. history and sixth biggest grosser overall, with a total cume of $2.2 billion. When it came to a rapturous reimagining of West Side Story, audiences could justify a level of caution; when it came to seeing again, and again, Tom Holland hug Tobey Maguire and Andrew Garfield in front of a blue screen, the only thing to fear was fear itself.
Those are, of course, the breaks that come with playing at the box office casino, especially in such strange times. And for that reason, it's clever on Disney's part to both allow these clips to go viral a week before West Side Story's Disney+ premiere and to then offer a splashy debut on the second most popular streaming service in the U.S.
As with Encanto, a whole global audience who didn't venture to theaters for a movie that wasn't a superhero sequel or spinoff is about to discover a giddy musical on the most family-friendly of services. In retrospect, the wild Disney+ success of Encanto made that original animated musical an Oscar frontrunner in the Best Animated Film category, and even turned one of its more jovial songs, Lin-Manuel Miranda's "We Don't Talk About Bruno," into a TikTok sensation and the most popular Disney single since "Let It Go."
One easily imagines that if Disney had known of the popularity "We Don't Talk About Bruno" was about to enjoy because of Disney+, they would have submitted that as the film's Best Original Song entry at the Oscars instead of "Dos Orguitas."
If West Side Story gains a similar level of discovery, one might wonder if the Academy would've thought twice about snubbing Kushner's sensitive and thoughtful reworking of West Side Story's original book in the Best Adapted Screenplay category? Or, incredulously, not nominating this technical marvel for Best Editing?
As it stands though, West Side Story is viewed by some prognosticators as Power of the Dog's biggest competition in the Best Picture category, despite WSS not getting nominated for either of the aforementioned categories. And for context, the last Best Picture winner to triumph without an Oscar nod for Screenplay and Editing was Laurence Olivier's Hamlet in 1949.
That's another way to say the odds are not in West Side Story's favor, and if the film is able to actually achieve any major upsets on Oscar night, it may in large part be due to the film's high visibility on streaming–because of Disney+.
As a testament to the power of streaming, it's striking. As a harbinger for the future of cinema, it's still not necessarily a wonderful thing. Win or lose Best Picture, 2021's West Side Story is still a box office failure. While the film is so good that it's still satisfying on its own for the movie to finally be finding its audience on social media and Disney+—and perhaps yet becoming the classic it deserves to be—that failure tells a familiar narrative. Like Ridley Scott's The Last Duel or del Toro's own Nightmare Alley, or for that matter Edgar Wright's Last Night in Soho, a movie not based on a popular fanboy-friendly franchise crashed and burned at the box office, even when West Side Story and arguably Nightmare Alley had name recognition due to being remakes. (Incidentally, Wright too was celebrating WSS on social media last week.)
West Side Story is a beautiful film that deserves to find an audience, and which deserves to be recognized for its achievements. But if it cannot also prove itself as a box office success, it becomes that much harder to get any movie on that scale and with that level of craft made if it doesn't star a superhero or Skywalker.
Despite being a genuinely fantastic year for movie musicals, all of the ones released into theaters, including In the Heights and this past weekend's lovely Cyrano with Peter Dinklage, struggled to find an audience. The only one that seemed to make an impact on pop culture without any stigma of commercial disappointment is Miranda's own impressive directorial debut, tick, tick… BOOM!, which earned star Garfield a Best Actor Oscar nomination. And yet, that movie was released exclusively on a streaming service, and the most popular one at that too, Netflix.
It would be easy, then, to say that this will soon become the future of musicals. Yet if that's the reality, it's a sad one. Musicals are almost as old as the movies themselves, going back to the very first talkie, The Jazz Singer (1927). A movie like West Side Story is best suited for a giant screen with giant speakers and a giant audience, who together can get lost in a giant fantasy. And a film this technically accomplished, including in the above shot which has folks going crazy, needs the kind of budget that theatrical releases (in theory) can underwrite but streaming services by themselves cannot.
When a movie like West Side Story flops, it becomes that much harder to get another true visionary musical that can wow us again; it becomes that much harder to see anything else on the big screen that doesn't need CGI effects to soar; and it becomes that much harder to find that somewhere with a place for us.
West Side Story is streaming now.