Features
La La Land is the Perfect Fantasy for Our Times
Of the many fantasy spectacles in theaters now, none have had as marvelous an effect as Ryan Gosling and Emma Stone dancing cheek to cheek.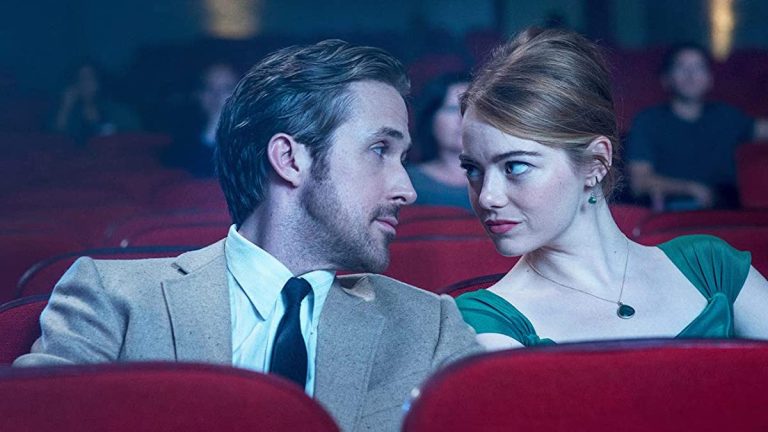 Midway through La La Land, this week's intoxicating love letter to a certain kind of movie musical that vanished decades ago, Damien Chazelle's screenplay all but admits its intentions. As Emma Stone's Mia nervously second guesses the first draft to her one-woman play, she asks her boyfriend, confidant, and spontaneous dance partner, Seb (Ryan Gosling), if people will think it's "too nostalgic." Within a moment, Seb responds in the way all artists at least wish they could to negative critics: "Fuck 'em."
It's the single utterance of vulgarity in an otherwise hopelessly romantic (and very PG-13) embrace of classic Hollywood magic from a bygone era. And while neither Gene Kelly nor Bing Crosby would ever be caught dead saying that on camera, it serves a point beyond its unexpected hilarity: To anyone who wants to scoff at the past or dismiss an appreciation for what came before, please leave your cynicism at the door. We know this is a throwback, and that is why it's magnificent. Even in unbridled flights of fancy, there can still be something truthful found in a waltz by a streetlamp, or a dance at dusk, whether it's Fred Astaire and Cyd Charisse in 1953's Central Park, or Gosling and Stone here in 2016's Hollywood Hills.
So please let them dance, and join in if you can.
It's this sort of unapologetic exuberance that allows La La Land to walk between the modern and retro, and to be both euphoric and strangely melancholy during the right minor key. It's also the reason the movie is the most perfectly suited fantasy for this past holiday season and the current awards one it now dominates. For about 40 years after The Jazz Singer introduced the world of moving pictures to sound in 1927, movie musicals were synonymous with the most transcendent forms of escapism in mass entertainment. The grimmer the time period might've been in American life, the more welcome the toe-tapping.
This was true when Fred Astaire and Ginger Rogers offered a cheerful reprieve from the hardships of the Great Depression, and it was again with Bing Crosby giving American boys suffering in the mud of Europe or the Pacific a taste of childhood peace during the refrains of Holiday Inn's "White Christmas." Hence now, in a year where cultural anxieties and political grievances have dragged morale and discourse in this country to new lows, there is nothing more wondrous to be found at a movie theater than a musical that has few qualms about celebrating its non-diegetic classiness like no other Hollywood film has dared in an age. It is also what allows Chazelle and company the liberty to go where those celluloid classics never could.
Within its simple context, La La Land is a love story about two artists in pursuit of different dreams, and weighted down by separate demons. Mia is relatively new to LA, moving to the City of Angels with stars in her eyes and hopes of becoming a film actor. But by the time the picture begins, she's already done dozens of auditions and only has a steady barista gig on the Warner Bros. lot to show for it. Seb, meanwhile, is an Angeleno lifer. Born and raised in the shadow of the Hollywood sign, he is a tortured jazz pianist who covets the sounds of Miles Davis and Louis Armstrong, but is disgusted that the only future that kind of adoration of the classics gives is steady work as a member of an '80s pop cover band.
Mia craves the spotlight while Seb repeatedly rejects it, preferring to chase the artistic purity of opening a jazz club with its head in the cloudy past. Yet, after a series of hapless and awkward encounters, they each discover that the harmony enjoyed in one another's company is its own success.
Thus the film provides the necessary pretext for sequences as gorgeous as when a starlight visit to the Griffith Observatory actually transitions into a foxtrot through the Milky Way, or for swaying vignettes as proudly goofy as Ms. Stone doing her own variation on the jazz freestyle moves Audrey Hepburn showed off in Funny Face. But more than thin pretexts for the dance numbers, Mia and Seb are fully drawn characters, forced to endure the give-and-take between artistic ambition and personal happiness that brutalized Miles Teller's soul into nothingness by the end of Whiplash.
Also, as with that earlier 2014 film, one senses writer-director Chazelle continues to struggle at finding that golden mean between aspiration and acceptance. Nevertheless, his balance as a storyteller is flawless, and in La La Land, he offers an optimistic, lovelorn retort to the unquenchable rage he poured onto the screen with Whiplash.
Consequently, La La Land finds itself moving in three-quarter time to an emotional zenith, which also is almost an explanation about why this specific type of movie musical was once so popular, as well as why it's needed once more. The third act of the movie dramatically reduces the musical numbers while heightening the intensity of life. In turn, the movie finds comfort in shades of blue that are more apiece with Chazelle's (and Seb's) jazz background than they are with the kind of bright technicolor challenges faced by Donald O'Connor or Debbie Reynolds in Singin' in the Rain. These inserts of anguish make the vibrant colors Chazelle paints the rest of the movie in that much snappier, and the proudly extravagant use of CinemaScope during moments of quiet intimacy that much more epic.
La La Land appears to be circling the same center of gravity between reality and fantasy that Woody Allen pinpointed in The Purple Rose of Cairo (1985). While that earlier fantasy openly used magical realism to explain its '30s era frivolities come to life, it nonetheless settles on an acceptance that life itself cannot simply be a classic musical adventure. But all the more woe unto us then, for that is the kind of catharsis that makes life worth living. Just as a lonely, abandoned woman finds a measure of happiness, however fleeting, in the sight of Fred and Ginger dancing cheek to cheek at the end of Cairo, so too does La La Land earn the happy counterpoint to its characters' thwarted ambitions in the joy for love and life presented by Gosling and Stone's own cheeks.
Indeed, Gosling and Stone are increasingly becoming our most reliable onscreen team, and in their best collaboration yet, they sing and shimmy inside of wide one-takes that Astaire and Rogers popularized lifetimes ago. Stone in particular dazzles in her big solo number entitled "Audition," revealing the multi-faceted talent showcased on Broadway last year when she played a defiantly hellbound Sally Bowles.
In La La Land, she and Gosling appear in allusions to Top Hat, On the Town, Singin' in the Rain, and The Band Wagon, but there is something distinctly modern about Chazelle's approach to their story. He is not making camp, nor is this movie really nostalgic, as Mia might fear. Rather, it is resurrecting a forgotten style of musical that was not ashamed of its escapism. He thus embraces the fantastical flourishes better than any recent movie about actual magicians (and there's been quite a few lately) while grounding it in our contemporary concerns. Not to mention his personal ones.
The result is a fizzy cinematic wonderland that passes smoothly by but lingers after the lights come back on, leaving one anxious to revisit its fantasias and to be invested again in every step of Mia and Seb's lifelong tangos. Like the musicals it emulates, it is an absolution from the everyday concerns of an increasingly darkening world, but it provides that release through the lens and obsessions of a particularly unique filmmaker within our own time. In that way, La La Land is a singular and masterful triumph.