Features
New Star Wars Movies Must Leave Nostalgia Behind
Taika Waititi doesn't just want to make a Star Wars movie full of easter eggs and fan service. That sounds fantastic!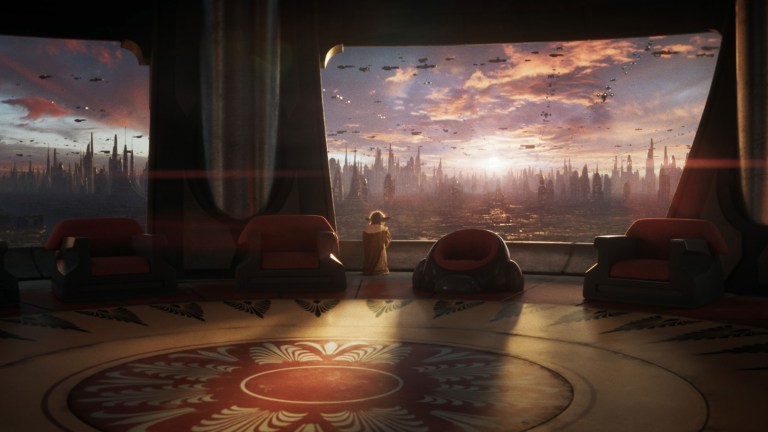 While Taika Waititi is currently very busy promoting two big Disney releases out in the next few weeks — Lightyear and Thor: Love and Thunder — the writer-director is also preparing to jump to a third major property for the House of Mouse: Star Wars. According to Lucasfilm president Kathleen Kennedy, Waititi's mystery movie could take the "late 2023" release date previously reserved for Patty Jenkins' Rogue Squadron, which has been delayed due to alleged "creative differences" behind the scenes.
How likely it is that Waititi will be able to deliver a blockbuster Star Wars movie in less than 18 months remains to be seen, but even Kennedy has said that Lucasfilm hasn't officially "locked anything in." And just last week, Waititi confirmed that he was still working on the script, "coming up with ideas and storylining," with co-writer Krysty Wilson-Cairns (1917, Last Night in Soho). This sounds more like a 2024 movie, if you ask us.
But when the film does finally hit the big screen, what should we expect? Waititi dropped some hints in an interview with Total Film about how his installment is aiming to "expand the Star Wars universe" beyond the nostalgic callbacks to what's come before.
"Look, I think for the Star Wars universe to expand, it has to expand," Waititi said. "I don't think that I'm any use in the Star Wars universe making a film where everyone's like, 'Oh great, well that's the blueprints to the Millennium Falcon, ah that's Chewbacca's grandmother.' That all stands alone, that's great, though I would like to take something new and create some new characters and just expand the world, otherwise it feels like it's a very small story."
Indeed, one of the complaints often lodged at Disney's Sequel Trilogy was that it leaned too heavily on nostalgia, so focused on connecting back to George Lucas' Original Trilogy and recreating the past that it ultimately failed to say anything unique of its own. J.J. Abrams' The Rise of Skywalker — which brings back Emperor Palpatine as the big bad for reasons, introduces a whole fleet of planet-destroying superweapons, features a big fight sequence on the remains of the Death Star, and closes with an homage to the iconic Tatooine twin suns sequence — is particularly guilty of this.
Disney's overreliance on aping Lucas' work ad infinitum has left some cold to this new era of Star Wars, but it's not completely Walt's fault. Some would argue that nostalgia is a vital part of the DNA of Star Wars. After all, while it can't be denied that the 1977 film was an innovative technical marvel that pushed the medium forward in big ways, it was also at its core an homage to the Flash Gordon and Buck Rogers serials Lucas watched as a kid in the 1950s, as well as the samurai films of Japanese auteur Akira Kurosawa.
And it was Lucas all the way back in 1999 who popularized the concept of "prequels" and suggested that story beats in Star Wars should rhyme. It's why Anakin loses a hand in Attack of the Clones just like his son did in The Empire Strikes Back. Or why both The Phantom Menace and A New Hope lead to the death of a wise mentor and a climactic space battle. That The Force Awakens kills off Han Solo and ends with a trench run inside a planet-destroying planet as a way to rhyme with the first installments of the other two trilogies makes perfect sense, from a certain point of view. Not from Lucas' though — he famously hated this movie.
But now that the Skywalker Saga has come to a close on the big screen, meaning filmmakers no longer need to tie everything back to the specific 60-year period in which all three trilogies are set, it makes sense that Lucasfilm would be interested in pushing things forward, exploring new ideas and characters within the Star Wars universe in the same way that the end of Phase 3 has paved the way for Marvel Studios to dive into new corners of the MCU. 40 years of Star Wars movies reached a conclusion in 2019, which means the galaxy far, far away should now be able to go anywhere it wants. Kennedy has even teased that future films will go beyond the Sequel Trilogy era and into as-of-yet unseen points in the timeline.
"We're moving further beyond the existing sequels as we look to our movie space," she told Empire. "[The sequel era] is what we talk a lot about in terms of where we're going with our movies, and just how far out from that we'll go. That's very much the space we're concentrating on."
Kennedy also teased to Total Film that "there's a lot of conversation around" creating a "whole new saga," as the studio maps out what the next era of Star Wars films should look like.
Putting Waititi in the driver's seat for this shift away from the nostalgic Sequel films is a smart choice. The writer-director has already shown with his Thor outings that he knows how to turn established franchises on their heads to explore new things about them, whether it's the comedic pivot of Ragnarok or the way he's wants to heighten the romance in Love and Thunder. A blank slate to introduce new Star Wars characters, worlds, and even a different tone than what we've seen before is the kind of sandbox Waititi should thrive in. And it doesn't sound like he'll be the only filmmaker able to work more freely than in the years ruled by the more rigid continuity of the Skywalker Saga.
Loki creator Michael Waldron, who also penned Doctor Strange in the Multiverse of Madness, recently revealed that he is hard at work writing the secret Star Wars movie that will be reportedly produced by Marvel Studios boss Kevin Feige. Like Waititi, the screenwriter shared that he was working on a script that felt "fresh and original."
"I'm writing away," Waldron told Variety in May. "I'm enjoying having the freedom on that to do something that's not necessarily a sequel or anything. It maybe has a little bit less of a — it just doesn't have a bunch of TV shows and movies that you're servicing on top of it, the way I did with Doctor Strange. So it's nice. It feels like a different exercise."
Before it was delayed, Rogue Squadron also promised to "move the saga into the future era of the galaxy" with "a new generation of starfighter pilots." Even though the Rogue Squadron concept itself has existed in Star Wars since before Disney took over the franchise, it sounds like it's being used as a way to venture into new territory, at very least from a timeline perspective.
In other words, Disney-Lucasfilm seems poised to finally deliver something a little different for theater audiences. Don't expect Star Wars to ever cut out the fan service or call backs completely — just look at the trajectory of the current Disney+ shows — but easter eggs shouldn't be the only thing new Star Wars movies have to offer in 2023 and beyond. In fact, when Lucas' game-changing space fantasy dropped in 1977, it not only celebrated the past but showed audiences things they had never seen before on the big screen. Lucasfilm seems to have finally remembered that you can do both.
Check out the full schedule of upcoming Star Wars movies and TV series here.