Features
New Star Wars Games in Development: Release Windows, Trailers, and First Details
Now that EA no longer has exclusive rights to produce Star Wars video games, the gaming landscape has blossomed into a sea of upcoming titles that take place in a galaxy far far away.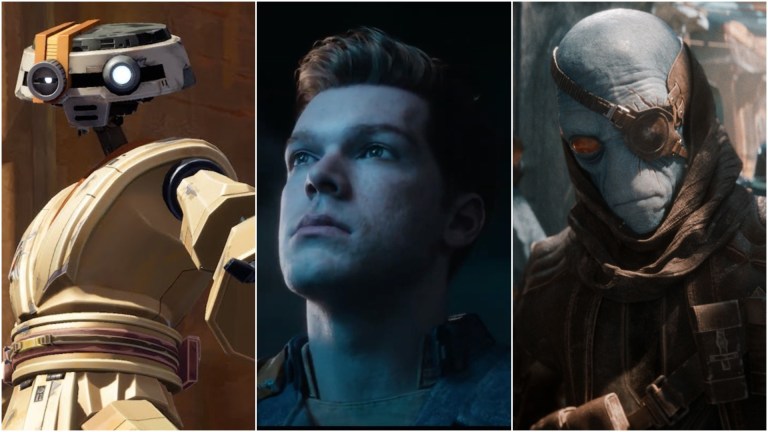 The Star Wars franchise is undergoing a newfound renaissance. While new movies are years away from hitting the big screen, the television and video game mediums are thriving. Lucasfilm and Disney have developed critically-acclaimed shows that expand the Star Wars universe, and many studios are busy working on similar experiences in video game format.
Several years ago, EA held the exclusive rights to produce Star Wars video games, which resulted in the beloved Star Wars Jedi: Fallen Order, the unexpected Star Wars Squadrons, and the controversial Star Wars Battlefront II. After EA lost that exclusivity, you didn't need a connection to the Force to predict the flood of new Star Wars games, many of which are now in development.
Currently, eight different Star Wars titles are in the works (that we know of):
Star Wars: Hunters – 2022
The hero shooter genre never died out, and Star Wars: Hunters aims to be the next big name in it. The game is an arena-based competitive shooter where players team up in groups of four to escort payloads, control key map points, or just shoot some hoops…er huttballs. Participants will have access to a wide variety of colorful characters, including a veteran Stormtrooper, a droid that thinks he's a Jedi, and one Jawa standing on the shoulders of another Jawa. Star Wars Hunters will release sometime in 2022 for the Nintendo Switch and mobile devices.
Star Wars Jedi: Survivor – 2023
Whenever a video game finds success, a sequel usually isn't far behind, and Star Wars Jedi: Fallen Order was more than just a success. It wasn't all that surprising, then, when EA announced the return of Cal Kestis and friends. Titled Star Wars Jedi: Survivor, the game will pick up from where the previous entry left off, with Cal on the run from the Empire and its Inquisitors while also trying to re-establish the Jedi Order. Judging by the trailer, the young Jedi will have to face a whole slew of new villains, including a sinister Imperial senator, a mysterious new dark sider, and perhaps even whoever is in that bacta tank. Star Wars Jedi: Survivor is scheduled to release sometime in 2023.
Star Wars: Knights of the Old Republic Remake
BioWare's Knights of the Old Republic wasn't only a landmark for Star Wars games, it became the measuring stick for future western RPGs. However, for all of the game's advances in storytelling and characterization, the game is decidedly dated in 2022 — not just in terms of graphics — and in need of an update. Aspyr, the studio behind many excellent ports of other classic Star Wars games, is now hard at work on a Knights of the Old Republic Remake, which will presumably spruce up the game's graphics and combat system without touching the story or characters. The remake will eventually launch on PC and PlayStation 5, and with any luck, Aspyr will follow it up with a remake of Knights of the Old Republic II.
Star Wars Eclipse
While most Star Wars stories take place in and around the time of the Galactic Empire, another popular era is the High Republic, which is set 200 years before the Skywalker Saga. Quantic Dream's upcoming Star Wars Eclipse takes place in that era, during a period when not all of the galaxy has been charted yet and the Outer Rim is still very much in its Wild West days. While we don't know much about the game or its story beyond that, the game's site promises an ensemble cast, never-before-seen aliens and planets, and a branching narrative where player choices matter. According to rumors, the game will also sport an open world and combat, a first for the studio better known for heavily-directed interactive dramas like Heavy Rain and Detroit: Become Human. So far, Star Wars Eclipse doesn't have a release date and is reportedly several years away from being ready.
Untitled Respawn Star Wars FPS
Even though Respawn Entertainment is busy with Star Wars Jedi: Survivor, the studio has more Star Wars games in the works, one of which is an untitled first-person shooter game. While Respawn previously developed Jedi: Fallen Order, the FPS genre is in its wheelhouse, as it also produced the Titanfall series and popular battle royale game Apex Legends. We don't know much about this untitled Star Wars game since it only recently went into development, but we do know that Peter Hirschmann will serve as game director. He previously helped produce several other Star Wars titles, including The Force Unleashed and Battlefront 2 (the original one). Understandably, this FPS game doesn't have a release date.
Untitled Ubisoft Star Wars
Ubisoft is synonymous with open world games franchises such as Assassin's Creed and Far Cry, so why shouldn't the company also help develop an open world Star Wars title? In 2021, Ubisoft announced that very project. This untitled game is touted as a story-driven experience and will be developed by Ubisoft's Massive Entertainment, the same studio that worked on Tom Clancy's The Division and The Division 2. While we don't know how this game will play, we do know it will utilize Massive Entertainment's Snowdrop Engine. As of now, this game doesn't have a release date.
Untitled Respawn/Bit Reactor Star Wars Strategy Game
Respawn Entertainment isn't satisfied with just developing two Star Wars games at once; it wants to make a third, this time a strategy game. As with Respawn's FPS Star Wars title, this project doesn't have a name yet, but since this genre is a bit out of Respawn's wheelhouse (and probably to avoid stretching its employees too thin), the studio is teaming up with another developer. According to the press release, the newly-formed studio Bit Reactor will help take the lead on development of this strategy game, with Respawn producing. Bit Reactor's team has a history of producing strategy titles such as XCOM and Civilization, so odds are the company will be able to leverage its expertise in the genre.
Skydance's Star Wars Game
Even though EA held the exclusive rights to produce Star Wars games, it canceled more projects than it published. One of the most infamous examples was Project Ragtag, which would have been produced by Visceral Games and potentially been an Uncharted-like adventure in the Star Wars universe. The game's creative director, Amy Hennig, would later pull a Hideo Kojima by leaving EA and forming the New Media wing of Skydance, and in 2022, Skydance announced a new Star Wars project helmed by Hennig herself. While we don't know much about the upcoming game, especially since Skydance has yet to announce a title or release date, don't be surprised if it turns out to be a revived Project Ragtag.
Which Star Wars game are you excited for? Let us know in the comments.