News
Taika Waititi's Star Wars Movie Release Date Plans in Doubt After Script Update
Could Taika Waititi's Star Wars movie really hit theaters in 2023?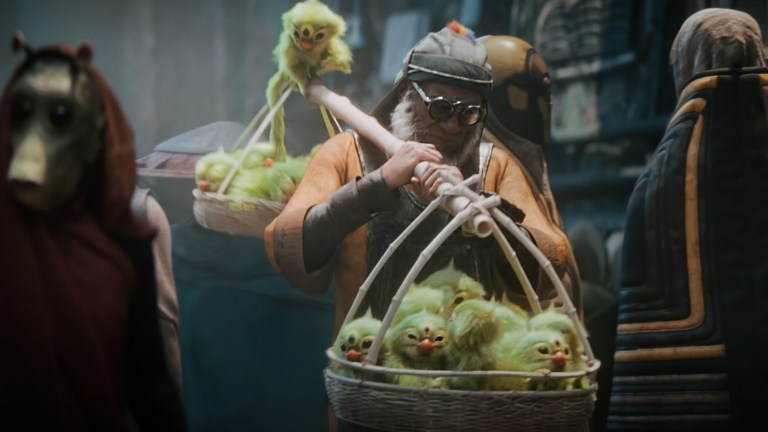 While Lucasfilm's slate of Star Wars live-action series continues to expand out from The Mandalorian and into new corners of the in-universe timeline, it's hard to tell what exactly is going on with the movies. The studio didn't bring any film updates to Star Wars Celebration Anaheim last month, and the movie it planned to release in 2023, Patty Jenkins' Rogue Squadron, will miss that slot due to alleged "creative differences" during the script writing process.
It now seems very possible we won't see the galaxy far, far away on the big screen again for another couple of years. That is, unless Taika Waititi's mystery Star Wars movie takes Rogue Squadron's place on the release schedule. In fact, Lucasfilm president Kathleen Kennedy suggested this could indeed be the case in an interview with Total Film, saying that the studio was aiming for a "late 2023" release for Waititi's installment, but that they hadn't officially "locked anything in."
Yes, that does seem like a very tight turn around for a Star Wars movie that is still in the development phase, especially when you consider Rogue Squadron was originally scheduled to begin filming at the start of 2022 in order to hit its Dec. 2023 date — almost a two-year window between production and release. While it's rumored Waititi's film will eventually be shot in Los Angeles (where the director will have access to the StageCraft tech used for the Disney+ series), there has been no official word on when the project will actually roll cameras. Plus, Waititi is currently a bit busy promoting another little flick for Disney — Marvel's Thor: Love and Thunder, which is out on July 8.
But what about once the dust has settled on the God of Thunder's latest MCU adventure? Could Waititi hop right into his next Disney blockbuster and actually hit that late 2023 date? While we can only speculate, it doesn't sound very likely based on Waititi's latest update regarding the Star Wars script he's writing with Krysty Wilson-Cairns.
"I'm still writing," Waititi told Screen Rant while promoting his voice role in Toy Story spinoff Lightyear. "I'm still coming up with the ideas and storylining it and just wanted to make sure that it feels like a Star Wars film, because I could say, 'Oh yeah, we'll just write any old thing and set [it] in space and then put Star Wars on the front.' But it wouldn't be a Star Wars film without certain elements and a certain treatment, so I've just got to make sure that it stays within that wheelhouse."
In other words, Waititi and Wilson-Cairns are still figuring out a few things about their script, making a potential late 2023 release date sound more than a bit ambitious. Lucasfilm has yet to even announce a title for the film or any castings, the latter of which is a process that could take months, especially for a project as massive as the first Star Wars film to hit theaters since the end of the Skywalker Saga in 2019.
While we know very little about what Waititi's film is about, Kennedy has offered some hints about when it could take place, confirming that the studio plans for its future Star Wars movies to dive deeper into the Sequel Trilogy era.
"We're moving further beyond the existing sequels as we look to our movie space," she told Empire. "[The sequel era] is what we talk a lot about in terms of where we're going with our movies, and just how far out from that we'll go. That's very much the space we're concentrating on."
Kennedy echoed this to Total Film, saying that there was "no hesitancy" to explore past the Skywalker Saga: "We need to create a whole new saga. That takes a lot. There's a lot of conversation around that."
So when Waititi and Wilson-Cairns' movie is ready, it could very well go beyond where any Star Wars movie has gone before. But you probably shouldn't expect this to happen in 2023.
Check out the full schedule of upcoming Star Wars movies and TV series here.