Reviews
Licorice Pizza: Paul Thomas Anderson Triumphs Despite Queasy Ingredients
Paul Thomas Anderson's Licorice Pizza is a fizzy ode to life in '70s California, with a darker layer underneath.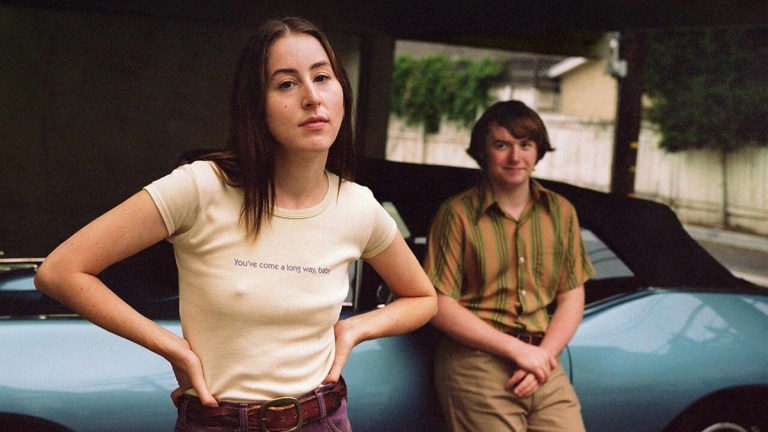 Paul Thomas Anderson is commonly regarded as one of the great American filmmakers from the last 25 years (and yes, it's hard to believe Hard Eight came out a quarter century ago). Yet his last two or three features–Phantom Thread, Inherent Vice, and The Master–worked strenuously to push viewers away. They brought us an array of characters who, despite great performances from all involved, and Anderson's own usual immaculate attention to detail, were increasingly isolated from viewers. Generally speaking, many folks struggled to engage emotionally or empathetically with these people.
That's why his ninth feature, Licorice Pizza, feels like a big gulp of fresh (if problematic) air. Set in the San Fernando Valley in 1973, and reportedly based loosely on the early life of Anderson's friend (and American film producer) Gary Goetzman, the film is a rambling, funny, warm-hearted ode to a certain bygone time and place, yet with an undercurrent of darkness that reflects the transitions and contortions that America was going through as it whiplashed from the late countercultural '60s to the arch-conservative early 1980s.
The film is also driven by its two standout lead performances, both astonishingly enough from actors making their screen debuts. Cooper Hoffman (son of the late Philip Seymour Hoffman) plays 15-year-old Gary Valentine while Alana Haim (from the musical trio Haim) portrays 25-year-old Alana Kane. Gary is a child actor who's already experienced a fair amount of success, enough for him to bankroll his own ambitious ventures like a waterbed store (they were the hot new invention at the time) and a kids' arcade; he is a Hollywood version of Rushmore's Max Fischer, onlly with far more resources and less intellectual prowess.
Alana, meanwhile, is the daughter of Israeli immigrants who feels trapped by her dad's overbearing religiosity, her dead-end job as a photographer's assistant, and her own lack of direction. For Gary it's love at first sight, and age makes no difference; for Alana, it's almost the polar opposite, especially as the age factor hangs over everything. Yet she still finds herself drawn to the charismatic teen, his confidently headfirst approach to life sparking something in her that she already feels in danger of losing.
Is the relationship sure to raise difficult questions? That may be what Anderson is getting at. Despite the bright, sunny veneer of Licorice Pizza–which is impeccably shot by Michael Bauman and Anderson himself, and designed by Florencia Martin, who's all but has guaranteed herself another Oscar–there is an undercurrent of darkness here. Gas prices are climbing; Watergate is unfolding; racism is still casual, as personified by a local restaurant owner (John Michael Higgins) and his distasteful manner of acquiring and addressing young Japanese brides.
And while the relationship between Alana and Gary is on the surface largely sweet, there is an underlying, uncomfortable sexual tension that can't be discounted. As some have already pointed out in the press, there would be a louder outcry if the ages were reversed and it was the more cliché older man/younger girl dynamic. Alana is seen as having somewhat more perspective and control over the situation, even as she embarks on one adventure after another with the clearly horny Gary. One's mileage may vary while watching the film: the relationship may come across as simply too creepy. But if you've crushed on a person older than yourself who was still somehow in your orbit, you may buy into it.
Anderson–as with just about every film he's made–is neither judging nor condoning his characters' behavior, which is where some of the criticism of his choices may come from. This is a "slice of life" film in which life and relationships are messy and not always appropriate, and he's not there to condemn or excuse. Think of the era itself: This was a time when Ringo Starr had a #1 hit in 1974 with a cover of "You're Sixteen" (which also reached #8 back in 1960 as performed by Johnny Burnette). Rod Stewart was just four years away from having a Top 30 hit about a 17-year-old with "Hot Legs." And, of course, Woody Allen's Manhattan would arrive in theaters to much acclaim in the same decade. All of these are rightfully seen now as wildly inappropriate, but not during their often amoral decade.
What's remarkable in some ways about Alana and Gary is how generally innocent their relationship stays, even as they flirt, bicker, and make each other jealous. There are certainly older men to take on the sleazy mantle on-screen, from Sean Penn's dissolute actor Jack Holden (supposedly based on William Holden) to Bradley Cooper's insane, drug-addled hairdresser-turned-producer Jon Peters (based on, yes, Jon Peters). Both their scenes are filled with a dread that slowly seeps into the film: Penn is more low-key while Cooper is frantic, over-the-top, and arguably saps the energy out of the latter third of the film after he exits (his scene is also capped with a harrowing drive down a steep, winding Hollywood Hills road that leaves one gripping the arms of the theater seat).
There are plenty of encounters with the troubles and contradictions of real life throughout Licorice Pizza's shaggy, sometimes superfluous 133-minute running time, not to mention a host of surprising cameos that add a show-bizzy flavor to the proceedings. Anderson's juxtaposition of them against the appeal, honesty, and good-naturedness of his two complicated leads (and the, it needs to be said again, brilliant young actors who inhabit them) creates a compelling tension that carries the film through most of its length. Licorice Pizza, Anderson's most humane effort in years, is a story of two souls finding their way to each other whether they and the world like it or not, and it's up to you to decide whether you're okay with that.
Licorice Pizza opens in limited release this Friday, Nov. 26.