Features
Slaughterhouse Rulez interviews: "all schools are the same, they all suck"
Crispian Mills, Hermione Corfield and Finn Cole tell us about the boarding school bloodbath Slaughterhouse Rulez...
Slaughterhouse Rulez is the latest cinematic brainchild of Crispian Mills, the Kula Shaker singer who previously wrote and directed the Simon-Pegg-goes-mad movie A Fantastic Fear Of Everything. Here, with Slaughterhouse Rulez, Mills reteams with Pegg to bring comedic horror to an unlikely new setting: the British boarding school, with all its pomp and pretentiousness being undercut by blood, guts and guffaws.
Pegg and his Cornetto trilogy cohort Nick Frost both appear in the film, and they also serve as executive producers – this is the first release through their new Stolen Picture production company. The flick has garnered plenty of pre-release attention – not least because of its impressive cast that also includes Michael Sheen and Asa Butterfield – culminating in a packed-out panel at MCM London Comic Con last weekend.
Before Mills stepped onto the main stage at the Excel Centre for the panel, he took the time – along with his young stars, Finn Cole and Hermione Corfield – to chat to Den Of Geek backstage. Here's what we gleaned from this talented trio…
The Cornetto connection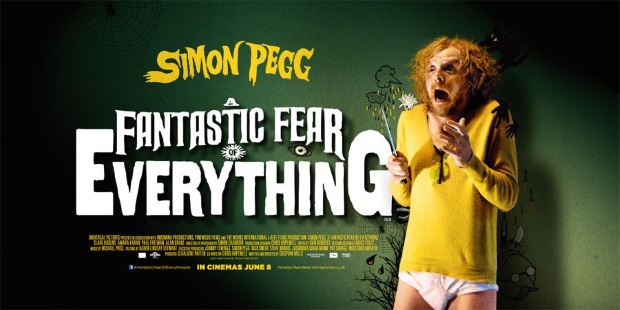 Crispian Mills' connection with Simon Pegg goes back even further than their collaboration on A Fantastic Fear Of Everything, it turns out.
"I actually knew his wife Maureen [McCann], back when I was in a band", Mills explained to DoG. "She was working on local promotion in Glasgow. So I've known her since I was a kid, actually. I didn't actually know Simon that well until later. Thanks to Maureen, I was able to show Simon the script for Fantastic Fear, which was a real tour-de-force performance from Simon. One guy going mad in a room… well… three rooms, to be fair.
"We really enjoyed working together", Mills fondly recalls. "And when I was developing Slaughterhouse, it was really good timing for him because he was setting up Stolen Picture with Nick [Frost]. It ticked a lot of boxes in terms of what they are known for, that comedy horror, so it has brand familiarity. And they really enjoyed it as well."
"The remarkable story of the film is that we had a lot of luck. Simon was going to play the small cameo role of the anti-fracking protestor in the woods. He was really looking forward to doing it, and then we lost the actor that was playing the house master. We didn't lose him to the afterlife, it just didn't work out. So Simon ended up taking the house master role and Nick came in like the cavalry to have his amazing scene-stealing moment in the film [as the protestor in the woods]. We ended up having Simon and Nick in our movie, which was a massive coup and really exciting for everyone involved as well."
Another dollop of luck came, as Mills revealed at the panel later on, when Tom Cruise's famous injury shut down production on Mission: Impossible – Fallout and allowed Pegg to expand his role in Slaughterhouse Rulez. At the panel, Mills even joked about adding a special tag to the film: "With special thanks to Tom Cruise's ankle."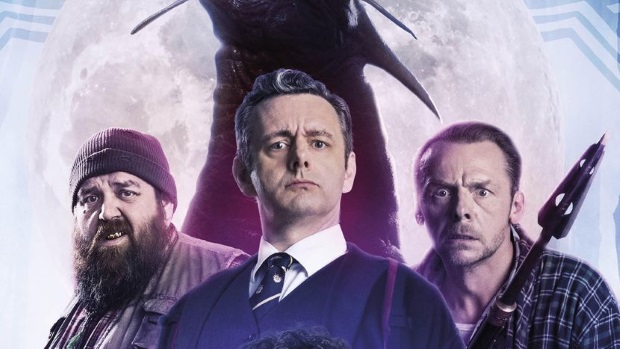 Having Simon Pegg and Nick Frost in your movie comes with a lot of baggage, of course, though Mills insists that it was "good baggage" rather than added pressure.
"It's definitely a huge opportunity for the film," he admits, "because the familiarity is even more visible. They are the godfathers of this British genre in a lot of ways, and it was great for them to be able to be a part of this and support a lot of young talent as well."
Said young talent includes Peaky Blinders' Finn Cole and xXx: Return Of Xander Cage's Hermione Corfield, the latter of which had met Pegg previously on the promotional tour for Mission: Impossible – Rogue Nation (Corfield played the doomed IMF agent that worked undercover in a record shop).
Speaking to DoG backstage, both of these up-and-coming talents independently referred to themselves as "massive fans" of the Cornetto trilogy. As Corfield puts it, "Those films, Hot Fuzz and Shaun Of The Dead, I kind of grew up watching. They were always in my top top films. It was kind of surreal then being involved in something like this, because it's sort of everything you've ever dreamt of."
In Cole's words, "To be able to learn from them, for us as the younger generation to be at the forefront of the film and to have Simon and Nick almost as the supporting roles, was really good. They only really fuelled [our] confidence. And there were definitely elements of the Cornetto trilogy in our film, which I was really really excited about. The crazy whip-pans and all of that sort of stuff."
Schools don't rule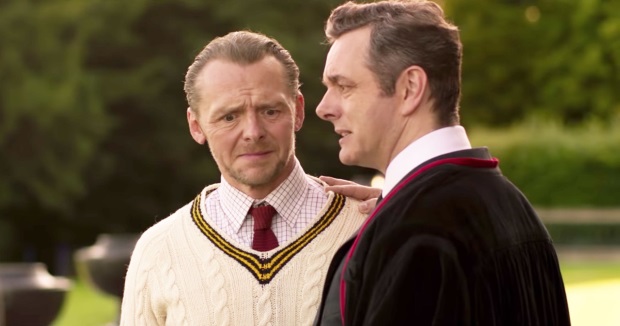 Mills drew on his own experience at Stowe boarding school, and even filmed on location there, to bring the central educational establishment of the film to life. Much like Edgar Wright joyously decimating his home town for Hot Fuzz, there's a sense that Mills rather enjoyed going back to his old school, taking the mickey out of it and wreaking some serious havoc.
"All schools are the same, they all suck", Mills states at the comic con panel, earning some applause from the audience for saying so. "But the thing about these old boarding schools is they have these traditions and they say very proudly, 'we've been bullying here for 200 years!"
To play his central character, a noob at the school named Don Wallace, Mills wanted to find an actor that didn't come from that private school world. Don is a fish out of water in this arena of ultra-posh bullies, so Mills wanted an actor that would feel just as unwelcome in that environment. Finn Cole, it turns out, was the perfect fit.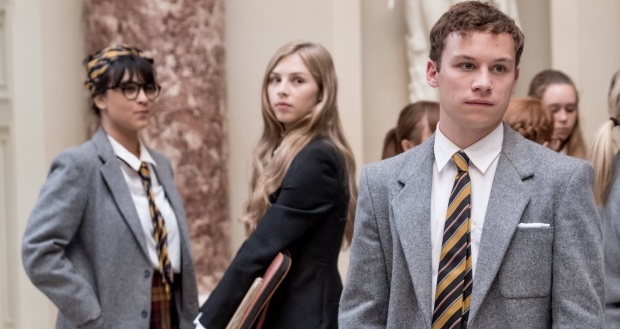 "I went to a state school in south-west London", Cole explains. "It was a brilliant school for the students that really wanted to learn. But it was not a great school for the students that – in my opinion – didn't want to learn, i.e. me. I really wasn't interested by it. But it was a very… I played a lot of sport and I had a lot of different friends at different sorts of schools. So I was aware of what school life could be like, or maybe what it should be like. What it was like for some people.
"It was fascinating, because I grew up watching films like Harry Potter and St Trinian's… all these private schools, and you kind of get an idea of the ridiculousness of some of these places. The hierarchy and how they're structured. And it was really fascinating to portray a character who's not used to a world like that and gets thrown into a world like that. Although my school life was very different, I could draw upon that to kind of really show the madness of what Slaughterhouse was like."
Cole is totally sure of how he would feel about private school life: "if I'd gone to a place like that in my formative years I'd have hated it", he stresses. "Absolutely hated it. And you find that Don hates it. But Don is also a survivor and he's there and as the story unfolds and crazy stuff starts to happen, he starts to be a leader and you actually recognise him as one of the heroes of the movie."
Practical magic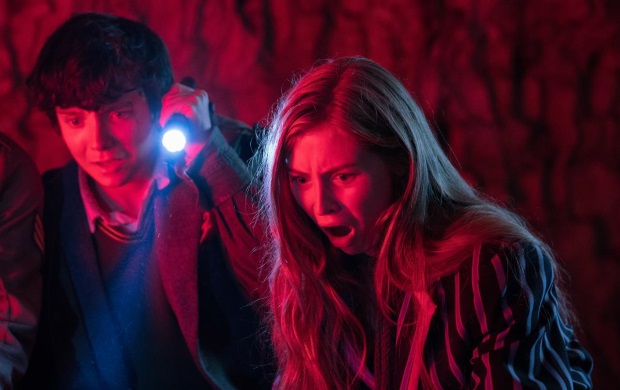 In order to put the Slaugherhouse school into a horror situtation, Mills deploys a totes modern concept: fracking near the school site awakens and enrages an ancient subterranean subspecies, which is brought to life with an impressive array of practical effects.
"It's a mix of models they've built, so you can physically go and touch them and see them, and other moments it's CGI", Corfield explains. "But primarily they built the monsters and had them there on set, so you could really see it, and that helps a lot. And it was so realistic and they had all the slime and they had all the blood. And they had people in the suits sometimes as well, so they could move."
However, it wasn't easy to get sign-off from the powers-that-be to take such an old school approach. As Mills puts it: "the challenge was, which I didn't expect, we had a lot of resistance to doing practical creatures. I was amazed really, but it's just to do with cost. Everybody argues that it's cheaper to do things in post-production with computers.
"You can get amazing stuff, as we all know, but I think when your starting point in the camera is that you photograph something there, something reacting to the light but also reacting to the actors. You get a whole other sense of reality, and it's fun as well to have real blood, real teeth. And I think then you're able to mix that with CG in a much more realistic way, and it tricks the eye and the whole thing feels much more based in reality."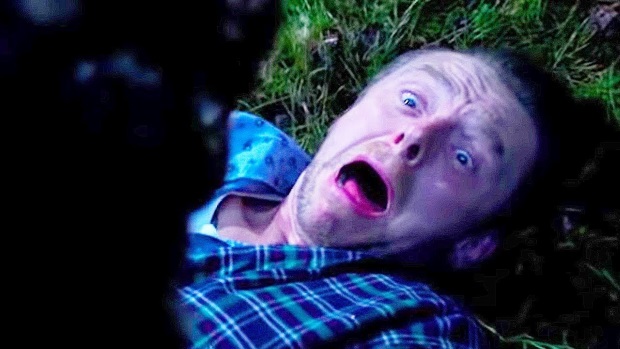 One of the film's greatest practical-effect moments comes when Pegg's Meredith Houseman is mounted by a creature: the slime-covered beastie's slathering tongue lollops into the cricket-loving house master's mouth, prompting laughs and gasps from audiences.
This money shot was always planned, Mills explains, and the set-up of the scene took inspiration from an unlikely sci-fi source: "He was supposed to interact with the tongue, and we had a couple of ideas planned, and the framing of that shot is very much like Sigourney Weaver in Alien 3.
"And we were rehearsing it, and one of the things that we spent money on was a giant tongue… this huge great big very expensive tongue which my kids loved and were showing off to their friends. And it could be used as weapon, although it was actually very fragile. So we cut through the creature and then you would just let go of a rope and the tongue would drop through the mouth."
The shot went better than expected, and not everyone on set could keep their composure: "We weren't expecting to get the bullseye. We had a plan, but we didn't expect it to fall in such a spectacular fashion. You see in the film that the camera starts to wobble, actually, because the cameraman burst out laughing. So that's why we had to cut away a little quicker than we would've liked to."
"Going a bit rogue"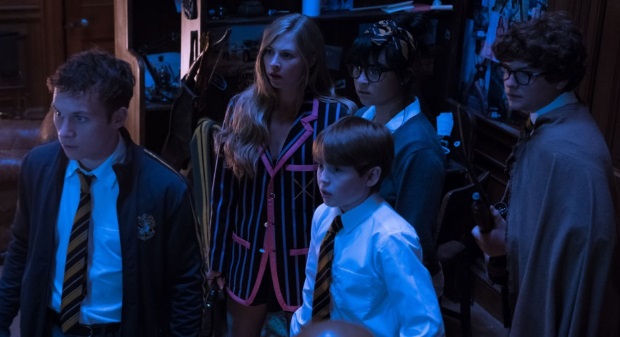 In the second half of the film, the core cast of school kids are in a state of near-constant peril. But keeping the energy levels up during all of the running and screaming wasn't too much of a challenge.
"You kind of have to remind yourself that you're being chased by a monster and that the stakes are high," Corfield recalls (and as the film's female lead, Clemsie Lawrence, she certainly sees her fair share of action), "But I think because it's such a group thing, we kind of fed off each other a little bit."
Cole agrees: "I think we were fuelled by each other. The energy from each of us. It was fun and it was exciting and it was funny, and we all got along so well that when we're in those situations, with a little bit of coffee and a good laugh, we really embraced those situations. And also, the ridiculousness of it really wears off on you and you really get involved in how fun it can be."
One way in which this fun manifested itself was through improvisation, which Mills was happy to encourage. Although some comedy writer-directors may be sticklers for the gags on the page, Mills was happy for the cast to expand on the script with their own ideas.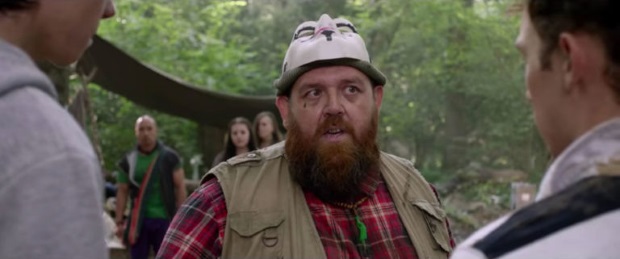 As Mills puts it: "When you've got a good script, you have got that freedom, and you can do a little extra if anything good comes out of people going a bit rogue. Nick came up with lots of stuff, Simon came up with stuff and everybody felt free. You need to have both: you need to be strict with the script, but there has to be ideas happening."
"There were so many", Cole says, on the topic of improvised moments. "There's a scene near the end where it's dawn and we're running across the field, and Kit Connor who plays Wootton… he was quite far behind and he couldn't keep up in his big wellies. So I turned around in the scene, in the take, with this drone shot that's going over, and I turned around and I picked him up and we're just running across this field."
Not everything improvised made it through the editing process, though: "There were some bits I actually wished were in the final cut," Corfield notes, "just because I remember them being funny at the time, although you never know what it's going to look like."
And Mills notes that much of the film's biggest monologue was made up on the spot: "Nick does this whole big speech in the woods. He's really an actor on a stage at that point. It's very theatrical, and a lot of that… the way he did it… it was very unexpected. And the way that he mocks Finn's accent… 'what dost thou mean?' … that was gold." A slice of fried gold, perhaps?
Slaughterhouse Rulez is out now in the UK, and it's surely the only film you'll see this year when Simon Pegg gets tongued by a subterranean creature. And you'll definitely want to keep your eyes peeled for all the Cornetto trilogy references…