Features
How Shang-Chi and the Legend of the Ten Rings' Inclusiveness Could Conquer the World
Shang-Chi and the Legend of the Ten Rings director Destin Daniel Cretton launches the MCU into Phase 4 with an "authentic, heartfelt" approach to blockbuster filmmaking.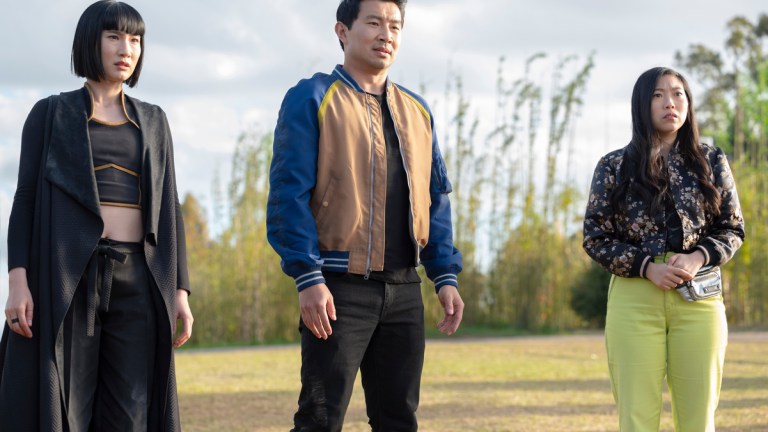 Looking at Destin Daniel Cretton's filmography, he would appear to be an unlikely candidate to helm a Marvel film, especially one as pivotal as the first fresh installment of MCU Phase 4. Cretton has directed five feature films previously, all of which are real-life dramas, three being based on books, with two of those being memoirs. These seem a far cry from comics, but Cretton has a deep Marvel connection – Captain Marvel no less. Cretton's second film, Short Term 12, was the first leading role for Carol Danvers herself – Brie Larson. His following films, The Glass Castle and Just Mercy, also starred Larson.
Cretton's approach to Shang-Chi was unconventional. Beyond the obvious Kung Fu movie influences, Cretton was loosely inspired by Good Will Hunting. Cretton felt that the characters of Shang-Chi and Will Hunting (Matt Damon) had a lot of similarities in that they both had big secrets and a lot of emotional baggage. In an interview on Jimmy Kimmel Live, Liu even revealed that his initial audition was to read two scenes from Good Will Hunting, which he claimed was one of his favorite movies.
Despite this eclectic path, Cretton doesn't like to map out the trajectory of his filmmaking to Shang-Chi and the Legend of the Ten Rings. "It's hard to see a specific strategic through-line," confesses Cretton, "except that I just really try to follow my instincts and work on projects that I find a real personal connection to and personal fulfillment exploring. And this project, yes, it's a big giant Marvel movie, but it has just as much personal fulfillment as any of the other movies that I've worked on."
Diversity and Asian Representation
Marvel was called out for whitewashing back in Doctor Strange when it cast Tilda Swinton in the previously Asian role of the Ancient One. In the wake of that, the MCU has been more mindful of inclusivity and diversity. Part of that was to have a more representative slate of directors. However, unlike Black Panther's Ryan Coogler, whose previous films featured Black protagonists and Black Widow's Cate Shortland, who previously directed films with female principles, none of Cretton's previous films featured Asian actors in prominent roles.
Cretton has Asian blood. His mother is Japanese-American, and his father is Irish and Slovakian. He was born and raised in Hawaii where mixed ethnicity is common and referred to in pidgin as "hapa." The term has evolved after migrating to the mainland where it specifically refers to Asian mixed ancestry.
Cretton says that diversity and inclusiveness have always been important to him personally. "I grew up in Hawaii," recalls Cretton, "so I love telling stories that reflect the world around me and what I feel most comfortable in is being surrounded by friends and people who are not like me who have different cultural backgrounds. All of my friends I grew up with were Chinese, Filipino, Korean, Japanese, Hawaiian, Caucasian. And that's what feels like normal to me. Being able to work on a movie that is really diverse behind the camera and that has such an eclectic group of Asian talent was something that really felt like I was at home."
Breaking through the Great Wall
Shang-Chi and the Legend of the Ten Rings has been well received by critics. For Asian Americans, it's encouraging to see an Asian Marvel superhero, especially in the wake of the wave of hate crimes that spawned the #stopasianhate movement. However, there's another major factor at play here when it comes to a Chinese leading role: capturing the biggest movie market in the world. The Chinese film market has been growing at a meteoric rate since the Beijing Olympics in 2008. In late 2019, the Chinese box office surpassed the United States, making it the most lucrative demographic on the planet.
The pandemic has widened the gap. While some Americans fight for their "freedom" not to be quarantined or vaccinated, China imposed draconian restrictions with nationwide checkpoints. Masking and travel bans were strictly enforced. Consequently, China has become the first country in the world to achieve full box office recovery. While America is struggling to revive movie theaters, Chinese houses are raking in billions. Recent reports put China's 2021 box office at approximately $4.7 billion. Although that's still lower than what might have been expected without the pandemic (and down from pre-pandemic numbers), it's still significantly higher than U.S. box office numbers to date.
Marvel is acutely aware of this. It has a long-standing history of courting the Chinese box office. Avengers: Endgame remains the highest grossing foreign film in China, with earnings over $4.2 billion alone.
Prior to that, Iron Man 3 tailored itself to the Chinese market by making two different versions of the film. Noted Chinese actor Wang Xueqi played the relatively minor role of Dr. Wu, who helps Tony Stark (Robert Downey Jr.) with his heart. In the Chinese version, Wang's role is expanded. Fan Bingbing played an almost invisible part as Wu Jiaqi in the U.S. version, but like Wang, Fan is a major A-list star in Asia, so her role was also expanded. It was an obvious play to anyone watching the international box office returns, but it worked. Iron Man 3 became the highest grossing film in China grossing $131 million, a whopping take in 2013.
As the first major studio release featuring an Asian superhero, Shang-Chi and the Legend of the Ten Rings has tremendous potential to achieve what filmmakers in both countries have dreamed of – a blockbuster that hits big on both sides of the Pacific. Despite this, Cretton stays true to his vision.
"As a filmmaker, I try not to cater to any market," he says. "I think once you start doing that, you just start making something that doesn't feel authentic to you. We tried to create the most authentic, heartfelt movie that we could."
Shang-Chi and the Legend of the Ten Rings is in theaters now.