Features
Can Shang-Chi Solve Marvel's Fight Scene Problem?
The first Shang-Chi and the Legend of the Ten Rings trailer reveals a refreshing commitment to fisticuffs.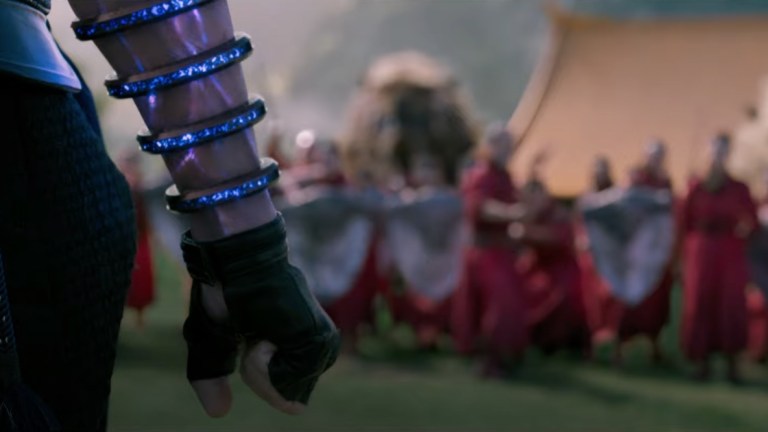 The first teaser for Marvel's Shang-Chi and the Legend of the Ten Rings features plenty of compelling moments. The two and a half minute clip has star Simu Liu getting impossibly ripped, Awkwafina driving a runaway bus Speed-style, and several big CGI action set pieces that we've come to expect from the MCU.
The most exciting bits from this first look are a bit more elemental, however. Simply put, this teaser features plenty of human hands, balled into fists, striking objects in front of them hard. That's right: it's got punches galore.
The clip even opens with Shang-Chi punching a weathered wooden beam. Later on, Shang-Chi and his martial arts peers strike one another over and over again with fists, feet, and sticks. And that makes this trailer a real breath of comic fresh air. While one two minute clip isn't much to go on, it really does seem like Shang-Chi and the Legend of the Ten Rings could be the film to solve Marvel's fight scene problem.
Marvel is one of the most powerful entertainment entities on the planet. It's suite of films and now Disney+ TV series have dominated cultural conversations and grossed approximately 90 kajillion dollars. But one area in which the latest Marvel offerings have struggled is in their fight scenes. This is not to say that the studio's big CGI battles haven't been entertaining, because they have. It's just that the art of the intimate fight scene has eluded Marvel as of late.
Combat choreography used to be a strength for many of Marvel's offerings. 2014's Captain America: The Winter Soldier is one of its generation's great mainstream action films. Its hand-to-hand battles, whether they be in a crowded elevator ("before we get started, does anyone want to get off?") or on a bridge (shout out to Cleveland's route OH-2!) are well shot, exhilarating, and iconic.
One year later, Marvel jumpstarted its first era of streaming television with the stellar fight choreography on Netflix's Daredevil. Episode 2 of that show features a truly remarkable extended fight scene in which Matt Murdock takes out countless goons in a hallway, only to see the ones who were not properly knocked out get back up to return to the fray. Murdock's punches are visceral and his exhaustion palpable.
Since The Winter Soldier and Daredevil, however, Marvel has eschewed these more intimate fights in favor of grand spectacle. That's to be expected as the studio's cinematic universe has grown. 2019's Avengers: Endgame needed to accommodate dozens of heroes and the Wakandan army in a battle against Thanos and his crew. A three and a half minute fistfight with the Mad Titan in a Hell's Kitchen hallway just wasn't going to cut it.
The issue, however, is that the first projects that have followed the conclusion to the Infinity Saga have not quite been able to recapture that close-quarter combat magic. WandaVision was an absolute delight, but its finale fight between two witches and two cyborgs came up wanting. Wizard fights are certainly cool but lack the brutal nature of a properly closed fist.
The Falcon and The Winter Soldier should have provided plenty of more opportunities for satisfying fight scenes, given that Sam Wilson and Bucky Barnes are pure brawlers. The stand out action moment in that series thus far though has been a delicate aerial battle in episode 1. John Walker v. The Dora Milaje in episode 4 was quite fun, but Walker was too overmatched to make it a great action scene.
Thankfully, the brief glimpses we've received of Shang-Chi and the Legend of the Ten Rings make it seem as though Marvel is well on its way to fixing its fight scene problem. Building a big action universe is all well and good, but sometimes you just have to resort to satisfying fisticuffs. Between Black Widow on July 9 and Shang-Chi and the Legend of the Ten Rings on September 3, it should be a fun time for fighting in the MCU.