News
Scream 5: David Arquette Confirmed to Return
The fifth film in the Scream horror franchise will see the return of David Arquette as lawman Dewey Riley.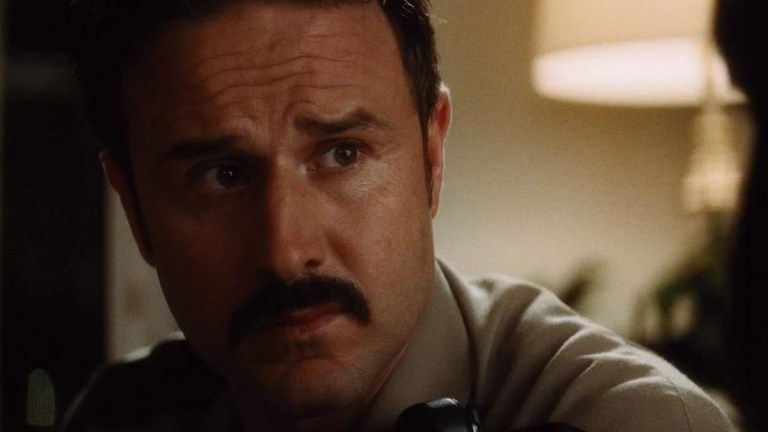 It seems that when Scream 5 finally arrives, it will have David Arquette's Sheriff Dewey Riley to help handle whatever version of its stabby iconic Ghostface killer ultimately manifests.
Spyglass Media Group, the company that acquired the Scream IP from its brand-tainted original home of The Weinstein Company, has officially announced Arquette's return for his classic film franchise role of Dewey. The casting will continue a tradition that goes back to 1996's original Scream, in which the character debuted as a boyish, diffident deputy during the initial Ghostface killings in the film's small-town setting of Woodsboro, California, evolving over the course of the subsequent films. Thus, while Arquette's return is not an astonishing surprise, it likely cements the fifth film's heretofore mystery status as a proper sequel, rather than a reboot.
As Arquette expresses in a statement of his Scream 5 role reprisal, also giving due respect to the franchise's original director, the late Wes Craven:
"I am thrilled to be playing Dewey again and to reunite with my Scream family, old and new. Scream has been such a big part of my life, and for both the fans and myself, I look forward to honoring Wes Craven's legacy."
With the Scream franchise left without Craven, who passed away back in 2015, having directed the four existing films—Scream (1996), Scream 2 (1997), Scream 3 (2000) and Scream 4 (2011)—the director's chair(s) for Scream 5 will be occupied by members of a filmmaker trio Radio Silence, in this case Matt Bettinelli-Olpin and Tyler Gillett, who ride recent acclaim from last year's comedic-horror hit, Ready or Not, along with 2012's V/H/S, and recently became attached to crime thriller The Ice Beneath Her, which will star Daisy Ridley. The directors will work off an original story screenplay by James Vanderbilt (Murder Mystery, The Amazing Spider-Man) and Guy Busick (Ready or Not, Castle Rock). Also onboard is executive producer Chad Villella, rounding out Radio Silence's main trio. Additionally, the franchise's original screenwriting visionary, Kevin Williamson, returns to executive-produce.
As Radio Silence collectively express in a statement:
"It's impossible to fully express how much Wes Craven's work and the Scream movies in particular mean to us as fans and have influenced us as storytellers. Kevin Williamson's incredible stories have entertained and inspired us for decades and we're insanely honored to have the opportunity to be a part of the cinematic world Wes and Kevin so brilliantly created together. Jamie and Guy's amazing script does that legacy justice and we're so excited to bring the next chapter of Scream to life."
Williamson also chimes in, stating:
"I'm excited to reteam with David and work with Jamie, Guy and Radio Silence on the next Scream. Their take on the movie is both original, inventive and honors Wes' legacy in a wonderful way. Ready or Not was my favorite horror film of last year and I can't wait to see what their amazing talents bring to the Scream universe. I'm thrilled to be a part of it."
With Arquette now the first official member of the Scream 5 cast, the studio has also teased more prospective "legacy cast" members for the film; an aspect that seems to validate the recent report that the headlining star of the films, Neve Campbell, is also in talks to reprise her role as Sidney Prescott, the constant target of the Ghostface killer(s), prospectively continuing what would be a 25-year ordeal of being stalked by various versions of the mask-and-robe-wearing assailant, which—in a manner that's meta to various heyday entries of slasher genre—typically ends up being eccentric copycats, each motivated by unique reasons.
It will be interesting to see if there's a desire among the movie-going (well, these days movie-streaming) public for a fifth Scream film. While it's been nearly a decade since the last film, 2011's Scream 4, arrived, the franchise hasn't exactly been dormant, having been represented on the small screen with the Scream television series, which launched on MTV in 2015, and concluded—after years of delays—on VH1, which aired its third and final season in an understated manner across three nights last year. While that rather ignominious end to the TV series might not be directly attributed to the state of the franchise, it is, nevertheless, a valid variable in the Scream 5 equation.
While the current global health crisis might make an inauspicious atmosphere for the production of Scream 5, Spyglass has revealed that plans are in motion to begin principal photography in Wilmington, North Carolina sometime later this year, specifically when safety protocols have been implemented. Consequently, a cautiously optimistic timeline could see the film hit by the appropriate Halloween season in 2021, although that might require the filmmakers to rush things.