News
Daisy Ridley Eyed to Star in Crime Thriller The Ice Beneath Her
Star Wars' Daisy Ridley is in talks to star in The Ice Beneath Her, a dark thriller from the directorial trio of Ready or Not.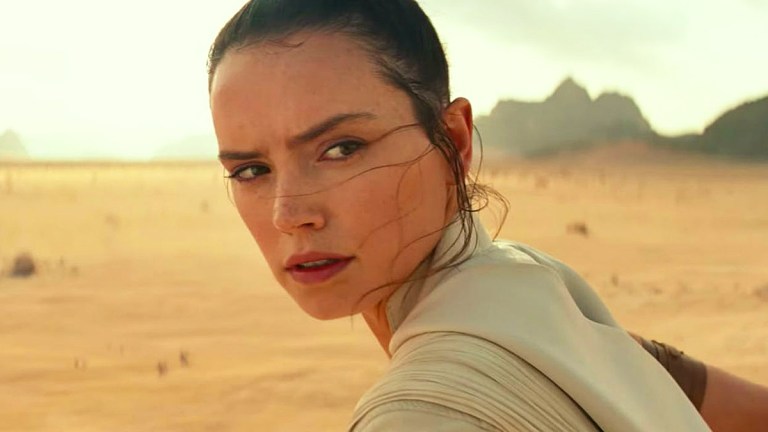 Daisy Ridley is moving on from her star-making role as Rey in the recent Star Wars films, having permanently put away her lightsaber with this past December's Sequel Trilogy closer, The Rise of Skywalker. Consequently, Ridley's would-be first role after that wild franchise ride could show her in different form, as a psychological profiler in a dark crime drama.
Talks have commenced with studio STX for Ridley to star in The Ice Beneath Her, an adaptation of Swedish author Camilla Grebe's 2016 crime novel of the same name, reports Deadline. Should the deal be finalized, then Ridley would be working for the trio of directors—collectively known as Radio Silence—consisting of Matt Bettinelli-Olpin, Tyler Gillett and Chad Villella, who are coming off the hit 2019 comedic horror film, Ready or Not. They will work off an adaptation script by Caitlin Parrish (Supergirl, The Red Line), also joined by producer Andrew Lazar (American Sniper).
The story of Grebe's The Ice Beneath Her centers on—Ridley's prospective role—criminal profiler Hanne Lagerlind-Schön, a consultant to whom a pair of Stockholm homicide detectives have turned after reaching a dead end with the vexing case of an unidentified woman found decapitated in a suburban home, whose owner is conspicuously missing. The case is particularly disturbing, since it bears eerie similarities to an unsolved crime from 10 years earlier. Despite the contrast of content, the franchise prospects are strong here for Ridley, especially since the exploits of Hanne was subsequently showcased in Grebe's 2017 follow-up, After She's Gone: A Novel.
The next docket entry of the project's eyed star, Daisy Ridley, is director Doug Liman's long-gestating sci-fi offering, Chaos Walking, a film—shot back in 2017—in which she co-stars with Spider-Man star Tom Holland, and was last set for release on January 22, 2021. However, that date is looking increasingly flimsy in the COVID-19 era, and a prospective delay for the Lionsgate project could compound a production process that was already plagued by delays, with media waters also chummed last year with reports of reshoots that bloated what was an already-exorbitant $100 million budget. However, Ridley is also attached to fantasy thriller Kolma and World War II drama A Woman of No Importance—a title that sounds like a passive-aggressive reference to Rey's The Last Jedi backstory reveal, which was controversially reversed in The Rise of Skywalker.
The Ice Beneath Her might also prove to be a coming out part of sorts for the Radio Silence directorial trio, who achieved surprise success with Ready or Not, having grossed $57.6 million worldwide off a microscopic $6 million budget. Indeed, the film showcased a levity-infused crimson-spilling wedding ordeal that catapulted the career momentum of its star, Samara Weaving. Consequently, it will be interesting to see how the elements of Daisy Ridley and a Swedish crime thriller translate through their creative lens.